For many people, the start of spring means walks in the park, farmers markets and (if you're lucky) free Rita's Ice. For us book lovers, it means our beloved book clubs can finally meet outside again – and fortunately, a brand new rotation of books from some of literature's leading ladies will soon hit the shelves. To celebrate, we've curated a roundup of 10 upcoming books from authors like Emma Cline, Mikki Brammer and even actors Diane Ladd and Laura Dern.
These stories will take you around the world to destinations in the Hamptons, England, Australia, Greece and French Guiana – perfect for readers who are beginning to plan summer vacations. So as you trade in your snow boots for sandals, don't forget to trade in some of your old books for some of these fresh titles.
1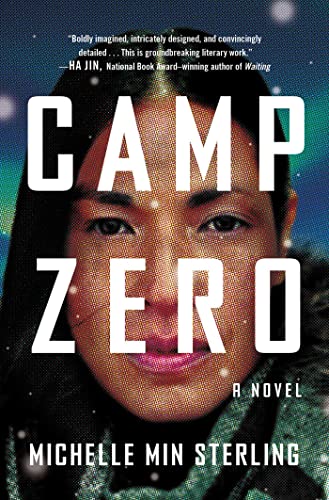 Camp Zero by Michelle Min Sterling (April 4)
In remote northern Canada, in a near-future world, a team is breaking ground on Camp Zero – a project intended to create shelter and a new life for those displaced by climate change. Rose joins a group hired to entertain the men in the camp – but her real mission is to secretly monitor the architect at the helm of the project. In return, she'll receive a home for herself and her Korean immigrant mother. But upon arriving, she quickly discovers she's not the only one with a hidden agenda. Told through a mix of perspectives – such as a professor yearning to escape his wealthy family and an all-women military research unit at a climate station – "Camp Zero" is an exploration of the community that can be forged in the midst of disaster.
2
Homecoming by Kate Morton (April 4)
A struggling journalist named Jess travels from London to Sydney after receiving a call that her grandmother has suffered a fall and is seriously ill in the hospital. Upon returning to the house where she was raised, she stumbles upon a true crime book chronicling a long-buried murder case: the Turner family tragedy of 1959. As she flips through its pages, an eerie feeling creeps up her spine and she discovers an appalling connection between her own family and this unsolved murder case. "Homecoming" is a story that spans generations, asking important questions such as how far we go to protect the ones we love, which secrets are better kept hidden and what it means to come home.
3
Before We Were Innocent by Ella Berman (April 4)
Ten years ago, three friends took a vacation to Greece. Only two of them returned home. Although Bess and Joni were cleared of having any involvement in Evangeline's death and were therefore never convicted, the teenage girls were torn to shreds by media outlets and people who were convinced of their guilt. They moved on with their lives as best as they could – Joni capitalized on her infamy and became a motivational speaker, while Beth resolved to hide from any further attention, making her life as small and safe as possible. It almost worked. But now, Joni is tangled up in an eerily familiar crime and calls Beth for help. It might finally be time for Beth to face up to what really happened that night in Greece. The question is: will she?
4
The Golden Doves by Martha Hall Kelly (April 18)
When Josie and Arlette – renowned French resistance spies known as the Golden Doves – are arrested by Nazis and taken to the Ravensbrück concentration camp, their loved ones are taken with them. A reclusive Nazi doctor does unspeakable things to Josie's mother, an acclaimed Jewish singer. Arlette's son is taken away from her, never to be seen again. 
Ten years later, Josie is working for U.S. Army Intelligence and accepts an assignment to track down the Nazi doctor, while a cryptic man tells Arlette he may have found her son. Together, they embark on a quest across Europe and ultimately to the French Guiana, putting themselves in danger. From the bestselling author of "Lilac Girls" comes a love letter to all the overlooked women spies who risked everything to bring Nazi fugitives to justice.
5
Life in Five Senses by Gretchen Rubin (April 18)
Gretchen Rubin, #1 New York Times bestselling author of the nonfiction book "The Happiness Project," has been studying happiness and human nature for over ten years. In her latest book, she explores a key element of happiness she had previously overlooked: her five senses. Drawing on science, philosophy and literature, she uncovers the power of tuning in to the physical world through sight, sound, smell, taste and touch. From appreciating the taste of ketchup to creating a daily ritual of visiting an art museum, Rubin teaches readers to experience each day with depth. "Life in Five Senses" is filled with insights and suggestions on how to heighten our senses and live more intentional lives.
6
Honey, Baby, Mine by Diane Ladd and Laura Dern (April 25)
"Honey, Baby Mine" is a collection of deeply personal conversations between mother and daughter duo Diane Ladd and Laura Dern, both award-winning actresses. The idea for the book came when Ladd, diagnosed with a life-threatening illness, was prescribed long walks by her doctor to help strengthen her lungs. The exertion was challenging, and Dern soon learned the best way to ease her mother's discomfort was to get her talking and telling stories. They'd talk about everything on these walks, including love, sex, marriage, divorce, art, ambition and legacy. This book provides a glimpse into those conversations, as well as reflections, anecdotes, photos and even family recipes. The result is an intimate glimpse into their lives and a celebration of mother-daughter relationships.
7
The Half Moon by Mary Beth Keane (May 2)
This new novel from the bestselling author of "Ask Again, Yes" takes place over the course of one week in the life of a married couple down on their luck. Malcolm has dreams of opening his own bar and finally has the chance to buy Half Moon, where he bartends, from his retired boss  – but he's struggling to stay afloat. His wife, a successful lawyer named Jess, is coming to terms with the fact that she may never become a mother, after trying for a baby for years. On top of this, a blizzard hits their town and traps everyone in place. During that one week, their lives are shaken up when a patron of the bar goes missing and Malcolm learns shocking news about Jess. "The Half Moon" grapples with the pit-in-stomach feeling of midlife regret and the many shapes of forgiveness. 
8
The Guest by Emma Cline (May 9)
From the author of "The Girls" comes this new story about a woman who pretends to be someone she's not. It all started when a successful older man invites Alex to spend the summer with him in the Hamptons, and would have ended when he unceremoniously kicked her out right before Labor Day – but Alex, possessing a unique ability to navigate people's desires, finds a way to stay in the Hamptons. In an Anna Delvey-esque fashion, she weaves in and out of social circles, convincing people she belongs there. She jumps from a rental full of hard partiers to a vacant pool house, leaving a trail of destruction everywhere she goes. Emma Cline's latest novel draws readers into a playground world of money and power, and reveals the lengths people will go to become a part of it.
9
The Collected Regrets of Clover by Mikki Brammer (May 9)
Clover Brooks is a death doula in New York City who spends more time with the dying than with the living. Ever since her grandfather died alone while she was traveling, she's dedicated her life to ushering people peacefully through their deaths so they wouldn't be alone or afraid, recording her experiences in three notebooks labeled "Regrets," "Advice" and "Confessions." One day, she gets a patient – a 91-year-old former photojournalist named Claudia – whose "Regret" changes Clover's life forever. In an effort to help Claudia, Clover embarks on a trip across the country. On this trip, she is forced to interact with the world and come to terms with what she wants out of life – without the guidance of her notebooks. This debut novel is an exploration of death and how it affects the way we live.
10
Yellowface by R.F. Kuang (May 16)
June has always been jealous of her friend Athena's literary success. Despite how hard she tries to make it as a writer, she feels no one will want to read stories about "basic white girls." So when she witnesses Athena's sudden death in a freak accident, she sees her opportunity to achieve the fame she's always wanted – by stealing Athena's just-finished manuscript about the unsung contributions of Chinese laborers during World War I. After she sends it to her agent – passing it off as her own work – and rebrands herself as Juniper Song, the book makes the New York Times bestseller list. But evidence of the lie begins to appear, threatening June's – sorry, Juniper's – newfound fame. "Yellowface" is a story about plagiarism, cultural appropriation and deceit in the age of social media.