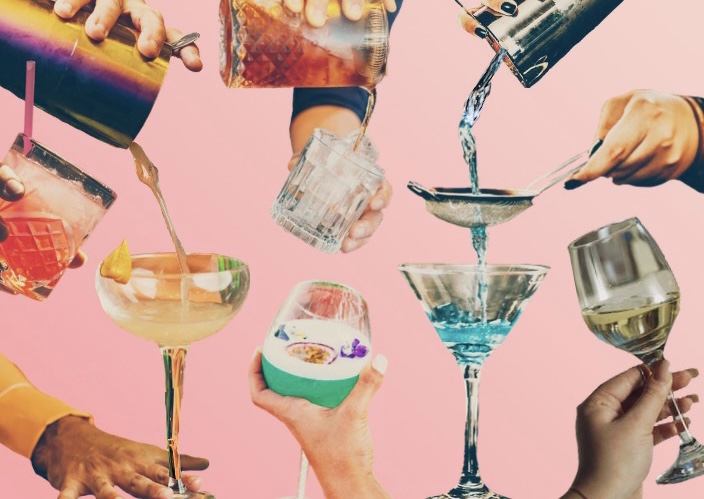 It's 8 p.m. I'm standing at the bar, trying to decide what to order. The dimly lit lounge is decorated with a red oriental rug and a canopy of plants on the ceiling, giving the illusion of an underground secret garden. I see flashes of clothing in the Art Deco mirrors on a far wall – people are beginning to filter in. Alone at a social event, this is around the time I would usually order a beer to loosen up. But all the beer is non-alcoholic. Everything here is non-alcoholic. I tell myself I'll stay until 9.
Absence of Proof – a pop-up that launched in New York last year and has since expanded to other cities like Los Angeles and Seattle – is one of a growing number of booze-free nightlife options across the country. In recent years, pop-up events and brick-and-mortar bars have been mushrooming in major U.S. cities, marketed to both non-drinkers and drinkers who are looking to take a night off from alcohol. At tonight's pop-up, in an event space tucked underneath a Little Italy restaurant, I'm surprised to see the room quickly fill up with over 70 people.
The first person I meet, a man named Ahmed Hassan, says this is the second event he's been to. He says he runs a lot and does weight lifting, and feels that it's counterintuitive to be actively drinking while simultaneously trying to live a healthy lifestyle. "I've been sober for the past two years," he says, while sipping an alcohol-free espresso martini. "It was partly about health, and also about feeling better."
Later on, we chat with two women who met each other at an Absence of Proof yoga-and-mocktails event the week before. Cassandra Estrada says cutting alcohol out of her life has helped with anxiety and sleep problems. And Alyssa Kushner, who got sober eight months ago, says she wanted to make new friends and do things she used to do while drinking, minus the alcohol. She found Absence of Proof on Instagram.
"Sobriety is growing way more, and the Instagram community is starting to grow as well," she says. "I feel like three years ago, it would have been harder to find sober events. But now there's an outpouring."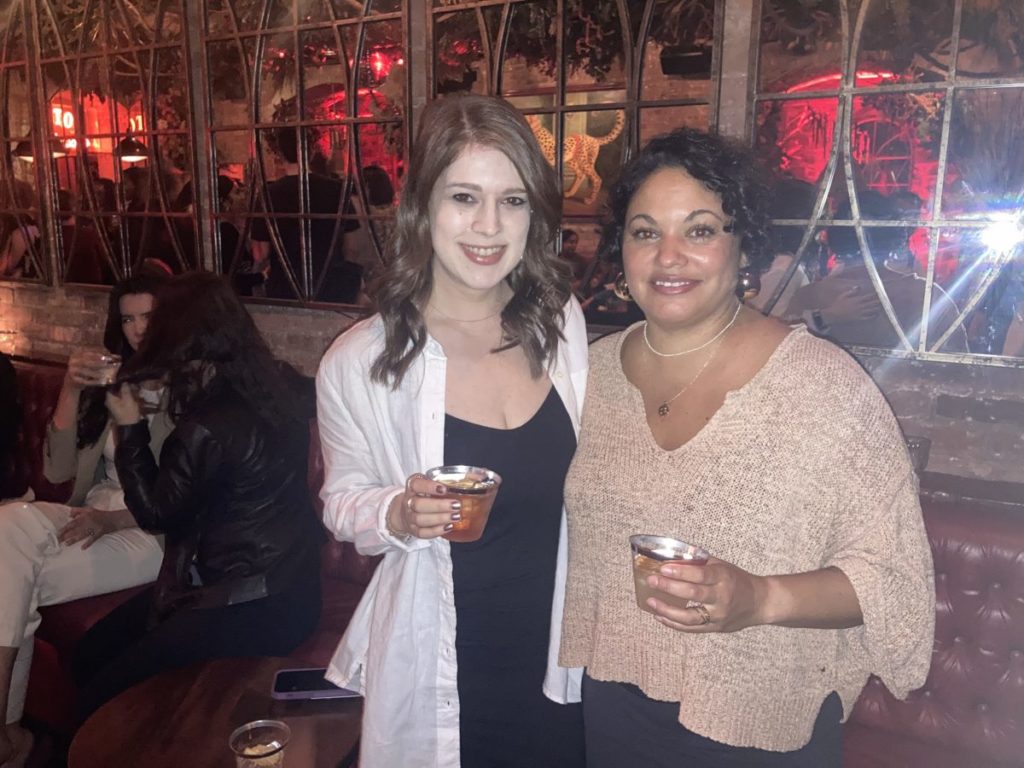 A Larger Movement
According to Elizabeth Gascoigne, Absence of Proof's founder, roughly 70 percent of attendees at the company's pop-up events are "sober curious." The term – coined five years ago by author Ruby Warrington in her book of the same title – refers to people who are curious about their alcohol consumption and want to reevaluate their relationship with alcohol.
"I didn't realize how revolved around alcohol the city was until I quit drinking," Gascoigne says. "Brunch is always bottomless brunch. You go to the park, you bring wine. You have workout classes where you take a shot on your way out. Everything is so alcohol-centric."
Lorelei Bandrovschi can attest to that. Before she opened Listen Bar, another booze-free pop-up bar in New York, the former innovation consultant was dared by a friend to go a month without drinking.
"I went into the experience very skeptical," she says. "I had gotten so used to alcohol as a reality that it just didn't occur to me that you could have a really fun time without it. You can go out dancing, then wake up totally fresh, without a hangover. I hadn't come across that concept yet because alcohol was always the default."
In a consumer sentiment survey of 1,000 Americans published by NCSolutions, a joint venture with Nielsen, some 93% of respondents said they feel that drinking is a big part of American culture. But recent trends show Gen Z is stepping away from that culture and embracing sober-curiosity. Berenberg Research polled 6,000 Gen Z individuals and found that the next generation is drinking over 20% less per capita than millennials did at the same age, with many citing health and hangover-related concerns. 
"My first month of not drinking opened up this whole idea that going out without drinking is enjoyable in its own right," Bandrovschi says. "But it also had no support in terms of culture, and bars weren't prepared to support it."
This was in 2018. The idea of opening a brick-and-mortar alcohol-free bar felt outlandish to Bandrovschi at the time. "People would say, 'What's next? A restaurant without food?'" She opted for a pop-up business model because of the flexibility that it offered; with no permanent location, she is free to create original events at a variety of venues, from basements to rooftops. She frequently incorporates adventurous activities into the events, such as speed dating, astrology reading, dominatrix lessons and tattoo stations.
For customers, a major appeal of sober bars like Listen is that the drinks – with prices averaging at around $11 – contain many of the same artisanal ingredients as real cocktails, elevating the 'booze-free' experience. This is thanks to a growing market of non-alcoholic drinks that, according to Forbes, surpassed $11 billion last year. And despite this endless flow of booze-free drinks, Bandrovschi says people who live 100% sober lifestyles are actually in the minority at Listen Bar events. Most are just curious. "We always say, you can be sober and hungover."
In the NCSolutions survey, 45% of respondents – both drinkers and non-drinkers – said they would be interested in going to a sober bar and 39% said they wish there were more sober bars in their area.
Building Community
Another reason people are embracing sober-curiosity is because it allows them to socialize without using alcohol as a crutch. "I've heard lots of people say they like to connect with others in a sober environment because the relationships last past that night," Gascoigne says. "You can make real friends, instead of being best friends for one night with the drunk girl in the bathroom."
Sydney Eason, a bartender at sober bar Hekate in New York's East Village, echoes the exact same thought. "We've all been there – you become best friends with the drunk girl in the bathroom and you're hammered and you think you're best friends and you're planning a trip to the Bahamas," she says. "And the next morning, you don't even know who that person is."
A café by day and a sober bar by night, Hekate is described on its website as being "fueled by feminine energy," which is appropriate because the owner, Abby Ehmann, says she has noticed women leading the charge in the sober-curious movement.
"Women are more nurturing, and there's a component to sobriety that's about taking care of yourself or taking care of others," she says. "My motivation for opening Hekate was trying to take care of friends."
For years, Ehmann served as the owner of a bar called Lucky that serves alcohol. Then last year, she decided to open a sober bar across the street because she wanted to offer her customers a place where they can get the same neighborhood feel as Lucky, without the stigma around sobriety. While sales of coffee and "Witchy Teas" help the café bring in revenue during daylight hours, the nighttime sober bar is where the magic happens. Customers come in for a number of reasons – some are pregnant, some are underage and some can't drink for religious reasons. And while some people just want to try something new, there are others who visit Hekate to celebrate their "sober-versaries," according to bartender Annette Moreno.
"I always appreciate when somebody celebrates a sobriety milestone, since I'm also in recovery," says Moreno, who has been sober for 12 years. "I bring them extra sobriety chips," – small, round tokens traditionally given to people in recovery programs as rewards – "and I always cry when somebody says they just completed their first year."
Another perk of sober bars that bartenders Eason and Moreno have noticed is the sense of conviviality among patrons. "People are all in this environment for the same reason – they're choosing not to drink," Eason says. "Whether they're sober, supporting a sober friend or just taking a month off from drinking, everyone is here for the same reason."
Closing Time
It's 10:15 p.m. I'm standing at the bar, drinking a non-alcoholic whiskey sour with Hassan, the first person I met tonight. We're friends now, and have agreed to meet up for coffee sometime. People are filtering out, and bartenders are wiping down the counters. No one will be hungover tomorrow.
In the middle of the room, a few girls are standing in a circle, talking. I remember one of them from earlier in the night – she had walked in alone. Now, she's laughing with three other girls, loudly enough to make a few people at the bar turn around.
"Oh no," I joke. "They're drunk." ◼