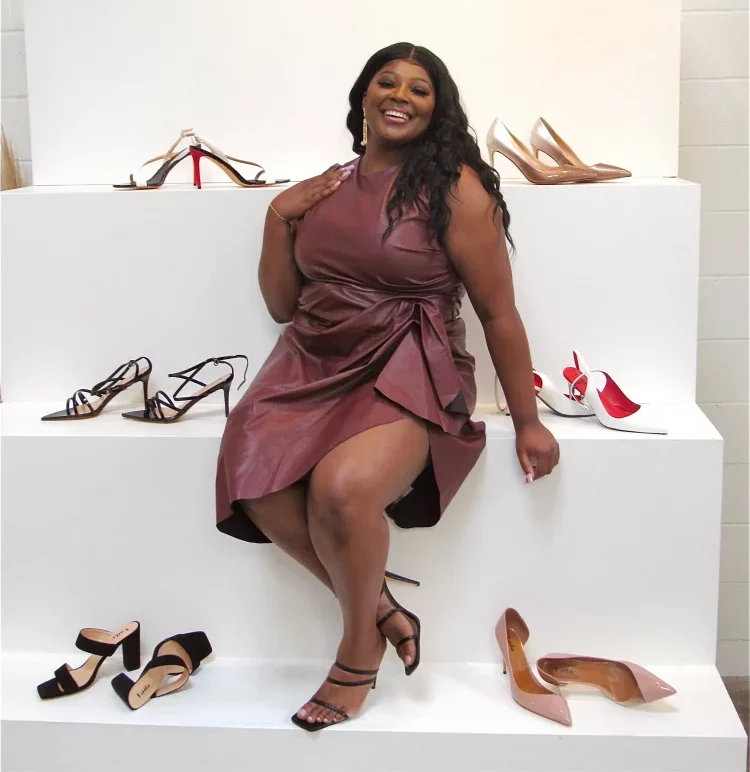 Editor's Note: Valia Shoes has been named to The Story Exchange's 2023 list of 10 Brilliant Business Ideas.
Ever since middle school, when her feet became larger than most, Ahriana Edwards dreaded shoe shopping. Retailers usually stocked limited, outdated and altogether unappealing options – if they had any footwear that fit her in the first place. Frustrated, Edwards decided to create her own shoeline, Vaila Shoes, to give women with larger feet access to footwear that fits well and looks good. The 23-year-old founder has, it seems, tapped into a gap in the marketplace – the Charlotte, North Carolina, founder raised enough capital in 2021 to launch in 2022, and recently secured a wholesale contract with Macy's.
Here's our lightly edited Q&A with Edwards.
Tell us more about why you started your business.
In the summer of 2020, I – like many people – I was going through a period of reflection and transition. I cleaned everything, including my closet. I was then able to replenish everything but my shoes. I thought to myself, "How am I supposed to show up as my 'best self' if I can't even find the shoes to accommodate me?"
I needed to create Vaila to give women with extended shoe sizes, like me, available options – hence the name, Vaila, from aVAILAbility.
How is your business different from others in your industry?
We have created footwear that caters to our customers, as opposed to having them conform to our products. At Vaila, we engineered our shoes to have a thicker heel base, spacious toe boxes, and insoles that actually cover the larger foot structure. Also, we are the only brand that focuses on a variety of dress shoes in extended sizes, compared to our competitors who focus generally on women's "lifestyle" offerings.
Tell us about your biggest success so far.
We raised over $70,000 in non-dilutive capital (that is, funding that doesn't require giving up any ownership interest) in 2021. And, we've signed a contract with Macy's to launch in stores in Spring 2023. With more retailers in the fold, we are actively growing our community to thousands of women and are tapping into spaces that need our footwear the most – LGBTQIA individuals, athletes, recent mothers, etc. Vaila has also been featured in Entrepreneur, Forbes, Medium, Nasdaq, Breakfast TV, and Black Enterprise.
What is your top challenge and how have you addressed it?
One of my biggest obstacles was entering into a male-dominated market. Most of the time, I'd find myself pitching a plus-size feminine shoe brand to a room of male VCs who didn't get the problem that I'm trying to solve. I got a lot of "nos" before I finally got a "yes." One thing that kept me going was a good piece of advice from my business mentor: "You can't say the right thing to the wrong person, and you can't say the wrong thing to the right person. So be authentic – the right person and opportunity will be for you."
What is your biggest tip for other startup entrepreneurs?
I wish I had known how important it was to have emotional intelligence before I even launched a company. It takes a real skill to ride the highs and lows of emotions and fight for another day. This unexpected aspect of the journey revealed a lot about myself that I needed to improve on, and pushed me into finding a neutral emotional state which I operate best in.
My advice would be to discover how you respond and react to highly tense situations. There's no perfect day in entrepreneurship, so learning emotional intelligence and self-control is important.
How do you find inspiration on your darkest days?
One thing that makes me persist when I'm overwhelmed is thinking about my younger self. If I had shoes in my size, I wouldn't have gone through that emotional trauma of feeling like I wasn't enough, of not loving my attributes, of not finding a way to express myself through fashion. Everytime I'm on the verge of giving up, I think about her and all of the younger Ahrianas out there. I'm doing everything I can to make sure that she has a better shopping experience – that's all I need to get me through the tough times.
What is your go-to song to get motivated on tough days?
"100 Mil" by J. Cole always gets me back on track. What can I say? I'm a North Carolina girl!
Who is your most important role model?
Pinky Cole, the founder of Slutty Vegan. ◼
Instagram: @vailashoes
Facebook: @shoesvaila
TikTok: @vailashoes
Check out our Advice + Tips for entrepreneurs starting-up
Watch our latest videos
Subscribe to our podcast