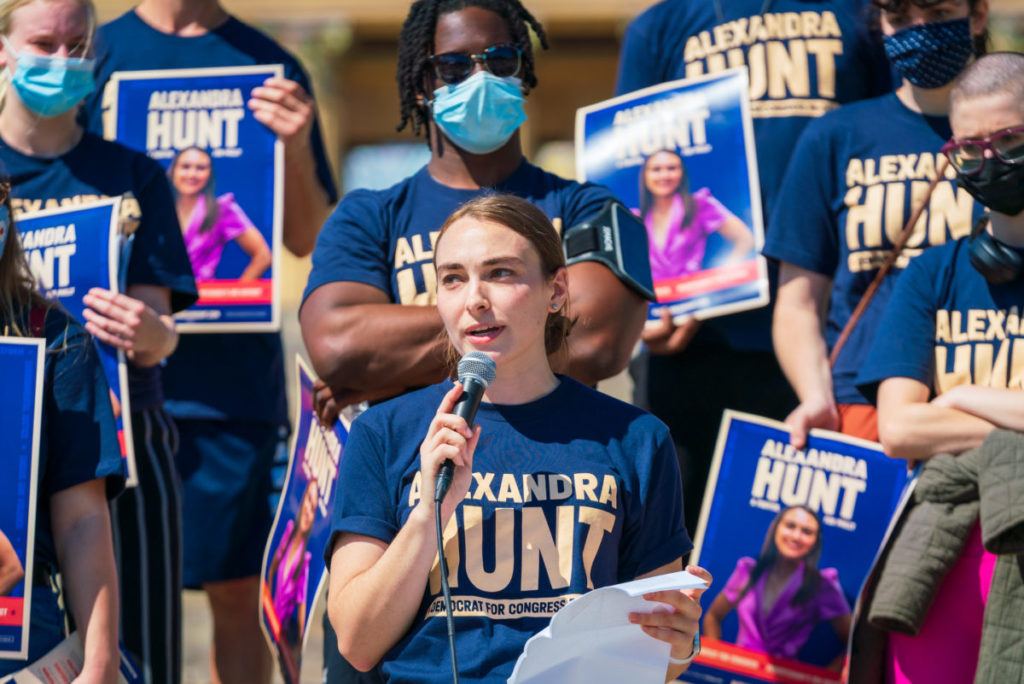 [Note: The Story Exchange will be writing about women candidates running for office in 2022 throughout the year.]
"You'll never get enough signatures to run."
So reads one of a bevy of taunts sent to Alexandra M. Hunt, a Democratic candidate for Pennsylvania's 3rd congressional district, which includes Philadelphia. 
Of course, nasty messages and partisan jeers are par for the election course. But in recent weeks, Hunt says her campaign has grappled with an influx of negative comments – especially after a New York Post article (and several other reports) disproportionately focused on her past as a stripper while downplaying or ignoring her advocacy work and policy prescriptions, not to mention her two master's degrees and endorsement from feminist icon Gloria Steinem.
No wonder she says one of her first agenda items post-election is "taking a nap."
But Hunt is unashamed, and in fact, has partly brought the attention to the matter herself by publishing candid op-eds and social media posts that explain how her experiences as a stripper influence her policy proposals, particularly on criminal justice reform. Her own campaign merchandise bears phrases such as "Elect Hoes" and "I May Have Danced For Money But I'm No Corporate Whore." For the 28-year-old, it's part of a strategy to control a narrative that even a decade ago may have been too challenging for a candidate to overcome.
"I know what it's like to be dehumanized, by policies and by other people – to face stigma," she explains. "It keeps me very much grounded in the movement."
And it might just be working. Several days ago, Hunt formally filed as a candidate with 1,198 signatures – ahead of Pennsylvania's March 15 deadline, and with nearly 200 more signatures than the state requirement.
So much for "never."
Hunt's Entire Resume
From working as an emergency medical technician to serving meals out of soup kitchens, the clinical-data-researcher-by-day has been doing community-based work for the better part of a decade. And when the pandemic hit, Hunt remained in the thick of it – distributing food and toiletries at Covid-19 testing sites and low-income encampments around Philadelphia, and advocating for rent freezes and universal healthcare.
Through that work, "I noticed injustices [in] housing, access to menstrual items, education [and] criminal justice." Which makes it difficult to parse out her priorities, she admits, because "everything is so intersectional – it's hard to pull things out and do legislation in a vacuum."
Economic justice, equitable housing access and climate change mitigation are high on the list, though. The Rochester, New York, native and daughter of teachers recalls observing inequities in access to vital resources as a child. Though she resided in the inner city, Hunt attended suburban schools – the contrasts were startling even to her younger self, she recalls.
Hunt's commitment to combating student loan debt is also personal. She earned her bachelor's degree in psychology from the University of Richmond in 2014, one master's degree in interdisciplinary health sciences from Drexel University in 2016, and a second master's in public health from Temple University in 2020.
And yes, to make ends meet, she worked as a stripper earlier on in her scholastic career. (She also fast-tracked her bachelor's degree, graduating a year early, to save money. This move receives less press coverage.)
Her past is something she freely discusses as part of her campaign. "I began speaking about sex work and my personal involvement in the industry on the campaign trail because every person in this country should experience unconditional safety," Hunt wrote in a Huffington Post piece. She added: "Decriminalizing sex work is only a piece of the larger crisis that is the United States prison-industrial complex."
Her policy proposals, community organizing background, her candor and wit – check out her Valentine's Day poem on prisons, or this Groundhog's Day contribution – have scored her endorsements from the likes of left-wing student organization Penn Justice Democrats and Steinem.
But being honest about her past hasn't come without consequences, as is often the case – in addition to the sensationalized press coverage, Hunt also lost her soccer coaching job, she says, with league officials pushing her out because of her openness.
The Creation of a Candidate
This campaign for office was not part of Hunt's life plan.
Originally, she wished to become a doctor. With some of the tips she earned while dancing, she took part in medical mission trips to Ecuador and Ghana, later working with the Oglala Lakota tribe in South Dakota in 2015. She witnessed profound health inequities. "I was so gravely disappointed with the way that people in the U.S., who have been here the longest, are so deeply neglected," she says.
It made her question her career trajectory, as she began to see that faulty legislation was the bigger pain point. "It all came back to government," she says. "I thought about it as a dam that's about to break. As a physician, I could plug one hole with my finger, and maybe reach another. Going into public health, I could build a new dam."
She launched her first campaign for office in February 2021, just shy of one year after Covid-19 first gripped the United States in earnest. She was distressed by how much disenfranchisement she saw during the pandemic. "It was obscene," she says. "This is the oldest city in the United States – not that that should make us a priority, but the neglect was so deep here, and the need so great, and we weren't getting the resources that we needed from the government."
Hunt will face Philadelphia's current congressional representative, incumbent Dwight Evans, in Pennsylvania's May 17 Democratic primary, as well as two other opponents: community organizer Michael Cogbill and property manager Austin Rodill.
Hunt has criticized Evans' response to the pandemic, as well as his support for the controversial "broken windows" approach to policing, which calls for increased focus on non-violent crimes like vandalism as a way of stemming more serious offenses. Hunt, meanwhile, tweeted that "in neighborhoods with rising violence, tougher policing isn't the answer. The answer is resources. Push resources into that neighborhood."
By choosing to run for office to right the wrongs she's observed, Hunt joins an ever-growing number of women who are tossing their hats into electoral rings. In the past two major election years – 2018 and 2020 – unprecedented amounts of women candidates filed for local, state and federal races around the country.
And to be clear, she states that she's not just running to shed light on the issues she cares about. "We're in it to win it," she says. "We're running to win."