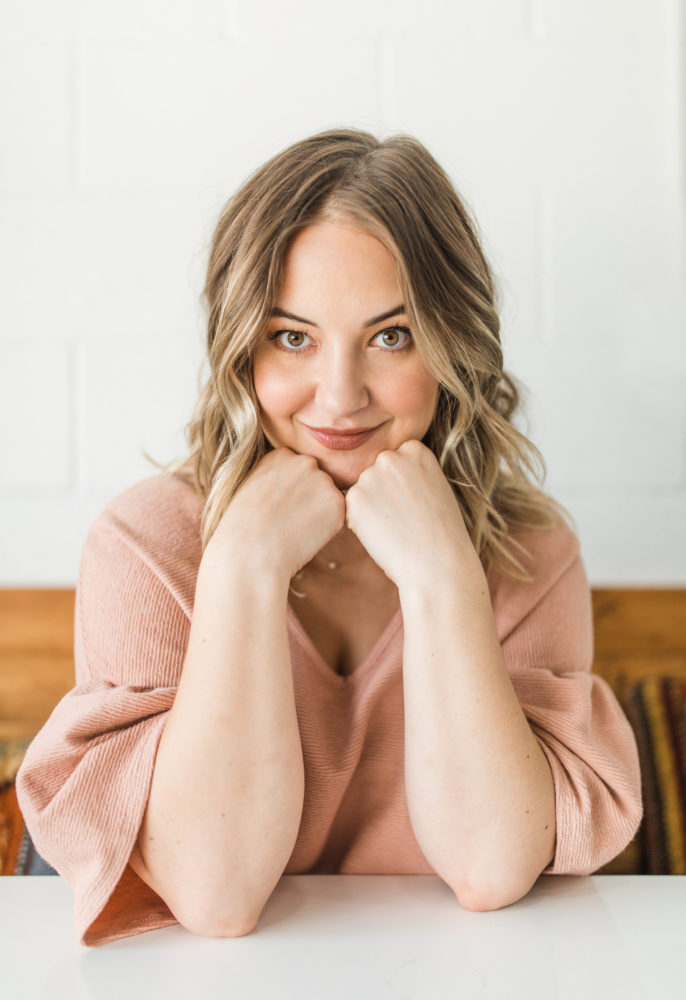 Alisa Pospekhova saw the benefits of incorporating adaptogens into her diet when she started working with a holistic doctor. She had been dealing with an auto-immune disease since childhood and was over the moon to finally have found natural remedies that made her feel better. But a busy career made it hard to keep all those herbs and tinctures in her daily routine when she was on the road. That's when Pospekhova decided she was going to find a way to produce powerful herb and vitamin infused lozenges that could be taken anywhere, at any time. The result is Kindroot, her wellness brand that is reinventing the supplement category. Today the Manhattan Beach, California-based entrepreneur has made her way into national chainstores like Target and is thrilled to be crafting all her products in the USA in small batches with all organic ingredients.
Pospekhova's story, as told to The Story Exchange 1,000+ Stories Project:
What was your reason for starting your business?
I have battled auto-immune and respiratory conditions since childhood. But finally in my thirties after working with a holistic doctor, I felt the transformative effects of adaptogens and other herbs in my own health and energy levels.
But I found most herbs unpleasant to take and difficult to incorporate in my daily routine, especially because my job often took me traveling where I didn't have access to blenders nor could I bring heavy tinctures with me on the plane. I saw a need to create a supplement that would be nourishing, but also would be both convenient and fun to take – and that is how the idea for a functional vitamin and herbal lozenge was born. At Kindroot, we blend beneficial ingredients into slow-melting lozenges that are enhanced with aromatherapy inspired flavors for a full body sensory effect that is convenient anytime and anywhere!
How do you define success?
Today my definition of success is much more holistic than when I was younger. Of course I still focus on revenue and sales since those are important metrics for keeping the business growing, but my own happiness, ability to engage in things and activities that bring me joy and being able to hire and work with people I admire are even more important.
Once I understood that this was what success looked like for me, I changed my business growth strategy and really prioritized sustainable and independent growth.
Tell us about your biggest success to date
I don't think that there was one explosive event or accomplishment that I can reference. For me, it has really been a sum of consistency – ongoing efforts and steady progressive work day in and day out.
I am proud that two years after launching right before the pandemic, my company is still here and continues to grow. I'm working with my dream retailers like Anthropologie, Erewhon, Foxtrot, Thrive Market and Target.
What is your top challenge and how have you addressed it?
Before I could even launch Kindroot, I was calling every single manufacturer I could find (even overseas!) and each and every one of them said no to making my product. Some just politely declined, but others literally chuckled at me over the phone and I even vividly remember one man telling me, "Why do you think you will be successful with this? You will probably fail."

It was difficult not to get discouraged and I really had to dig deep to find motivation to keep going. But, ultimately, I believed that I had something that the market needed, so I decided to hire a scientist and a production expert and make them myself. I've never manufactured anything before and I don't even like cooking, but here I was running a full production and learning how to work with all kinds of ingredients, testing protocols, packaging.

Eventually, the product started to take off and now I produce them in a factory. After that experience, I really got the confidence to believe that I can work through any challenge and accomplish anything – the answers are always within me.
Have you experienced any significant personal situations that have affected your business decisions?
As an independently owned company, finances and bandwidth are always challenging. I started my business while having a full time job to help fund it, so I've always felt like I wasn't spending enough time on my own business and many times I would get to it already exhausted from the day's work.
Learning how to be hyper organized, prioritizing tasks and then also knowing when to bring in help and delegate is something I slowly learned, but once I got comfortable with it, it was life changing!
What is your biggest tip for other startup entrepreneurs?
I would advise them to take their time and also remember to take care of themselves along the way. I put a lot of pressure on myself to launch by a certain day, accomplish a to-do list, which is great, but it also left me feeling quite burnt out at certain points, which wasn't healthy for my creativity or motivation. Now I make sure to take time off or even simply do things that are outside of work and make me happy. You can't take care of your business if you are depleted.
How do you find inspiration on your darkest days?
Entrepreneurship is always full of ups and downs. I find that looking at customer reviews or thank you emails always gets me re-energized. Hearing how our product is helping people with better sleep or having other positive impact on their lives always reminds me why I do this and that all the daily challenges are worth it!
Who is your most important role model?
I've met so many incredible female entrepreneurs over the past couple of years, formed amazing friendships and I can honestly say that each and every one of them is now my inspiration. It is incredible to see the drive, the motivation and resilience of these women. But also so much kindness and community rooting for one another! ◼
Check out our Advice + Tips for entrepreneurs starting-up
Watch our latest videos
Subscribe to our podcast