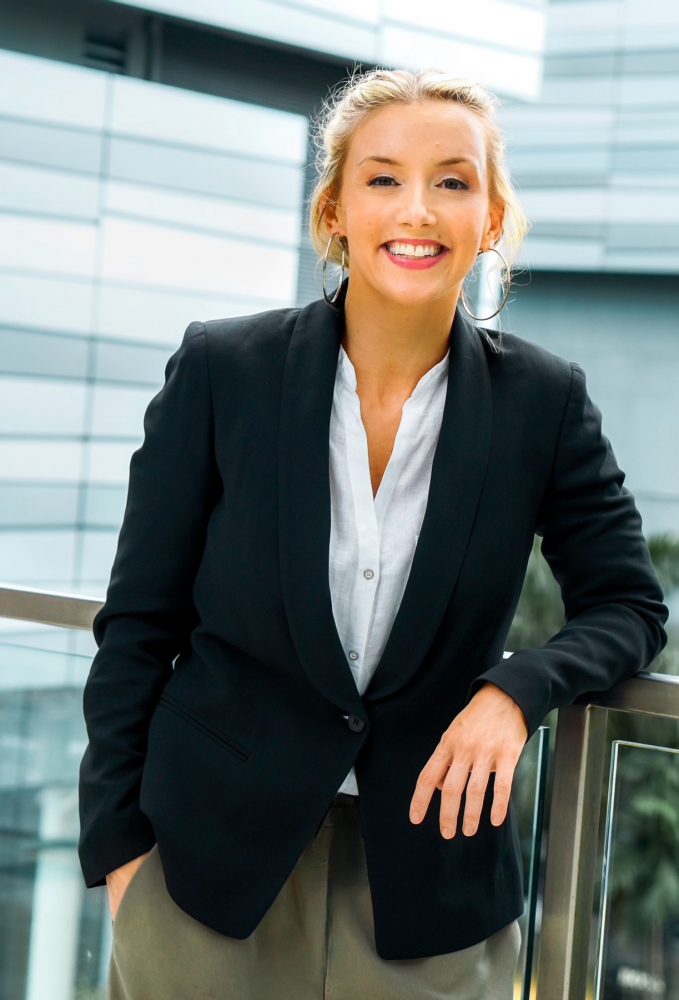 Alix Lebec has worked with entrepreneurial efforts at the World Bank, Clinton Global Initiative, Water.org and WaterEquity for over sixteen years. But the events of 2020 changed everything for Lebec, who began to question how to rebuild broken philanthropic systems to create positive change. So she founded Lebec Consulting, a firm specializing in helping corporations, foundations, social entrepreneurs and high-net worth individuals achieve social impact through strategic philanthropic and impact investments. The Miami, Florida-based entrepreneur believes that her company has the tools to think outside the box and look beyond traditional philanthropy; and while there may be an end in sight for the pandemic – she knows she has a long road ahead of her to, "truly reverse the tides of global inequality."
Lebec's story, as told to The Story Exchange 1,000+ Stories Project:
2020 was a wake-up call. We are living in this unique and yet turbulent moment in time, where it's crucial for all of us to do everything we can to get our planet, society—and really, all of humanity—on a better trajectory. I found myself reading Jacqueline Novogratz' new book Manifesto for a Moral Revolution every night at 2 a.m. last year. Many messages resonated with me, including the need to, "rebuild our systems in a way that puts our shared humanity and the earth" at the center of everything we do—as opposed to just profit. My thoughts were: How do we get this mindset and urgent priority to really drive the agenda for global corporations and the financial industry?
For 16 years, I have driven entrepreneurial efforts at the World Bank, Clinton Global Initiative, Water.org, and WaterEquity—with a front-row seat to the growing gaps in philanthropy and impact investing, seeing how poverty still impacts too many women and their communities today. I just knew it was the right time to step up and address some of these fundamental gaps. I really wanted to take all that I had learned navigating these industries, and work toward improving how the world's greatest capital resources are allocated—putting them to better use for real systemic change. Simply put, I created and launched Lebec Consulting to help address what is a broken philanthropic ecosystem, which is still far from achieving its full potential.
As we enter a new era where global pandemics, climate change, the global water crisis, systemic racism, and gender and income inequality continue to hinder our progress and the sustainability of our planet—we have an urgent responsibility to rebuild these broken systems and walk the walk. There is an entire network of successful social enterprises and organizations who have proven their ability to generate unprecedented impact, who are ready for philanthropic support that matches the scale of these issues and solutions. We need bold, transformational leadership to support these great changemakers—and we need it now. Lebec Consulting was created to do just that.
[Related: Her Startup Aims to Make Water Safer and Cleaner]
Helping social entrepreneurs, non-profits, corporations, foundations, and high-net-worth individuals bring visionary ideas to life—and achieve their greatest impact is my definition of success. In the process, bringing awareness to powerful funders that transformational change—and applying more of an innovation and venture capital mindset—is needed to truly achieve systemic change and solve these deeply entrenched global issues.
I'm really grateful and proud of my most recent journey with both Water.org and WaterEquity, where I have helped grow and scale two highly innovative and impactful organizations—which have successfully helped 33 million people gain safe water and sanitation access. It has been a great opportunity to hone-in on my superpower—developing a strategic roadmap, and raising capital to launch and scale bold and visionary ideas capable of transforming our world.
I've built incredible and inspiring relationships along the way—not only with peer organizations and other social entrepreneurs, but also among bold and brave leaders in the philanthropic and impact investing community, who are keen to shake things up and unleash systemic change. Those friendships, collaborations, and partnerships among the funding community and other practitioners—in addition to seeing how our efforts are removing obstacles for people living in poverty to live a better life—is truly the highlight of this work. As I continue to support Water.org and WaterEquity, I am excited to see what will transpire through our additional efforts at Lebec Consulting.
[Related: Battling Brain Cancer, a Philanthropist Donates $200 Million to Fight Racism]
As a start-up, we have limited financial resources. At the same time, we need certain functions in place in order to grow. So, we strategically figured out a way to take one salary and bifurcate it into four salaries, in order to bring in part-time individuals to focus on their core areas of expertise. With a fully functional team, we can already see our efforts growing and becoming more focused.
Financial limitations are par for the course when you're just starting up. This of course limits our ability to immediately grow to where we want to be. However, we remind ourselves that Rome wasn't built in a day. We remain focused on the vision, and full of passion for what we do—and trust that this will grow naturally. Also, it can be difficult to take in a variety of opinions from outsiders you trust. At some point, you have to just trust your gut and your own abilities, and make the decisions you feel are right for the business—while also taking advice that you believe will really be helpful to the business. It's a balancing act.
My most important role models are Jacqueline Novogratz, Sallie Krawcheck, and Elaine Welteroth.
Check out our Advice + Tips for entrepreneurs starting-up
Watch our latest videos
Subscribe to our podcast