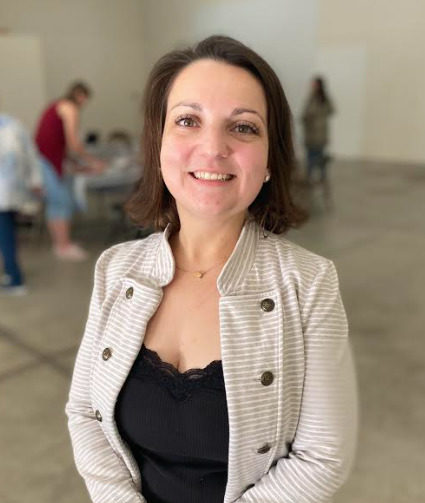 When Amanda Bauer-Frisch's husband unexpectedly passed away in 2017 while she was pregnant with her second son, she wanted to find a way to ensure his legacy would live on. Her late husband was passionate about financial wellness, which sparked an idea for Bauer-Frisch: piggy banks that would teach children about money management. The result is her business, Small Legacies, which makes the Enduring Legacy Bank, a solid wood piggy bank with three compartments for giving, saving and spending. The Verona, Wisconsin-based entrepreneur, who has since remarried, has spent the last year scaling up her family business.
Here's our lightly edited Q&A, from The Story Exchange 1,000+ Stories Project.
Tell us more about your business.
What started as a pandemic hobby has grown to be one of the top 3.5% grossing stores on Etsy. We are thrilled to be helping thousands of parents, grandparents and caregivers teach even the youngest children how to manage money.
How is your business different from others?
In 2020, I recognized a gap in the market. When it comes to children's financial literacy tools, everything out there is made of cheap plastic. I wanted something beautiful, functional and educational for my children. And so I made it! I was blown away by how the business took off and am so grateful every day for this opportunity to help others build their legacy.
Tell us about your biggest success so far.
One of the things I am most proud of is that I have been able to create a family-first company. What started as a hobby now supports my entire family. My husband was even able to quit his job as a psychologist and spend more time at home with the boys.
What is your top challenge and how have you addressed it?
Last year we had to close our Etsy shop in November because we could not keep up with the demand for our product. I simply could not make thousands of banks on my own in my garage. Since then I have partnered with two other family businesses to help manufacture and personalize our product on a larger scale. We took six months to regroup, expand, and grow our business and are now fully relaunched.
Tell us about your personal journey.
I was forced into my midlife crisis at age 30 when my husband died unexpectedly. The initial days and weeks after his death were very lonely. I went to my first grief support group a few weeks after his death. The people in the group were incredibly kind, but they were all 40 to 50 years older than me. People can experience profound grief at any age. But when you're pregnant and your husband dies, finding others who are experiencing a similar kind of grief is important. I'm so lucky that I got connected to a group of young widows in my area. I met them for the first time about 6 weeks after Adam died. I can honestly say they saved my life. Also for the first time in my life, I understood why representation matters.
As I started to rebuild my life, I really evaluated all of my behaviors and the choices I was making. I needed to figure out what was serving me and what needed to change so I could live my best life in the future. I had a great job, but I was overweight, and not dedicating nearly enough time to my physical, mental, and emotional health. It was up to me to provide for my two children alone, and so I got to work.
I had to be strong not only for my children, but for myself. I know what it's like to be overwhelmed, lost, angry and frustrated. I want my employees to know that their personal and home life always comes first. This has a significant impact on how I run my business.
What is your biggest tip for other startup entrepreneurs?
I am a huge advocate of continued education. I read a new nonfiction book almost every week and am constantly listening to educational podcasts on the many long drives I take. There is always more to learn and I want to always be moving forward.
How do you find inspiration on your darkest days?
In my family, and in my widow friends. This life isn't easy. Motherhood isn't easy. Running a business isn't easy. But I see so many women hustling every day to make sure their family is taken care of. My widow friends are my support and my inspiration.
What is your go-to song to get motivated on tough days?
"Don't Slack" by Anderson .Paak and Justin Timberlake.
Who is your most important role model?
Rachel Cruze and Dave Ramsey of Ramsey Solutions, who specialize in personal finance.. It was my late husband, Adam, who introduced me to their teachings. After he passed away, I was a financial mess. The team at Ramsey Solutions was there for me and helped coach me personally every step of the way. I have participated in their Business Boutique course, Financial Peace University, Entre-Leadership and so much more. They are a family who have learned that hard work and determination can leave an enduring legacy, and that is what I want to do for my children. ◼
Check out our Advice + Tips for entrepreneurs starting-up
Watch our latest videos
Subscribe to our podcast