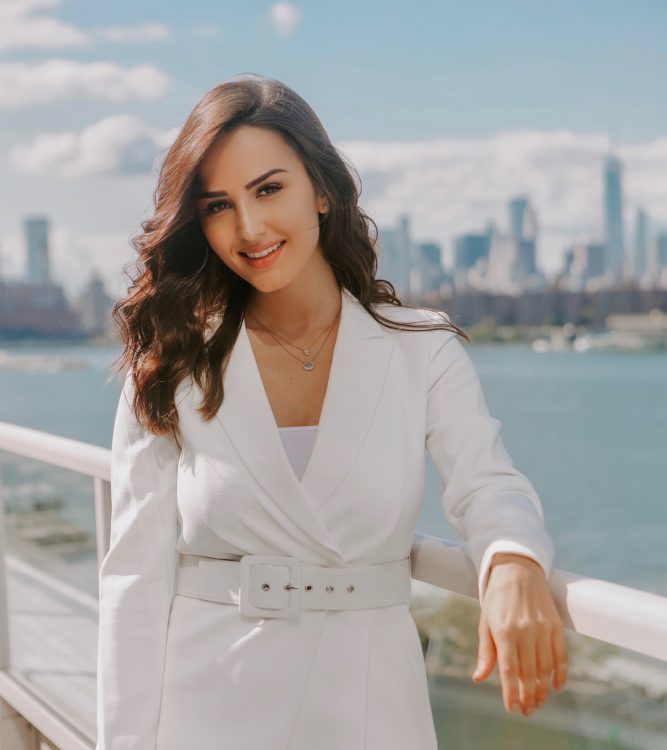 New York City based Amanda Wojtas knew two things before she became an entrepreneur: she wanted to run her own company and she wanted to make people happy. So in 2017 she founded Eternal Fleur, selling environmentally-friendly, preserved floral arrangements that last up to a year without any water or sunlight. During the pandemic, Wojtas found, like so many entrepreneurs, that keeping afloat was a challenge. However, she and her team managed to pivot, create some new products, donate flower votives to NYC's essential workers, and even expand the team with a new hire, during one of the toughest years on record for small businesses. Today Wojtas remains committed to her environmental ethos (all her flowers come with Rainforest Alliance Certification) and maintaining a supportive environment for her mostly female staff.
Wojtas's story, as told to The Story Exchange 1,000+ Stories Project:
I had always wanted to run my own business, having worked at male dominated companies since graduating from New York's Fashion Institute of Technology. I decided to work with flowers because they make people happy. Recognizing the fresh floral industry was quite saturated, I decided to focus on long-lasting floral arrangements that are environmentally friendly.
In the spirit of empowerment, I have made it my mission to ensure female voices are represented, heard and utilized within Eternal Fleur. In response to the pandemic, we began donating Votive Blooms to local New York Hospitals and medical professionals. Our goal at Eternal Fleur is to always give back in any which way that we can and we believe in empowering women to be the best that they can be and never give up on their dreams.
[Related: She's the First Woman to Ever Host 'Jeopardy']
To me success is waking up everyday and enjoying what you do. If you don't love what you do, you will never truly be successful because you will always be wondering if there is something else that you should be doing. So many people in this world go to work just to receive a paycheck and have fear preventing them from fully becoming successful. Success is different to everyone and for me it's important to be happy by living my life with a purpose that defines me. Of course a paycheck is important but so is giving back to the community and helping change the world!
Founding Eternal Fleur in 2017 was such a leap of faith for me, both exciting and terrifying. We have had many large and small successes throughout the years, including and not limited to bootstrapping the company with a small team thus far! I think I am most proud of the strong relationships we have built with List Partners, Harry Winston, Swarovski, Pura (to name a few). We also launched a joint venture with TV personality and entrepreneur Bethenny Frankel which has propelled growth and brand awareness.
2020 was an unprecedented year for many small businesses and Eternal Fleur was not an exception. We were faced with the challenge of staying afloat during a global pandemic without funding beyond our year over year revenues. As most Americans' budgets disappeared with unemployment at an all-time high, I was faced with many difficult challenges. As a founder who employs mostly women with families to support I was and still am deeply committed to my staff regardless of declining revenues. I knew we had to think outside the box if we wanted to survive.
[Related: Beyoncé, Bethenny and a Slew of Women-Led Organizations Take on Texas Relief]
So as a team, we dreamed up Votive Bloom the perfect addition to any work from home space, and Fleur-N-Go which allows you to take the joyful aroma of roses wherever you go. Quickly moving into production we wanted to give back so gifted NYC essential hospital workers our new collection upon launching our latest products. I am so proud to say we were able to grow our team, despite the hardships we faced, including and not limited to bringing on Sarah Zurell as our Chief Revenue Officer.
One of my most important role models is Bethenny Frankel. She's been an idol of mine for years; from watching her on The Real Housewives of New York to her growing SkinnyGirl into a real success. This woman has the willpower to make things happen and she doesn't let anything get in the way. It's inspiring to watch women in power lead the industry by storm and I hope one day I can be an inspiration to other women in the world as well.
Check out our Advice + Tips for entrepreneurs starting-up
Watch our latest videos
Subscribe to our podcast