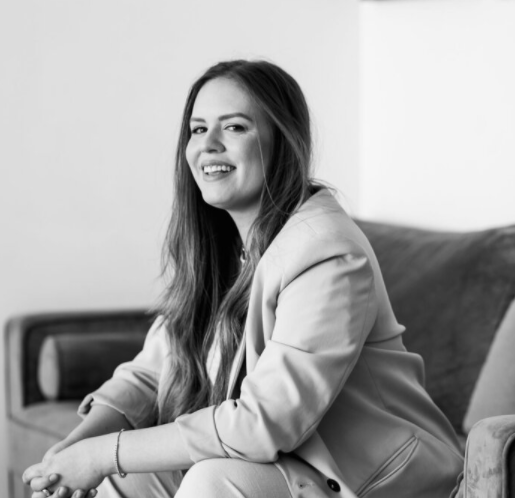 Ashli Pollard took a decade of experience working in the fashion industry in New York City, strategizing for brands like Prada, Rebecca Minkoff and Kendall + Kylie, and turned it into her own agency. Her company, Team AP, helps online businesses optimize and streamline their products and services to increase revenue and growth. The St. Louis, Missouri-based entrepreneur was confident in the skillset she could provide other companies, and the bet paid off. After a few years in business Pollard's agency has surpassed the $1 million revenue mark and she puts it all down to her team, her understanding of business tactics, and her ability to convey all of this in a digestible and easy to understand formula for other entrepreneurs starting out.
Pollard's story, as told to The Story Exchange 1,000+ Stories Project:
What was your reason for starting your business?
I started this to help women understand business tactics that can help them scale effortlessly. With my experience in corporate, I learned phenomenal growth tactics and applied them to small businesses in a digestible way and my clients saw huge success – so I knew I was on to something.
How do you define success?
Success to me is not living by anybody else's standards or expectations – I can work the way that I want to. I can live the way that I want to. I can travel, and enjoy my life, and do so without a weight on my shoulders placed by society or by a job that I hate. I work the way that I do so that I have the financial freedom and time to live my life on my own terms and do so feeling truly happy.
Tell us about your biggest success to date
My biggest success to date I feel was hitting such a high financial goal so quickly. I never thought I'd be running a business that grosses $30k-$50k per month, so that's validating and proves to me we're on the right path but as corny as it sounds, I truly think my biggest successes are the clients who tell me they can finally quit their job, or they can finally move out of their parents home, or they can finally pay off their student debt because of how we've helped them. The realization that they don't have to suffer anymore is incomparable.
What is your top challenge and how have you addressed it?
The hardest part of running an agency will always be that you have to do the work and manage the work as well. The team is always the biggest expense, employees with have different way of working that you want to respect, and you want to create a culture that people enjoy working within. This doesn't happen overnight and every day I make an effort to really connect with my team so they feel like they're helping me grow but also growing themselves.
Have you experienced any significant personal situations that have affected your business decisions?
As someone who comes from a well connected network in the corporate world, a lot of people are still following me on social media somewhere. A lot of people thought I was absolutely crazy for starting a business that to them looked strange and different from what they knew. I got so much criticism. Not to mention the nods people would make about how I don't dress corporate, I speak very casually to my audience and my clients, I don't operate like an "agency" would so people have been dismissive. But now they see how I work, they see what I do and the results I create and those people come to me for the reasons I was criticized for. And those corporate people who thought I was crazy? Three of them have asked for a full time job with my business. The tables truly do turn.
What is your biggest tip for other startup entrepreneurs?
Move super slowly and it will still feel incredibly fast. But you'll give yourself time, space and room to grow into what you want. You've got to start somewhere, even if its the wrong somewhere.
How do you find inspiration on your darkest days?
I think I put a lot of pressure on myself and it's one of my most unhealthy qualities. Since I work with so many women, and I know so many single moms and new entrepreneurs who "need" their business to work and are just…scared, I think I tell myself that if I could just help them then they can have a better future. It's the thing that keeps me going, the idea that if I stop, who else could I have helped? I know I'm not so powerful to be the end all be all for some people, but it keeps me going everyday when I hear a single mom quit her full time job because of how much money she's making with her passion. Or when someone says that they can finally afford their first family trip. Or a young woman got out of crippling debt and for the first time feels calm. I feel like there's a never ending pool of people I want to work with so that everyone can feel lit up in their life, safe, and calm.
Who is your most important role model?
I would say my mom – she's been through so much and she continues to give, to put others first, and to stay insanely optimistic. It's wild to watch because nothing really buckles her. She reminds me that nothing is really as big of a deal as we make it and to make sure I'm having fun, or what's really the point? ◼
Check out our Advice + Tips for entrepreneurs starting-up
Watch our latest videos
Subscribe to our podcast