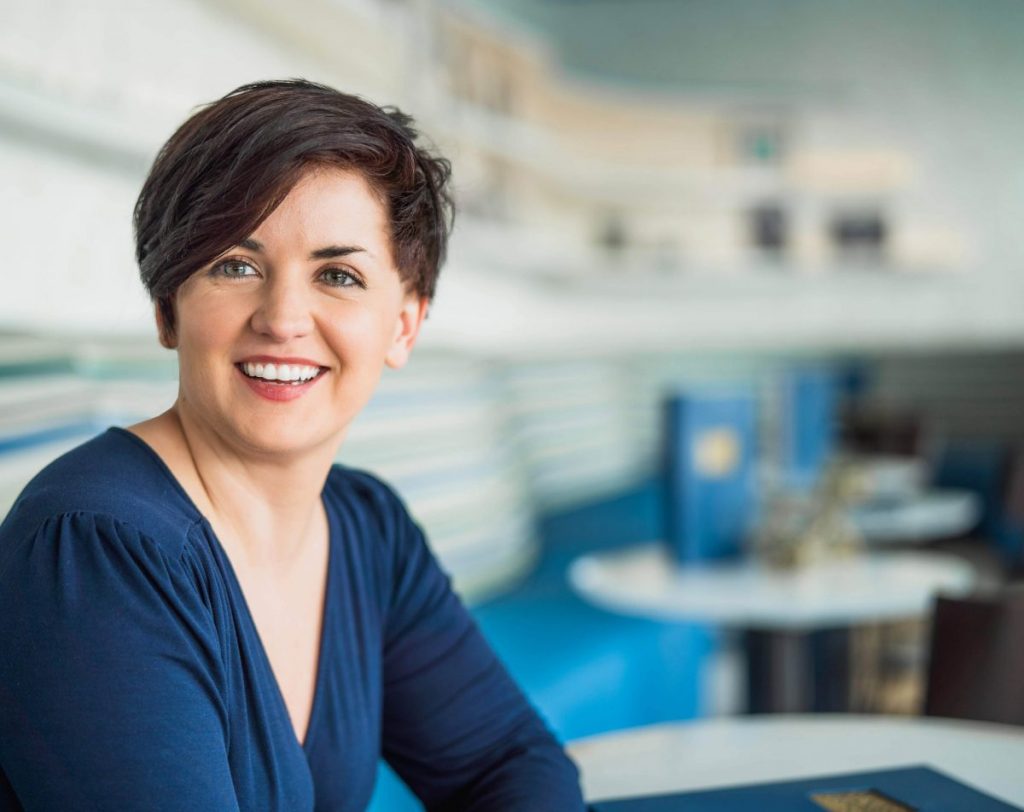 Cathryn Lavery had an idea for a product that did not yet exist. Like many who are born with the entrepreneurial bug, she decided to follow through with her vision. The result is BestSelf Co. an e-commerce platform that specializes in productivity and self-improvement products, like her Self Journal. The Austin, Texas-based entrepreneur has slowly built a multi-million dollar company over the last six years, which employs a remote team and keeps her endlessly busy trouble shooting, tackling the challenges of digital marketing in a SEO world, and working towards that elusive work-life balance so many CEOs struggle to obtain.
Lavery's story, as told to The Story Exchange 1,000+ Stories Project:
What was your reason for starting your business?
I started my company because I had a product idea [the Self Journal] and I wanted this product to exist. I also wanted to leverage my entrepreneurial drive to create freedom for myself. I could see I wasn't going to get what I wanted staying in a corporate environment so I took the leap.
How do you define success?
To me, success is about having the freedom to do what you want. I'll likely never stop working, but I want to be in a position where I work because I love it and not because I have to for the money. I learned that your best self isn't about career, financial, and business success alone. As a society, we focus on these metrics because they're easy to measure and quantify [and they're visible]. Plus, we're told to desire all the things that money can buy. But are you really successful in life if you've only mastered one area?
For me, success is about having a balance of all the things that are important to you.
The money and the freedom to use your time the way you choose.
The business and the relationship that sets your heart on fire and fills you with love and joy.
The creative challenges and the peace of mind to relax, unwind, and be with yourself.
When you create work-life balance, you feel good in all of life's important domains. And because fulfillment and success in one area of life feeds all the others, when you strive for balance, the success you feel can be exponential.
Tell us about your biggest success to date
My biggest success to date was launching and then growing BestSelf Co. This company began as a Kickstarter project for the Self Journal. We were fully funded in 28 hours and by the end of the campaign we'd generated six-figures from backers.
I started my entrepreneurial journey as an immigrant from Ireland. I started with nothing and over the past six years have built a company that employs a remote team and serves thousands of people across the world. I sometimes reflect on where my life would be now if I'd stuck with my architecture job. It's crazy to think that none of the above would exist if I'd stayed on that path instead of following my entrepreneurial instincts.
What is your top challenge and how have you addressed it?
If you'd have asked me this a year ago I'd have given you a different answer entirely. Right now, our biggest challenge is scaling up and this is difficult because the world has changed. Traditionally, we've grown our audience and customer base with Facebook ads. This platform is becoming more and more expensive, but shifting to other platforms requires a huge cash investment. For example, if we wanted to move to TV, we'd need to invest a minimum of $250,000 per month. It's a lot for a small[ish] ecommerce store.
However, these changes are here to stay and with the arrival of IOS 15, email marketing is also being affected because of the changes to tracking. We're responding to this challenge in a number of ways. We're diving deeper into influencer marketing right now and we've also explored product collaborations, such as our partnership with GQ Magazine's BestStuff Box. As an entrepreneur, problem-solving and idea-generation are core skills and I'm of the mind that there's always a solution. You just have to dig and experiment until you find it.
What is your biggest tip for other startup entrepreneurs?
I'd recommend a few things here. Firstly, if you start your business with a partner, it's crucial that you have a really good operating agreement in place. When starting out, it's tempting to skip over these kinds of issues because of the cost and lack of knowledge. However, after experiencing a very challenging business divorce last year, I know first-hand how much stress and challenge a solid operating agreement would have saved.
I'd also recommend learning one thing at a time. When you start out, there's so much you need to get up to speed on. Sure, you can read all the business books, but chances are you won't remember much. What's more, the overwhelm and overload can stifle your momentum. Instead, just learn the next thing you have to do. Not only will you remember more, but you'll also take that step with more confidence and skill. Just in time learning has always worked for me.
Finally, I recommend learning all parts of the business before you hire – even if you have an overview. That way, when you do bring people into your team you'll know exactly what you need them to be doing. This approach makes onboarding a lot easier and also ensures you hire the right people and delegate/outsource the right skills and tasks.
How do you find inspiration on your darkest days?
I faced a lot of challenges last year – both personally and professionally. To be honest, my team kept me going during those dark days. I had to keep going for the team and so I found a way through. Mindset also plays a big part in this. I know that struggles – however hard and challenging – will make me stronger by the time I've come out the other side of them. Gifts don't always come in bright shiny packages and you don't always recognize the gift in the moment that you receive them. But I trust that with hindsight, I'll be able to see what I had to gain. I also remember that challenges build my resilience and as an entrepreneur and business owner, I'm always going to need a stack of that to be successful.
Who is your most important role model?
Sara Blakely, the founder of Spanx. I'm inspired by the way Sara Blakely has been able to build an incredible business while maintaining a great work-life balance. What's more, she did all this at a time when it was difficult to start a business. I imagine it would have been extra challenging because not only is Sara Blakely a woman, but she chose to create a product for women, which likely made a problem when seeking funding. A lot of the time, men have the investment dollars and if they don't understand the business or the need for the product, it's harder for them to say yes. To me, Sara Blakely is a tenacious badass who just got on with what needed to be done. I imagine she would have had to deal with a lot of BS to get through, but she totally crushed it, building Spanx into an extraordinary brand. If she wasn't who she is, Spanx wouldn't be the business it is today.
Check out our Advice + Tips for entrepreneurs starting-up
Watch our latest videos
Subscribe to our podcast