Here's a new coin to add to your collection – a quarter featuring the likeness of the feminist changemaker and former Cherokee Nation chief Wilma Mankiller.
The Mankiller-inscribed quarters were rolled out Monday as part of the latest installment of the U.S. Mint's American Women Quarters Program, a four-year initiative that celebrates an array of diverse women in the country's history.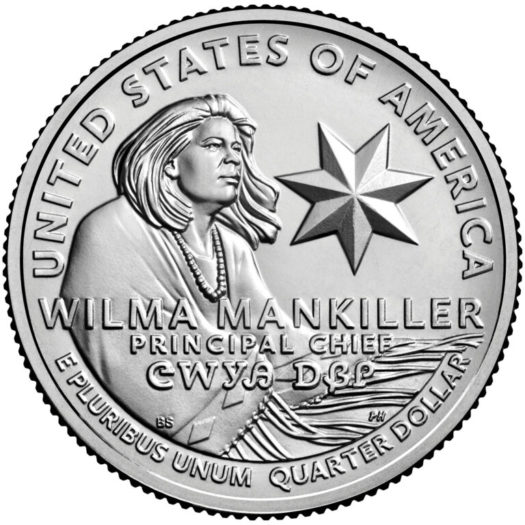 Mankiller, born and raised in Oklahoma, waded into politics as the running mate of the tribal chief in 1988, and was hit with a barrage of death threats and sexist mail as a result. After two years serving as deputy chief of the Cherokee Nation, she was elected to the principal chief's chair with 83% of the vote.
A soft-spoken woman, Mankiller had to grapple with false impressions of her surname, which describes a traditional tribal military rank. "People sort of have an image of what a woman named 'Mankiller' would be like," she told NPR's Fresh Air in 1993, "and I don't think that I really fit their image."
Mankiller, who died in 2010, was the Cherokee Nation's first female principal chief, and is known for implementing sweeping healthcare and housing reforms during her tenure. The majority of the support she received, Mankiller told NPR, came from elders in the community.
"I've always found that fascinating," she said, hypothesizing that the older generation remembered "a time when women played a more significant role in the tribe, and there was more balance and harmony between men and women in the Cherokee Nation."
According to the Wilma Mankiller Foundation, employment doubled, tribe enrollment tripled and infant mortality fell under her leadership, and she continued to be an advocate for women and Native Americans after leaving her post in 1995. She was awarded a Presidential Medal of Freedom in 1998, and held numerous honorary degrees from prominent universities.
Mankiller joins the esteemed poet Maya Angelou and Sally Ride, the first American woman in space, as the third of five feminist icons slated to be honored on quarters this year.
"Each time we redesign our currency, we have the chance to say something about our country — what we value, and how we've progressed as a society," Treasury Secretary Janet Yellen said of the program.