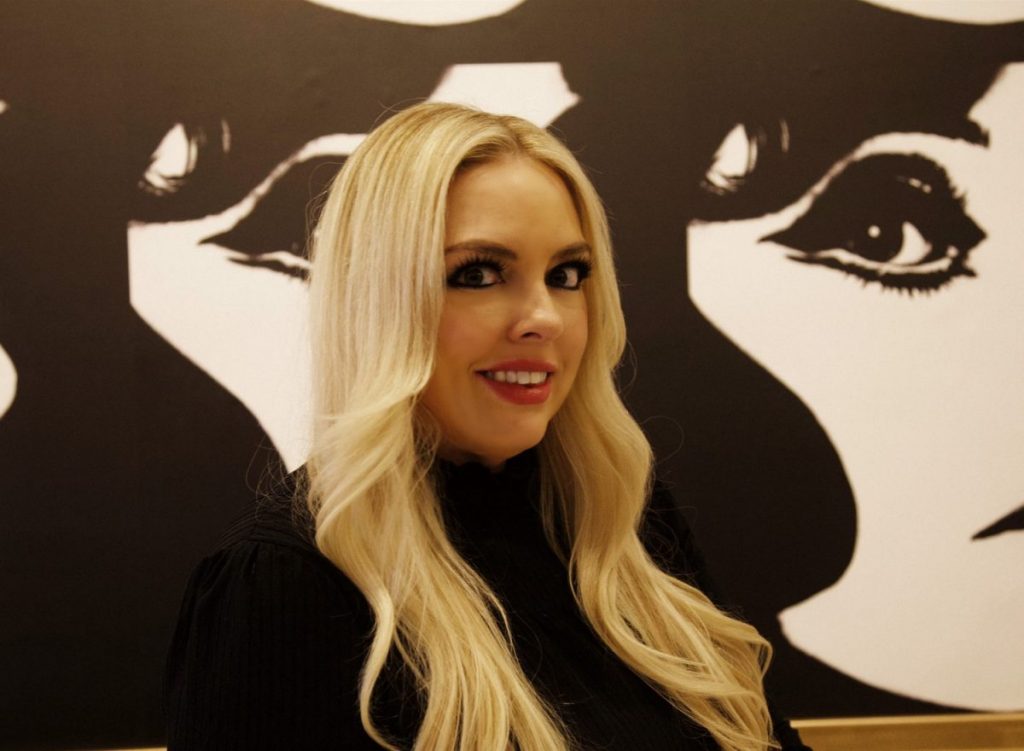 Christina Catsavis had always dreamed of being an entrepreneur. A jeweler by trade, she dreamt of opening up her own specialty goods store where she could select high quality products and make them available to her small community. Finally after years of putting it off, she took the plunge and opened The Smith Jewelry & Living in her hometown of Fort Smith, Arkansas. Today the mompreneur is growing her business amidst the pandemic which forced her to shift more attention to online sales, and balancing caring for her young daughter with limited childcare because of COVID-19.
Catsavis' story, as told to The Story Exchange 1,000+ Stories Project:
I saw a need for a store like mine in our small community. Residents had to drive hours to a metropolitan area to find the quality of goods I knew I could sell. I live in an area that really appreciates formal entertaining and getting dressed up which is right in my wheelhouse. I have always had an entrepreneurial spirit but was so afraid of failure I put off opening for years until I realized that this was my dream and I couldn't do anything else. I thought about having my own store everyday.
Professional success to me means I have accomplished a goal. As my business evolves I know my goals will change and success will look different each year. When I opened my store I had several goals that I hoped to accomplish. I wanted to be able to build relationships with my local customers by showing them the value of shopping in a brick and mortar store. I want every customer to know they are appreciated, no one leaves without being thanked and all online orders receive a handwritten thank you note from me personally. That strategy has been a success. I am setting loftier goals for the upcoming year, growing my online presence and creating my own products will be my primary focus. Achieving those goals will be my definition of success for 2021. 
My biggest success to date is navigating through the pandemic. I was only open for six months when COVID-19 hit and I was very nervous my little business wouldn't survive. I am thankful that when I started I had a clear vision for keeping my business nimble so that I could easily pivot to changes in the market. I already had a website in place and I used the downtime to fine tune my website.and really lean into online sales, for local customers as well as nationwide. I was already offering free local delivery and curbside pickup so it was easy to adapt when everything began to shut down. I have strong relationships with my vendors and was able to utilize drop-shipping, a lot of companies I work with were not offering that before the pandemic hit and I do feel that my online success is due to that change. Of course, I don't think I would have any success without a good team in place. 
[Related: Her Gift Box Company is Thriving As Customers Seek Ways to Show Love From Afar]
My goals are really oriented towards product development. I'm at Jeweler by trade and I really would love to have my own jewelry line. Every time I go to market I see the beautiful jewelry and think someday I want to do that too.
I would definitely say that my biggest challenge is finding a work-life balance. I love my store and my customers and I get really excited about selecting products, especially the jewelry, so it is easy to get lost in that. A business requires a lot of attention, especially a new business. I am very hands on and I do worry if I shift my focus for too long my business could suffer. However, I am incredibly blessed to have wonderful friends and family. I am making a dedicated effort to set aside time to enjoy with them and make memories. My little girl is three and she is at a cute age, she is so much fun and I don't want to miss a thing. I think all mothers understand "mom guilt" and I do experience that when I miss out on time with her. Figuring out where to devote my attention changes every day. I have learned to take things one day at a time and shift my focus as needed. I am also trying to minimize distractions when I am with my family so the time we spend is good quality time. It's not a perfect solution but it works for me. 
[Related: 5 Ways to Firm Up Your Firm's Work-From Home Policies]
When COVID-19 hit my daughter's school shut down leaving me without childcare. That has been the most significant personal situation that has affected my business. I didn't stop for one second though, I brought in a bed and toys and really turned my break room into a childcare center. We're making it work one day at a time and now her school is back open part time but it was very scary trying to figure out how to make everything work. I'm thankful my clients have been so understanding that sometimes they may be greeted by a toddler when they come in the door
My mother is my most important role model. She has successfully run her jewelry business for 17 years and manage to balance family and work beautifully.
Check out our Advice + Tips for entrepreneurs starting-up
Watch our latest videos
Subscribe to our podcast