Claire Simons of Minneapolis jokes that she might be one TikTok challenge away from making the world a little more sustainable.
Along with her husband, Simons is the co-founder of 3 Cricketeers, a cricket-farm business that sells live crickets (mostly to pet shops), but also a newly revamped line of edible products billed as "daringly delicious" for curious human snackers. There are crunchy crickets dipped in decadent dark chocolate or – for the more savory minded – roasted crickets dusted with spices like earthy cumin or herbaceous oregano.
Sales of the novelty products, whose new packaging features a giant, bug-eyed cartoon cricket – lest one forget what they're eating – have been brisk this year, especially after 3 Cricketeers was featured in June on a popular Youtube Channel called "Snake Discovery," about misunderstood animals. That's welcome news for the 7-year-old company, which originally expected to take a different path, pitching its more palatable-looking cricket flour – an eco-friendly powder made by blanching, dehydrating and grinding up crickets – to food producers.
"Initially, we were really focusing on the sustainability. And we were really pushing the health benefits, but we took a step back," Simons explains. Sure, "people want to know why they're eating it, but bottom line, it has to taste good." While a growing body of research points to the health benefits of crickets – they're an excellent (and affordable) source of protein, vitamins, minerals and fiber, and may benefit gut health – professional and amateur cooks weren't sure what to do, exactly, with cricket flour. "The more we were selling and talking to people," Simons says, questions like, "Just what does a cricket look like?" kept popping up. "We kind of honed in on that," and worked with a marketing consultant to overhaul the brand.
The new bright-green packaging plays up the unfamiliar aspect of crickets-as-food for most Americans, even though insects are widely eaten in Africa, Asia and Latin America. For better or for worse, "crickets are going to be a novelty here even though they're not — Native Americans were eating crickets and grasshoppers," Simons says. (And indeed, the nearby Indigenous restaurant Owamni, winner of the 2022 James Beard award for best new restaurant, buys crickets from 3 Cricketeers by the pound.) But what she hopes to accomplish is to convert someone who tries a cricket on a whim or a dare into a fan. And that's where, she says with a laugh, a TikTok challenge could really come in handy.
How It All Began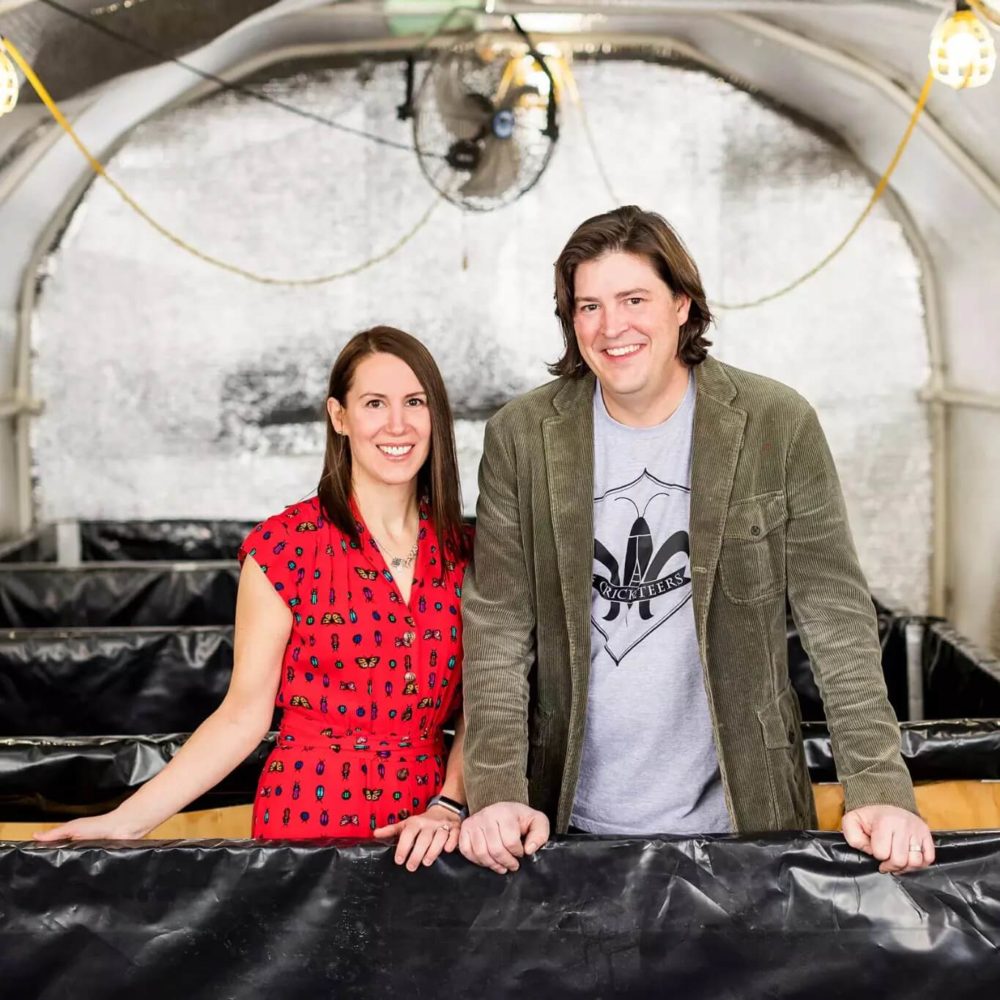 Claire, a maternity nurse, and her husband, Chad, an environmental attorney, got the idea to start the business after their son came home from school in 2015 with a cricket snickerdoodle, a special Earth Day treat. As parents with a keen interest in sustainability and nutrition, a light bulb went off. "We both looked at each other and said, 'Oh, my gosh,"' she recalls. "So we – the next day – built a habitat downstairs in the basement, next to the washer and dryer … and bought some crickets."
Today, the couple raise millions of crickets each month in a 3,500 square-foot indoor farm that uses "a fraction of the land, feed and water" that would be used for raising other sources of protein, particularly beef. Not to mention, "crickets emit virtually no greenhouse gas," Simons says, unlike cattle, whose burps release bursts of gas filled with methane, a major contributor to climate change. Sales in 2021 were about $200,000.
And demand is growing, as evidenced by the surge post-Youtube episode. Compared with 2015, when 3 Cricketeers first started, people are slowly beginning to understand the connection between agriculture and a warming planet, Simons says, and thanks to the popularity of Beyond Meat and Impossible Foods, consumers are more interested in chicken or beef alternatives.
Simons has noticed a distinct change in attitudes at the annual Minnesota State Fair, where 3 Cricketeers sets up an annual cooking demonstration and presents cricket snacks and treats for adventurous fairgoers to taste. "Pre-pandemic, it was rare if someone came up," she says. This past year, "it was rare if they didn't try it. It's amazing to see that change."
Soon, the company hopes to make inroads with its cricket flour, perhaps with major food companies, and it's looking at possibly opening another cricket farm. And it may look into one more stream of revenue: cricket waste, called frass, which farmers or gardeners can use as a "fabulous" fertilizer and natural pesticide, Simons says.
3 Cricketeers is also working with its trade group, the North American Coalition for Insect Agriculture, to push the Food and Drug Administration to assure the public that insect-based foods are safe. Currently, the FDA does not formally regulate insects as human food. Proponents believe clear FDA guidelines would further normalize cricket consumption.
"We're not taking away beef or chicken," Simons says. "This is another option, and it's a sustainable one." ◼
This article has been updated to correct the size of the cricket farm, which is 3,500 square feet.