Am I really learning anything on Zoom? Is an online education worth thousands of dollars in student loan debt? How am I supposed to figure out a career from my parents' basement?
These are just a few of the anxious thoughts keeping college students awake at night. But for many, the situation is worse than just Zoom burnout: many have lost loved ones to Covid, some were left homeless after college dorms shut down and others have faced financial crises so dire that they need to juggle 40-hour work weeks with online school.
What all of these students have in common is the uncertain economy they're heading into. And many are terrified that, after spending hundreds of thousands of dollars on their education, they won't be able to find a job in their chosen field.
But if the class of 2021 has learned anything from the past year, it's how to pivot. These college-aged women shared their stories as they set out into an economy recovering from the worst recession since the Great Depression.
[Related: Industrious College-Aged Women Make The Best of Winter Break]
Once a Hobby, Now a Safety Net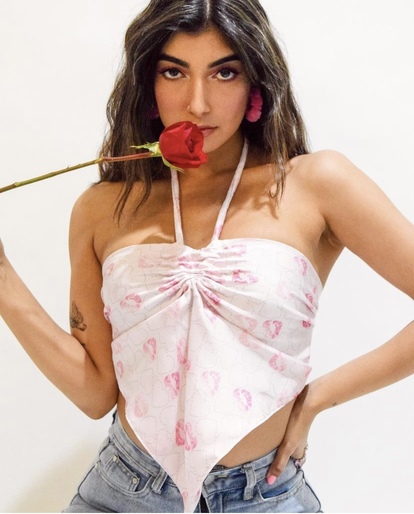 Azka Agha, a fashion design major at Fashion Institute of Technology, has managed to turn her passion project into a source of income. Agha runs a handmade jewelry and apparel business called Tinsel by Azka, which she began as a hobby when she was 15. She said she is now relying on it for income until she lands a job, ideally as an assistant designer at an atelier.
In addition to selling handmade rings, necklaces (and even scrunchies!) and self-designed tanks and bags in the United States, she recently launched a new website specifically for her home country of Pakistan, where she stayed for most of the pandemic until she made it back to New York.
Agha, 23, said she saw the early stages of the pandemic to be good for business when a lot of young people began to binge-online-shop as a coping mechanism, and she expanded her e-store to include pandemic gear such as trendy, hand-crafted face masks.
[Related: She's a College Senior Who Isn't Wasting Any Time Starting Her Own Business]
"It's a source of income," Agha said. "I'm putting a lot more effort than I would have when I started college."
But, being an international student, Agha is faced with an obstacle most college students don't need to worry about: graduating on time so she can extend her student visa and stay in the United States. Until graduation is in clear sight, Agha won't immediately be able to make use of the fashion industry contacts she's gained over the years at FIT, but Tinsel will be her safety net.
A Competitive Edge
Top colleges have made the job hunt slightly easier for their students by boasting a stealthy alumni network that extends globally and allows access to more opportunities.
One student who made the best of her school's resources is Jessica Wang, 22, a business and political economy major at NYU Stern School of Business. Wang's post-graduate plans were already cemented after a junior-year internship at PwC, one of the Big Four accounting firms. The company extended her an offer to return for a full-time job, leaving Wang feeling mostly positive as she enters a precarious workforce.
"It is bittersweet," she said about having to graduate remotely. But, she added, "I know how lucky I am to have had it this relatively easy in the pandemic." Wang shared that many of her peers at NYU are still on the job hunt, although they remain "cautiously optimistic" as more in-person opportunities begin to emerge with the vaccine rollout.
[Related: Female Healthcare Workers Who Saw Worst of Pandemic Are Leading the Way Out with Vaccines]
Wang's experience is perhaps typical of many Ivy League students. One economics major at Yale University said she interviewed for a private equity firm last April and scored a full-time job before her senior year even started. 
Business at the Dinner Table
For students with savvy relatives, there's the option of going into the family business. After a stressful and fruitless recruitment season in the fall, Maha Ahmed, who graduated early from Mount Holyoke College as an economics and international relations major, found herself working in the marketing department at her father's company.
Although Ahmed, 22, had never considered marketing as a career, being able to rotate around different departments at MN Textiles — the family business for export-based fabric production in Pakistan — allowed her to find her niche.
Ahmed had originally hoped to stay in the United States post-graduation. Working for her father back in her hometown of Karachi "wasn't even a plan B." The line between work and life gets blurred, she said, when you're talking business at the dinner table. And then there's the fact that she got an easy way in.
"Did I really earn this job? I question that a lot," Ahmed said.
And When All Else Fails…
What's the most classic way to avoid a bad job market? Going to grad school.
Isabella Philippidis is one student at University of South Florida who — if she doesn't secure a job by summer — plans to enroll in a master's program at Columbia University this fall. "Applying to grad school was going to be the safest option," she said. "If I went to grad school, hopefully I would be in a market where Covid wouldn't exist anymore after my program is done."
Philippidis is certainly not the only undergrad who hopes to wait out the virus. And several schools such as Columbia have been lenient about deferments during the pandemic. Philippidis, 21, said she has the option to defer her enrollment for a year, during which she hopes to work in sports management.
But the job hunt has been a trial — in her experience, many teams have had hiring freezes and those open for entry level positions have proved increasingly competitive. Philippidis hopes more positions will open up as more people get vaccinated.
[Related: Bianca Smith Continues Streak of Women Leading Sports, Becoming First Black Female Baseball Coach]
For all the misery, headaches and round-the-clock Zoom calls this past year has dealt college students, they're still trying to see the silver lining and take advantage of what they can.
"I'm very proud of how everybody, at a university level or at an organizational level, is taking virtual life and doing the best they can with it," Philippidis said. "That's all we can ask for — it's making the most of the situation."