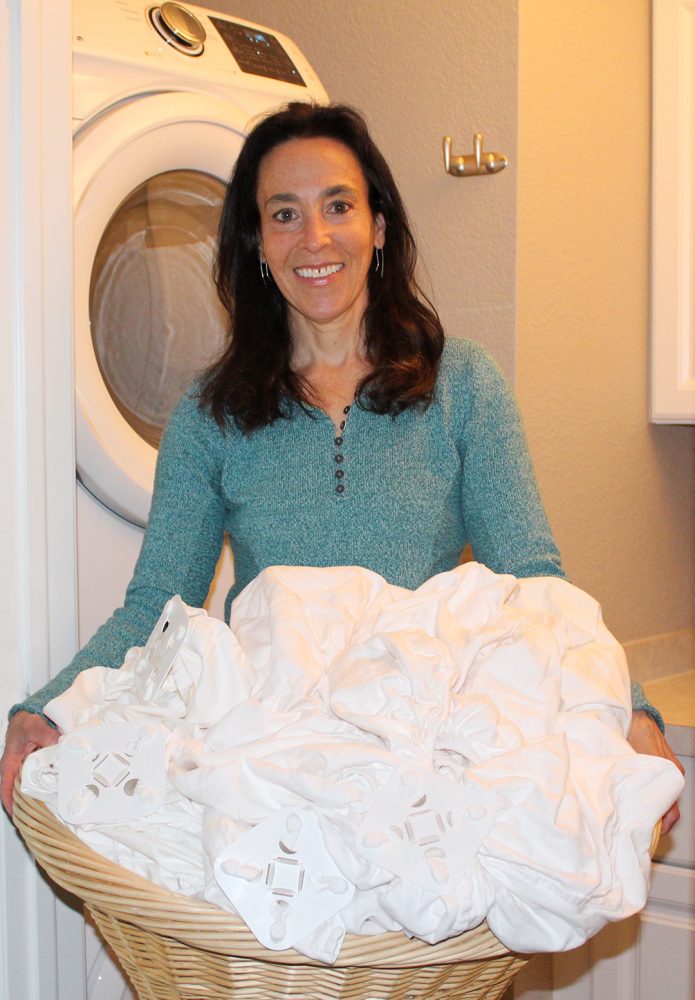 Cyndi Bray didn't expect she would become an entrepreneur when she bought a new washer/dryer set, but that is exactly what ended up happening. While her new dryer claimed to have excellent Energy Star ratings, she found that her bed sheets were constantly swirling into giant wads, increasing the amount of time she had to have the dryer on for and wasting energy in the process. With zero experience, she took on the task of finding a solution; teaching herself physics, CAD drawings, creating prototypes and eventually trademarking a product and bringing it to market in a stunning 14 month turn-around. The result is Wad-Free for Bed Sheets. While launching her business during the Pandemic certainly had its challenges (especially on the manufacturing and supply chain side) she has found great success on websites like The Grommet. Today the Denver, Colorado-based entrepreneur is focused on getting her product into more retail stores and continuing to grow her brand.
Bray's story, as told to The Story Exchange 1,000+ Stories Project:
I am a Denver entrepreneur who invented an innovative laundry gadget that solves a problem most people have when washing their sheets. Wad-Free™ for Bed Sheets prevents sheets from tangling, twisting, and balling-up into a wad in both the washing machine and the dryer. Using Wad-Free™ for Bed Sheets, the entire load comes out cleaner, the washing machine won't go off-balance, and everything dries up to 75% faster with fewer wrinkles, saving consumers time, money, energy…and sanity! Wad-Free™ also saves wear-and-tear on both sheets and appliances. Wad-Free™ is made in the USA out of partially recycled plastic and is a game-changer in the laundry room. Wad-Free™ launched in June 2020 and is available at wadfree.com and on Amazon.
Bray's story, as told to The Story Exchange 1,000+ Stories Project:
I had recently purchased a new washer/dryer set, boasting its high-efficiency, Energy Star ratings. It was then that my wadding problem became maddening. Friends reassured me that I wasn't alone, expressing all sorts of ways wads wrecked laundry day. As it turns out, wads were simply a fact of laundry. Since a solution to the wad didn't exist, I tasked myself to devise one. I independently identified the physics behind the wad in April of 2019, taught myself Solidworks to do my own CAD drawings, had several prototypes made at the library, made revisions based on consumer feedback, found a manufacturer, had a custom plastic compounded to meet the requirements of the product, and brought the product to market in just 14 months…with no background in any of those fields.
I solved the ubiquitous and growing problem of the laundry wad which costs consumers time, money, and energy, while driving them mad. Wad-Free for Bed Sheets has been well-received by my customers. It is very satisfying to have invented a product that solves a widespread problem which customers love.
My goal is to make a positive difference on a wasteful problem that so many people experience. In turn, this could have a meaningful impact on climate change. Energy savings are immediate when using Wad-Free for Bed Sheets. Since the dryer is an inefficient appliance, when you reduce drying time by up to 75%, it makes a significant difference. If we can get Wad-Free into enough laundry rooms across the country, the environment will be the better for it.
[Related: A Small Inventor Turns 'Granny Thug' to Take on Counterfeiters]
Wad-Free for Bed Sheets launched in June 2020, in the middle of the pandemic. Despite the restrictions in place, Wad-Free has experienced great success. Just four months after launch, Wad-Free became the subject of a "Problem Solving Gadgets" segment which aired on several news stations across the country, validating the product to skeptics. Simultaneously, The Grommet caught wind of my product, and within three weeks of its debut on the site, Wad-Free became one of their top sellers. Now major retailers are contacting me about bringing Wad-Free into their stores; I'm told it doesn't usually work that way. The e-mails I receive from amazed customers thanking me for solving their laundry problem is the strongest indicator of success.
Launching a brand new product category during a global pandemic is not for the faint of heart! I encountered numerous COVID-19-related obstacles, including a manufacturing hold causing my launch delay, a supply chain collapse delaying production, trade show cancellations negating my planned go-to-market strategy, and retail store moratoriums on reviewing new products rendering a retail presence moot. By the time I launched, my business plan was out the window.
[Related: Want to Launch a Business From Home? Here Are 9 Socially Distanced Startup Ideas]
I quickly pivoted, recording my own videos during the stay-at-home order, building my e-commerce website, and leveraging social media. I networked online, reached out to other inventor/entrepreneurs, and built a loyal customer base. Just 8 months since my launch, growth is happening quickly now; with that comes new challenges. Every time I encounter an obstacle in my path, I draw upon my journey thus far and know that there is nothing I can't overcome.
I can't say I have just one role model. I continually read about other inventor and entrepreneurs, both for inspiration and to learn from their experiences. I've built relationships with peers and am grateful for their guidance. Even in the infancy of my company, I've been asked to mentor new entrepreneurs, and am happy to share my journey.
Check out our Advice + Tips for entrepreneurs starting-up
Watch our latest videos
Subscribe to our podcast