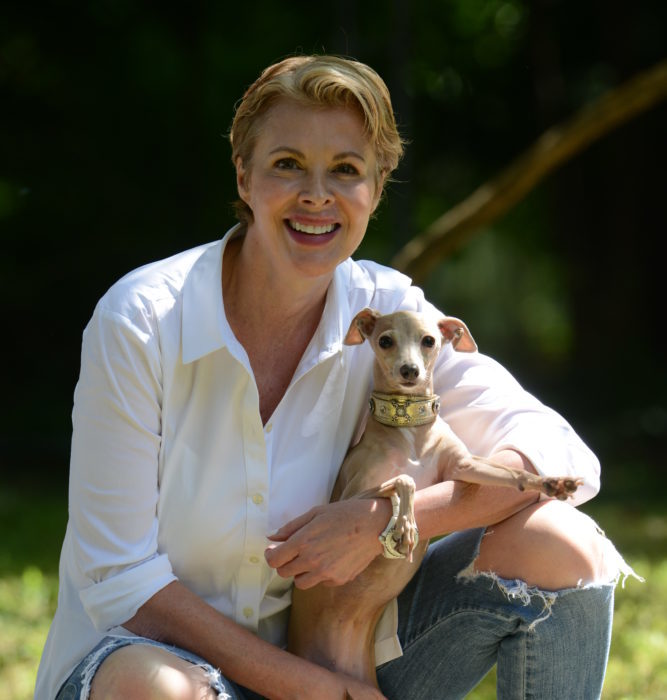 The early months of the pandemic weren't easy for Elizabeth Menegon. After losing her job, she took stock of her life in New York City and decided it was time for a change. She relocated to Stamford, Connecticut, and began SugarSkinn, an organic small-batch skincare company started with face scrubs developed in her kitchen. Menegon says she takes pride in quality control – she sources high-quality ingredients and small-scale production allows her to tweak recipes for her products, whether they are purchased by individual customers or included in amenity bags for luxury properties, yachts and private planes. She even makes an equine grooming line for horses.

Here's our lightly edited Q&A, from The Story Exchange 1,000+ Stories Project.
Tell us more about your business.
During quarantine, a few months into the pandemic, my skin was dehydrated and nothing I purchased helped. I went online and got a few DIY recipes for face scrubs and it really helped, so I started giving samples to people in my building and they loved it. The rest is history.
How is your business different from others in your industry?
Small-batch skincare means that we can control the quality of ingredients in every product we create. There are simply no compromises – ever. We also have the ability to customize products for a client, whether that be through packaging or the ingredients that go into the product itself.
What is your biggest success so far?
It's a bunch of little successes that equate to a bigger one. Every little success created an opportunity for another little success. For example, I agreed to create a custom product for a breeder of show horses in Columbia. By doing this, I was able to roll out a product to sell online.
What is your top challenge and how have you addressed it?
Everything is a challenge when you're starting a new business. I choose to address it by not giving up.
Besides losing your job, have you experienced any significant personal situations that have affected your business decisions?
I knew there was zero chance of finding a job, especially in NYC during the pandemic.
I had to relocate to the suburbs in order to build and grow my business. My father also passed away six years ago from complications stemming from dementia. It was devastating to see someone slowly disappear.
What is your biggest tip for other startup entrepreneurs?
First and foremost, ask yourself, what am I creating? Is it something that already exists and if it does, what makes your product better? Why should someone care?
It takes time to build a business, and the last thing you want to think about is profit, especially if you're financially stretched to the limit. Be patient and invest wisely where you can. Think about your marketing strategy. Marketing a product isn't like it used to be. Everything is about social media, influencers and podcasts. These can be expensive advertising tools. Connecting and networking is very important and you have to be ready to be creative and think outside the box.
How do you find inspiration on your darkest days?
I believe things happen for a reason. Sometimes a chain of events will bring you to a point where you make a decision and you have to believe that that decision was meant to be. Rejection and disappointment is something you never get used to, but you can't take it personally.
Who is your most important role model?
My initial response is my parents. My father was an immigrant and worked hard for our family. My mother has always provided support and unconditional love. As I've gotten older, I learned how cruel life can be and the suffering some have to endure. My role model shifted to any parent that suffered the loss of a child and found purpose in life to move forward. ◼
Instagram: @SugarSkinnNYC
Check out our Advice + Tips for entrepreneurs starting-up
Watch our latest videos
Subscribe to our podcast