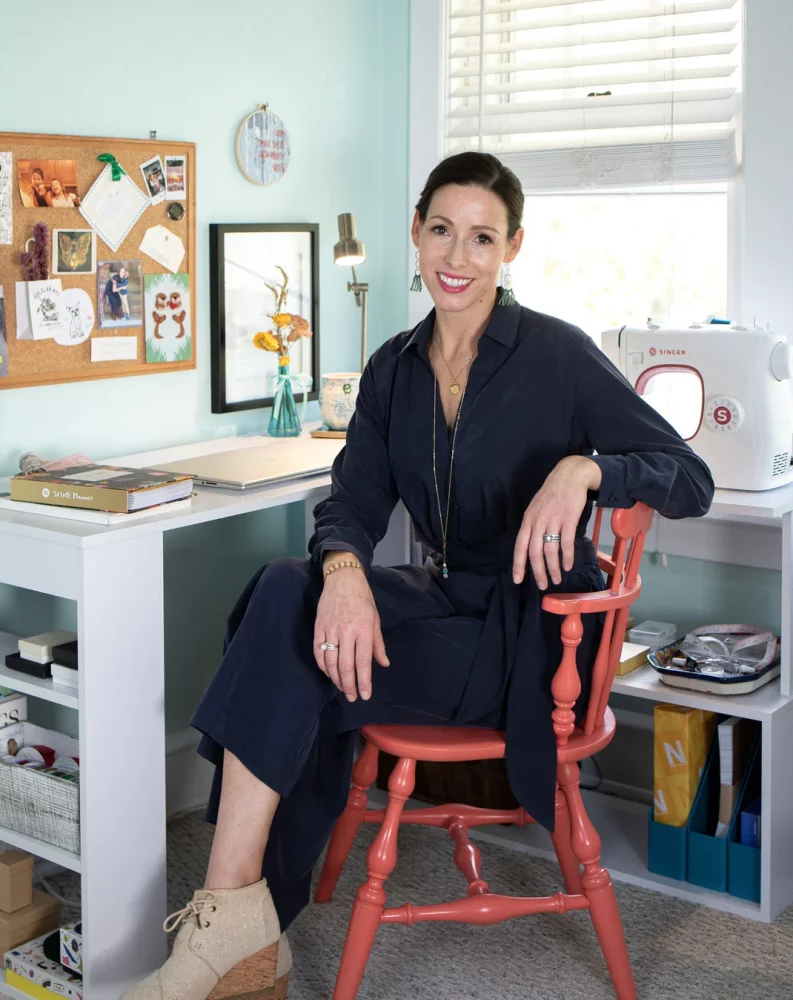 Elizabeth Mueller is a Milwaukee-based entrepreneur and foster mom who lost patience with the amount of waste created by traditional wrapping paper. Her frustration led to the creation of Swathe Gifts, a line of reusable fabric gift wraps made from upcycled and recycled materials, meant to be used over and over again. Mueller hopes to inspire people to rethink how they present gifts – and to create less waste with every birthday. Her wraps also eliminate the need for scissors, tape and bows – as they can be formed to fit most any size object – making them some of the most practical, as well as eco-friendly, gift wraps on the market.
Here's our lightly edited Q&A, from The Story Exchange 1,000+ Stories Project.
Tell us more about why you started your business.
As a foster parent, you are prepared for your family and life to change overnight – and those sudden changes can open your eyes to things you never noticed before.
A few years ago, we suddenly found ourselves with two amazing children to celebrate the holidays with – and a hidden mountain of presents to wrap up for them. As someone who is always armed with a reusable bag, metal straws, and to-go coffee mugs, I knew we could find a way to wrap them, and make a magical holiday experience for the kids, without creating tons of waste.
I dug through our linen closet to find some old sheets we rarely used, cut them up, and tied them together with ribbons and bows. These first attempts were not nearly as beautiful and form-fitting as our current product, but it worked! Opening the presents was as special as the gifts found inside of those sheets.
And so a tradition – and eventually, a business – was born.
How is your business different from others in your industry?
The production of Swathes diverts valuable resources from ending up in the landfill. We use upcycled excess fabric from a partnership with another local Milwaukee company – the children's clothing retailer, Florence Eiseman – who shares our focus on sustainability to create less production waste. We also source ribbons that have been made from recycled plastic bottles.
Tell us about your biggest success so far.
Securing that ongoing partnership with Florence Eiseman. When we started the company, we knew we didn't want to create more waste in the process of making our products. This partnership made that goal a reality by ensuring we would have the materials we needed to launch and grow our business, while also reducing waste in our production processes.
What is your top challenge and how have you addressed it?
Scaling our business to meet demand. When I started this business less than a year ago, I set up shop in my bedroom with one sewing machine, countless fabric swatches left over from a million other projects, and a passion to create.
Swathe grew quickly from fulfilling online orders from our website for local pickup, to shipping nationwide and to Canada, to joining fellow local makers at Milwaukee markets, and now selling Swathe at multiple local retail locations. After our first holiday season, where we sold over 500 units in less than 3 months, it quickly became apparent that I wouldn't be able to continue sewing every Swathe myself. Since then, we've welcomed four local makers to our Swathe sewing team to prepare for this holiday season. This has been a great solution, but we are also excited to continue to explore ways to scale the business, while remaining fully committed to our zero-waste mission and sustainable production.
Have you experienced any significant personal situations that have affected your business decisions?
Being a foster parent, our family has experienced many shifts over the years – some anticipated, and others surprising. The ebb and flow of the size of our family, and the needs of the children in our care, certainly impact the amount of time and energy I'm able to put toward this business. I've learned that balance is everything.
What is your biggest tip for other startup entrepreneurs?
One of my first entrepreneurial mentors told me, "The majority of winning is starting." I wrote it on a piece of scrap paper and pinned it to my bulletin board in front of my sewing machine. This advice was exactly what I needed in order to have the courage to launch, and I continue to reflect on it as I make decisions to scale and grow my business.
How do you find inspiration on your darkest days?
I have to move my body – from hot yoga, to a hard run, an intense spin class, to boxing. Giving my mind that space to disconnect and find peace helps me push through any challenge.
What is your go to song to get motivated on tough days?
"Get On Your Feet" by Gloria Estefan. You can't listen to this song without smiling, dancing and feeling inspired!
Who is your most important role model?
My mom is my most important role model – in life but especially when it comes to my business. She taught me to sew as a little girl. She encouraged me to always try to make the world a more beautiful place, and to live sustainably (before it was a hashtag). She inspired me to take a leap of faith on this entrepreneurial journey, even when I was scared to fail. She supports me to no end – and she even sews for Swathe! ◼
Instagram: @swathegifts
Facebook: @swathegifts
Check out our Advice + Tips for entrepreneurs starting-up
Watch our latest videos
Subscribe to our podcast