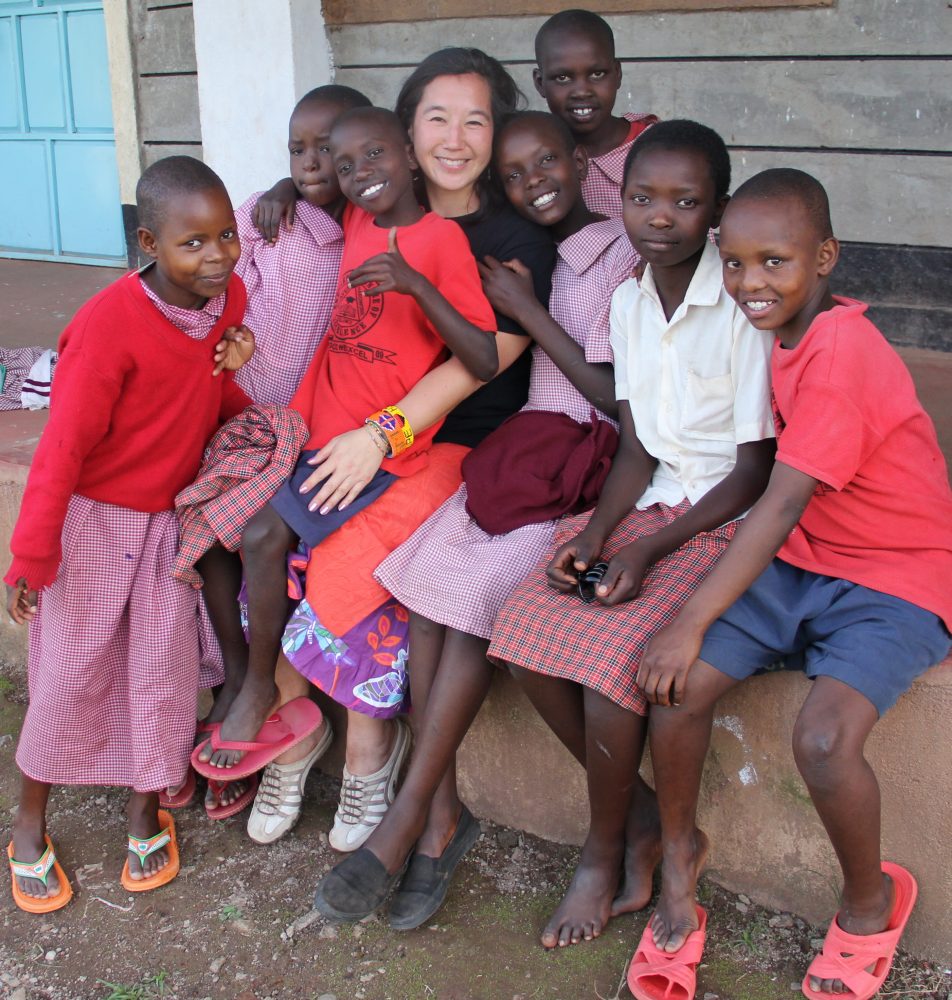 Ellyn Ito has always been passionate about helping others. From a young age she became involved with non-profit organizations that focused on at-risk women and girls. Around 2009 she found she had been spending more time on other aspects of her life, rather than the charitable projects which were so important to her – so she decided to make a change. She launched Seeds to Sew, a Fair Trade non-profit organization dedicated to improving the lives of women and girls through education and job skills training. One of their signature products is the Enkiteng bag – made of donated fabric it is a reusable gift wrapping bag with a colorful ribbon attached. They are made in Kenya, by the women in their sewing program who earn a sustainable living while becoming skilled seamstresses. Today Ito is continuing to grow Seeds to Sew and working to get more women and girls into their programs.
Ito's story, as told to The Story Exchange 1,000+ Stories Project:
My childhood was idyllic, with parents and a support system that told me that I could be anything that I wanted to be when I grew up. Since the time I was small, I have been keenly aware that not all women and girls have this choice. At an early age, I became involved with non-profit organizations that focused on at-risk women and girls. On more than one occasion, I witnessed the fragility of those non-profits that depended on donor support. So, I decided that when I could, I would start a non-profit of my own under an operational model that didn't have to rely solely on donations or grants. But…life happened. I became entrenched in my career, got married, had babies, and that vision took a back seat to my busy days.
At some point in 2009, after having attained some level of success in my career, I felt empty. And there was a sudden urgency to return to my passion. With "perfect serendipity" the fabric gift bags that my family made to reduce paper waste, seemed like the perfect vehicle to teach women how to sew (simple design!) and thus, I launched Seeds to Sew with a handful of volunteers to teach women new skills and earn income through the sales of products that they created. Since our start, we have been able to develop other products that provide returns that allow women to earn an income and generate school feels for girls who would not otherwise be able to attend school.
[Related: Meet the Fashion 'Trash Nerd' Who's Won Money and Love from Vogue]
My definition of success is to live and work in my purpose. My purpose is to create opportunities for women and children by advocating for their needs and providing vehicles for their needs to be met.
My biggest success to date is launching Seeds to Sew and witnessing, first hand, the lives that have been changed for the better through our programs.
My top challenge has been to come to grips with the reality that in order to scale, Seeds to Sew is going to need outside financial partners to support our growth. "Independence" runs through my veins and not wanting to ask for help from investors and granting agencies has been a barrier to our growth. I finally found the strength to enlist a business mentor for help and we are putting a plan in place to raise the investment needed to scale our business so that we may invite more women and girls into our programs.
[Related: Inspired By a Birthday Trip to Africa, She's Made 8 Million Dresses for Girls in Need]
One of my most important role models was a former boss. I was 25 at the time and Donna was fearless. She was the only female on the management team and I marveled at how she had no qualms, no fears, no shame about asking for what she wanted (in budget, resources, and for herself). I remember looking at her in amazement at one point when she asked the CEO for an increase in budget, and she chuckled and said, "Ellyn! If you need something to get your job done, then never ever be shy about asking. If you don't ask for what you need, how ever are you going to get it? And if you don't get it, then how will you succeed with expediency?"
Check out our Advice + Tips for entrepreneurs starting-up
Watch our latest videos
Subscribe to our podcast