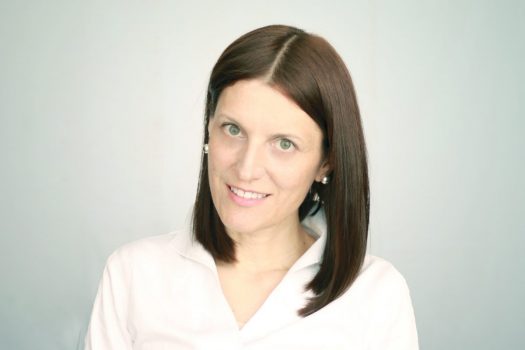 Emanuela Loppo might have started her shoe business Mastra Ma' out of sheer entrepreneurial drive – but like so many women she found there were huge advantages to having more control over her lifestyle. While working in the corporate world she felt an itch to do something more creative and when she saw a gap in the market for affordable luxury footwear for working women, she knew she had found her calling. Today the London, England-based entrepreneur runs her business from home, which allows her greatly flexibility with her schedule and most importantly – more time with her kids. 
Loppo's story, as told to The Story Exchange 1,000+ Stories Project:
My main reason for starting was entrepreneurial drive. Before starting Mastra Ma', I worked for big multinational companies and the predictable lifestyle suited me well, especially with a growing family. However, after many years I started longing for more freedom and a creative challenge. For me, this meant building a company and shaping it according to my values. For a few years, while still working in my last corporate job, I started attending several week-end courses in the arts field, to explore what I liked. It was after realizing that working women did not have a wide choice of comfortable, luxury footwear at a reasonable price, that I knew that I would create a company which makes just that. I therefore enrolled into a week-end course in shoe-making at the London College of Fashion and a few years later Mastra Ma' was born.
To me the ultimate measure of success is happiness, which means having a content and serene family, a genuine group of friends and a healthy lifestyle. Having a job or business that provides financial and emotional stability is according to me instrumental to achieve all of the above. If we are also passionate about what we do, then we have a full house!
[Related: The Climate is Right for New Inventions That Help the Environment — All Made By Women]
From concept, to creation and excellent customer feedback, the Mastra Ma's debut collection, in my view, is the biggest success to date. I am also happy about the work that we are doing in support of women, through stories of empowerment, self-belief and perseverance that are shared via the company blog.
It wasn't easy to start a new luxury footwear company within an industry that I knew little about and with no professional network in fashion. In the beginning I had a general idea as to how to progress, but with no partners there was only so much that I could do. Therefore, I decided to focus only on the tasks that needed immediate attention and consciously decided to address the rest at a later stage. 
So, after designing my first collection I started looking for factories in Italy who could realize it. I reached to contacts found on business directories and chamber of commerce databases and after many pitches, eventually I found my technical partners. In our discussions I was very detailed and as to what I wanted to do and honest as to how long it would take to achieve it. Eventually they embraced my vision and balanced approach. 
Before starting Mastra Ma', my corporate job often kept me away from home. Unfortunately, I could not see my family as much as I wanted to. Therefore, when I started my own business, I was adamant to run it from home, for as long as possible. I have to say that so far things have worked out really well, because nowadays there are many ways to work remotely and effectively with your business partners. I probably work longer hours now than before and still have to employ childcare, but at least I can see my children at break times and, most importantly, I am always there and available, should they need me.
[Related: 5 Tips for Parents Working Remotely With Kids at Home During Covid-19]
My main goal for the near future is growing our customer base. Our business model focuses on direct to consumer channels. We currently sell through our proprietary online platform and exclusive events at corporate offices. We are also considering partnering with selected luxury boutiques. It is by a careful distribution of our inventory to these channels that we will be able to curb pricing and hopefully increase our customer base.
I have many role models, but the most important one is my mother, who used to be an entrepreneur as well. My mother is as caring and loving as she is hard-working and good at multi-tasking. She taught me many things, like creating genuine connections with people and focusing only on things that matters. I think that these two skills helped her achieve her success and I always keep this in mind when I run my business. 
Check out our Advice + Tips for entrepreneurs starting-up
Watch our latest videos
Subscribe to our podcast