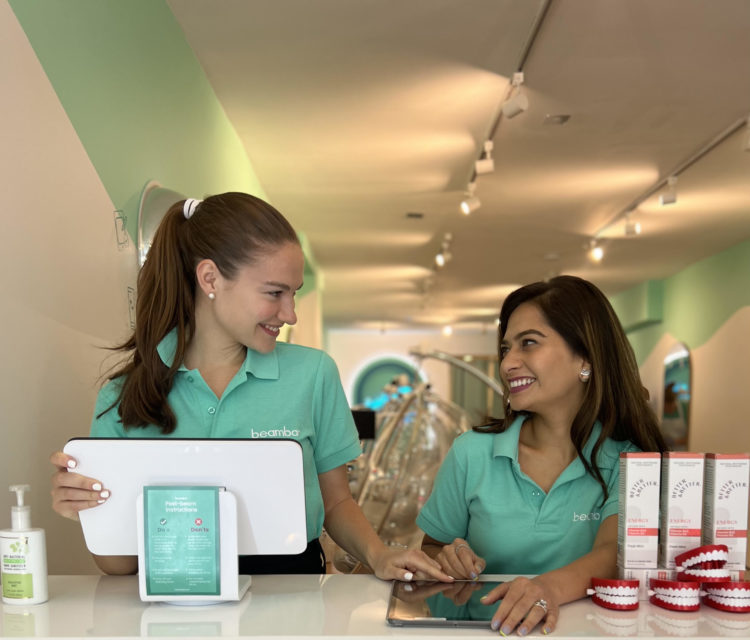 A dentist and a Columbia Business School alum have joined forces to bring affordable teeth whitening – and a movie, or maybe a streaming TV series – to residents of the Big Apple. As a dentist, Rashi Gupta noticed how many patients wanted to whiten their teeth, but couldn't because of the price point. She realized using a cosmetic gel would create a more affordable service and teamed up with her business savvy friend Fabienne van Buchem to bring the product to the market. The end result is Beambar in New York City's West Village, where customers can get their teeth whitened in under an hour as they recline in a comfortable chair and watch Netflix. The duo experienced numerous challenges at the start of the pandemic, as they attempted to launch a service that generally requires customers to be maskless. But today, Beambar is up and running and Gupta and van Buchem are proud of the sparkling results.
Here's our lightly edited Q&A, from The Story Exchange 1,000+ Stories Project.
Tell us more about your business.
Fabienne: We were frustrated with how expensive teeth whitening was at dentist's offices. In Manhattan, it costs around $700 to $1000 for a teeth whitening session. And most over-the-counter whitening products are pretty ineffective. We felt a better solution had to be offered to customers that was affordable, effective and enjoyable. We charge $99 for a whitening session.
Rashi: Patients always complained to me about the price point and the experience whenever they came in for teeth whitening. There were a lot of hurdles patients had to go through that I couldn't do much about as a dentist. However, there was clear demand for teeth whitening. All my patients asked me about it. So we found a solution using a cosmetic gel to remove a lot of the barriers.
How do you define success?
Fabienne: Constantly improving every day, even if it is just 1%. Being able to get closer to your goal, even if it is just baby steps.
What is your biggest success so far?
Rashi: We had hired a designer to handle our store fit-out. About a week before opening, he called us up and said he couldn't complete the project as he was too busy. We were stunned. About 80% of the work wasn't completed and we had no furniture. My husband, Adi, and Fabienne and I sprung into action. We worked non-stop for two weeks and brought the store to life. We found new contractors, hired painters, cleaned everything, hung up mirrors, set up the bubbles, created an entire employee area, everything. We did it all. We went to Home Depot about 17 times in one week! And we opened up only a week late, but with a brand new beautiful space that we made with our bare hands. That was my proudest moment, even before we officially opened.
What is your top challenge and how have you addressed it?
Fabienne: Deciding when to launch. We had a Beambar popup in 2019, right before Covid, but were waiting for over two years to officially launch. We kept being hesitant to launch a permanent location as we were scared Covid restrictions would never go away, but we finally decided to open this summer..
Rashi: Balancing work and life, because I'm also working full time as an associate dentist at two dental practices. I try to be in the store every spare minute I get. We've also got an adorable Yorkshire Terrier- Cavalier King Charles mix pup named Bourbon, so I have to find time to squeeze him, too.
Have you experienced any significant personal situations that have affected your business decisions?
Rashi: I lost my father in 2020 after he got sick from Covid. It was so sudden. I was out with friends at an Airbnb in the Adirondacks. My parents were in Mumbai, India. We spoke to them, and then in the middle of the night we got a call that he had passed away. I flew to India immediately and had to take care of my mom and brother. I couldn't absorb the news, I was in denial for a long time. I miss him terribly. He was the glue that kept the whole family together. He was a really great, fun person and I wish I got to spend more time with him.
What is your biggest tip for other startup entrepreneurs?
Fabienne: Murphy's Law is exemplified when you're in a startup. Everything that can go wrong, will go wrong.
Rashi: Don't overthink things, just start. Momentum is key.
How do you find inspiration on your darkest days?
Fabienne: I look back to positive feedback and comments from customers and that gives me drive to keep going on, even on the darkest days.
Rashi: I look at my doggo's face and squeeze him. He's my source of energy. I leave the house for 10 minutes and he's jumping around excited when I come back. Dogs are the best.
Who is your most important role model?
Fabienne: Alli Webb the founder of Drybar.
Rashi: Priyanka Chopra. Because she's doing it all. She's an established actress and she was the first Indian woman who I feel truly broke into Hollywood, too. She's very confident, and owns her skin. She's got her own skin care brand, restaurant, she's part of UNICEF — she's really doing it all. ◼
Check out our Advice + Tips for entrepreneurs starting-up
Watch our latest videos
Subscribe to our podcast