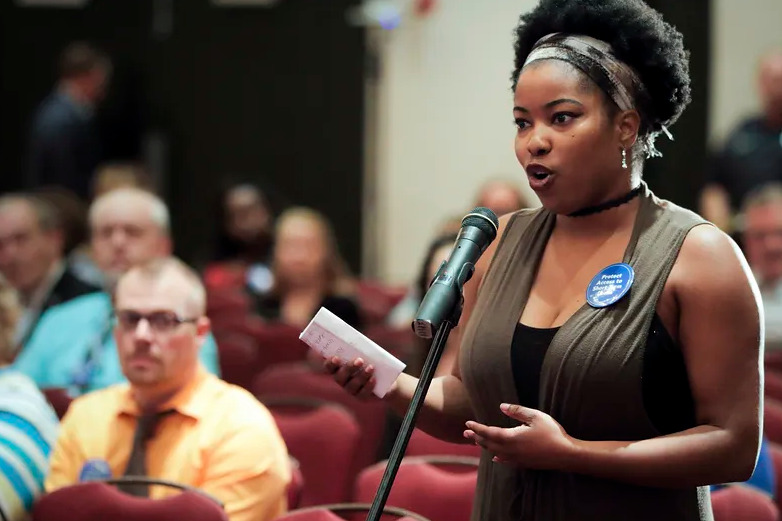 Get ready for a wave of (frustrated) women running for office.
According to new research conducted by She Should Run, a nonprofit trying to get more women on ballots, 22.4% of women in the U.S. – just shy of a quarter – are now interested in becoming candidates for office. Their wins would hasten a shift toward equality in our governing bodies, as women now hold just 28% of seats in the U.S. Congress, and 30% of statewide elected offices.
But for most of these prospective candidates, tossing their hats in the proverbial ring wouldn't be about achieving gender parity in politics – rather, it's about the issues they hold dear.
The organization's "Group Chat Issues" report, which incorporates intel from both the YWCA's 2022 Midterm Election Study and the UN's Women at the Frontline of Climate Change report, reveals that reproductive justice, climate chaos, economic concerns and racism are at the forefront of these women's minds, and driving their motivations.
"If we want to eliminate the very real political ambition gap between men and women and flood the candidate pool with women who represent the full and beautiful diversity of perspective and life experience of this country, we simply must engage more women in the process," Erin Loos Cutraro, the founder of She Should Run, said in a press release.
She added, "The research is clear that in order to do that, we must meet women where they are on the issues that matter to them most."
These findings dovetail with an influx of interest in government participation observed last summer by Emily's List, a nonprofit that encourages pro-choice women to run for office. Following the overturn of Roe v. Wade, the organization heard from hundreds of women hoping to make a difference.
"Unfortunately, the Supreme Court just reminded people in a pretty big way of the great importance of those state races," Christina Reynolds of Emily's List told CBS News at the time. "The reality is your state legislature has an immense impact on your day-to-day life."
The new report from She Should Run adds, though, that there's one critical component needed to get women to actually file for candidacy: support.
Indeed, whether it's family members, friends, community members or the leaders in their lives, "women are more likely to run if they receive support and encouragement from trusted sources."