As we mark the one-year anniversary since the pandemic was officially declared, a big question looms: Will we ever return to normal office life?
One answer that has emerged, at least in an informal poll of women entrepreneurs by The Story Exchange, is this: Maybe we shouldn't.
Since the pandemic began, female-run companies have built into the workday a host of new programs that sound like a millennial fever dream: Manifest Mondays, Wellness Wednesdays, Fitness Fridays. There are comedy hours, guest speakers, workshops, paint 'n' sips, and motivational activities that sometimes sound like group therapy sessions.
Related: [1 Year Later, Concerns About Employees' Mental Health Are on the Rise]
But even if Zoom happy hours are not here to stay, many female founders say they have learned crucial management lessons and made long-term changes that — even post-pandemic — will prioritize employee morale.
"The biggest change has been a very intentional focus on taking care of people and understanding it's not a one-size-fits-all," said Kiley Peters, founder of digital marketing agency Brainchild Studios in Milwaukee, Wisconsin. "The mom on our team with three kids figuring out how much she can get done is different than the team member who lives alone and bought a cat during Covid."
With building leases hanging in the balance and virtual meetings routine, many see an opportunity for a new work-life model once in-person work can resume.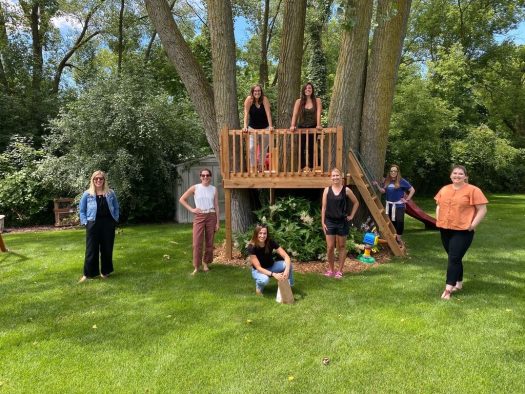 "I think it's going to be a hybrid situation with an office and some people working remotely," predicted Jennifer Morris, who started Ajenda Public Relations in Orange, California, in 2010. Still, she added, "there's going to be that need to make sure people working remotely feel engaged." Morris has called up professional acquaintances to host a speaker series for her eight employees, and they also have randomly assigned lunches together every Thursday.
[Related: Virtual Parties, 'Slackolades,' Company PPE: How Women-Owned Businesses Are Boosting Morale]
Corinne Post, professor of Management at Lehigh University in Pennsylvania, said these shifting workplace priorities speak to a general trend about female leaders.
Post said there is strong evidence that women tend to think of themselves "in relation to other people" whereas men, generally speaking, tend to work alone or independently.
"Women tend to think about others more broadly in their decisions, so I'm not surprised that women are saying they're concerned about employee morale," she said. "When making decisions in highly uncertain times, I think those are qualities that women tend to have or bring to the table because of this sense of interconnectedness."
Before the pandemic, Post did a study that looked at women leaders during a crisis and found that they have an edge over their male counterparts.
"Those who paid attention to [employees'] feelings, because there's a lot of anxiety going on, those leaders generate a lot more trust," she said. "People are willing to invest in those leaders when they're treated in those ways."
At Brilliant Earth, a jewelry design company in San Francisco, California, that sells ethically-sourced diamonds, female management began encouraging stuck-at-home employees to take 15-minute fitness breaks during the day, especially when daily commutes ground to a halt.
That has grown into "Fitness Fridays" after "feedback from the team suggested that they were missing their longer workout routines outside and at the gym," said Jaime Yas, SVP of Human Resources.
The company also sends out a weekly newsletter about mental, physical, financial and sleep health.
"We began our at-home wellness newsletter series to provide research-backed information about keeping health and wellness a priority while encouraging our employees to remain safe at home," Yas added.
Meanwhile, Brainchild Studios' Peters, who went around to her employees' homes in Wisconsin to drop off succulents and toilet paper when the pandemic started, has taken her management duties to another level. She started working with Leah Roe, a life and business coach who founded her own venture, The Perk.
"During the pandemic, I was being challenged as a leader every day," said Peters, who works with retail brands targeting millennial moms and hopes to pull in $1 million in revenue this year. "I had to do a lot of internal reflection."
Now, she is going through the training program herself. "My hope is learning more about coaching techniques will help me lead my team better as well."
[Related: These Life Coaches Know How to Pivot During a Crisis — Here's Their Advice]