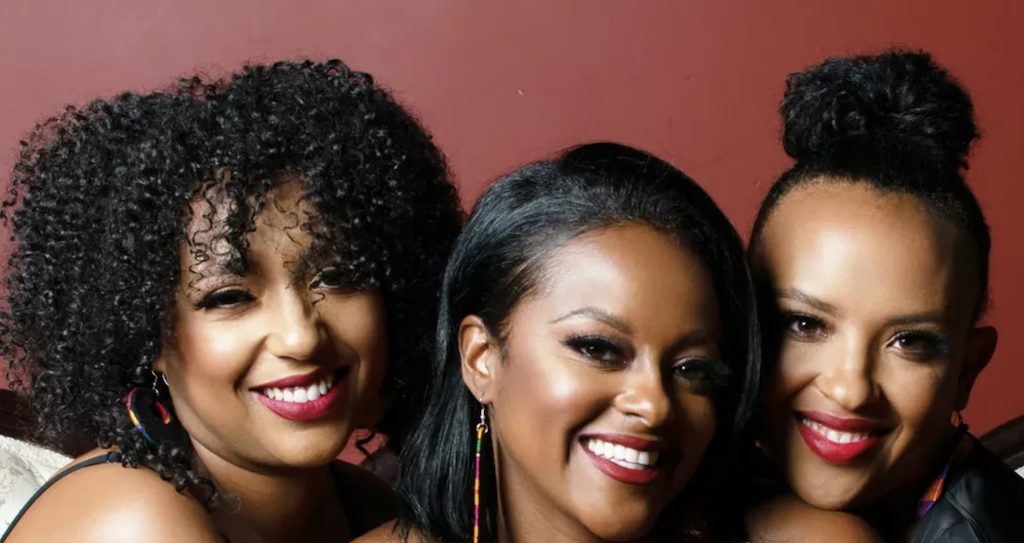 For the three founders of new e-commerce platform HellaBlack, "buying Black" means living out a legacy.
Sisters Love-Leigh Trimiew and Layla Nielsen, along with their cousin, Natalie Robinson, come from a long line of fierce women — and entrepreneurs. Their mothers, twin sisters from Ethiopia, opened a famed Washington, D.C., jazz club (appropriately named Twins Jazz) over 30 years ago.
"Coming from a family of immigrant entrepreneurs, and just watching the hustle and the struggle to raise children and run a business, we feel like this is something that we must continue as the legacy of our family," said Robinson.
Twins Jazz was one of the heartbreaking casualties of the pandemic — it closed in September — but its spirit lives on in HellaBlack, which launched in May and currently features 18 hand-picked, vetted vendors who sell their products on the marketplace.
The idea was hatched in 2018 during a bout of civil unrest, but George Floyd's death last summer and the subsequent outpouring of support for Black-owned businesses helped throw the plan into action. The women launched a Kickstarter campaign and raised above their initial goal of $50,000.
Now, as Robinson puts it, "We want to be the premier retailer marketplace for Black-owned businesses." The women are particularly proud of collaborating with vendors such as LipRevolt, a line of socially conscious cosmetics that's currently plugging a "Resistance Collection," and Bamblu, an eco-friendly sleepwear brand.
"Buying Black doesn't mean less quality," said Nielsen. "When someone's like, 'Wow, that's hella Black,' we want you to immediately think: that's high quality. It's a good product. It's made with care and love and you're going to get your money's worth."
They hope to have 50 sellers on the platform by the end of the year, and they're currently strategizing about how to ramp up for the holiday gift guide season. Vendors have to go through an application process, and fees range from nothing (if you're an "occasional seller") to $9.99 a month (for "volume sellers" who want to increase their customer base). The vendors receive their own customizable virtual "storefronts" and have access to a resource hub.
There are other online marketplaces for Black-owned businesses, including BLK + GRN, which offers personal care products, and the nonprofit Buy From a Black Woman, essentially a directory of goods sold by Black female entrepreneurs. 
But the HellaBlack founders say what sets them apart is their "giveback" component: HellaBlack receives 10% of commissions from sales and it donates a percentage of those earnings to a Black nonprofit.
The founders, who run their fledgling business across both cities and continents — Trimiew is based in Addis Ababa, Ethiopia; Nielsen lives in Washington, D.C.; and Robinson has landed in New York City — all maintain day jobs. Nielsen taps her small marketing staff at her independent consulting firm to assist with HellaBlack.
"It's like a melting pot that we have going on between our businesses," said Nielsen, a mother of two kids. "This is what we're used to. We grew up in a household of women who always got their stuff done. This isn't nothing new, it's just now we're in the driver's seat."
Part of what makes the women's entrepreneurial story so noteworthy is that they hail from enslaved relatives — and they possess documents detailing the life of their great-great-great-great grandmother, who was blind and worked on a plantation in South Carolina.
"We were able to see the lineage, like how everything was connected," said Nielsen. "We can actually see her birth certificate, who owned her house, how many times she was sold and how her mother and sister had to protect her because she was blind. That really blew our minds."
This ancestor, whose story came to light in the 1980s after a great-aunt hired a historian to do some digging, is never far from her descendants' minds as they build a business that celebrates Black life.
"We can let our children know and even inspire other Black people that we were once goods, we were once a product to be sold," said Nielsen. "Now, we are at a position where we are elevating Black businesses and going to rewrite our history."