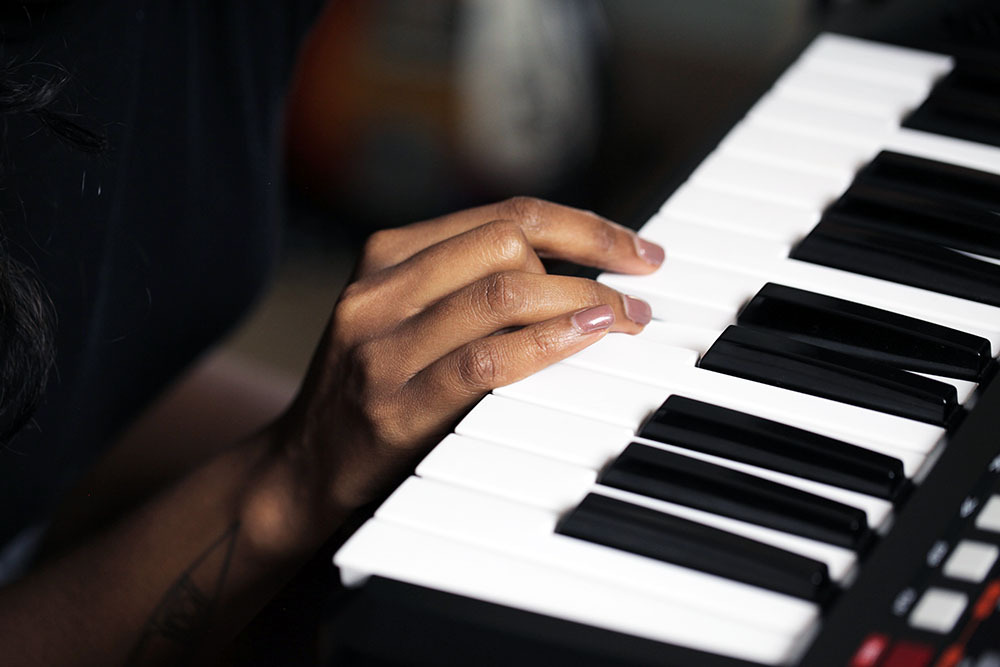 Velvet Brown can turn anything into a tuba piece. And we do mean anything – from one of Mozart's most famous arias, to a musical theater ballad penned by Leonard Bernstein. 
That versatility comes from years of practice. A long-time, award-winning professor at Penn State, Brown has released five studio albums and played in world-famous venues throughout the U.S., Europe and Asia. Most recently, she was back on campus performing in "Mojatuba," an eclectic project Brown crafted to celebrate music and dance from across the African diaspora.
Yet despite over 30 years of experience, Brown, a Black woman, still feels intense pressure in classical music auditions – especially after losing numerous gigs to less experienced contemporaries. "I always go in very prepared … so that [my ability is] not ever going to be questioned," she says. "That has been a burden – knowing that in order to be regarded, I have to be exceptional."
She is by no means alone. It's long been a struggle for marginalized musicians and composers to earn respect in the classical music world – a space which remains overwhelmingly white and male, despite a growing chorus calling for change.
After the 2020 murder of George Floyd by Minneapolis police, some institutions seemed to heed those calls. Major symphony orchestras committed to playing music by underrepresented composers. Conservatories throughout the country attempted to address their own problematic pasts. The Metropolitan Opera hired its first chief diversity officer.
Yet the numbers still point to a frustrating lack of diversity. Some 90% of concert halls worldwide still fail to perform works created by women. Conductors, too, remain mostly male, and the vast majority of orchestral players are white.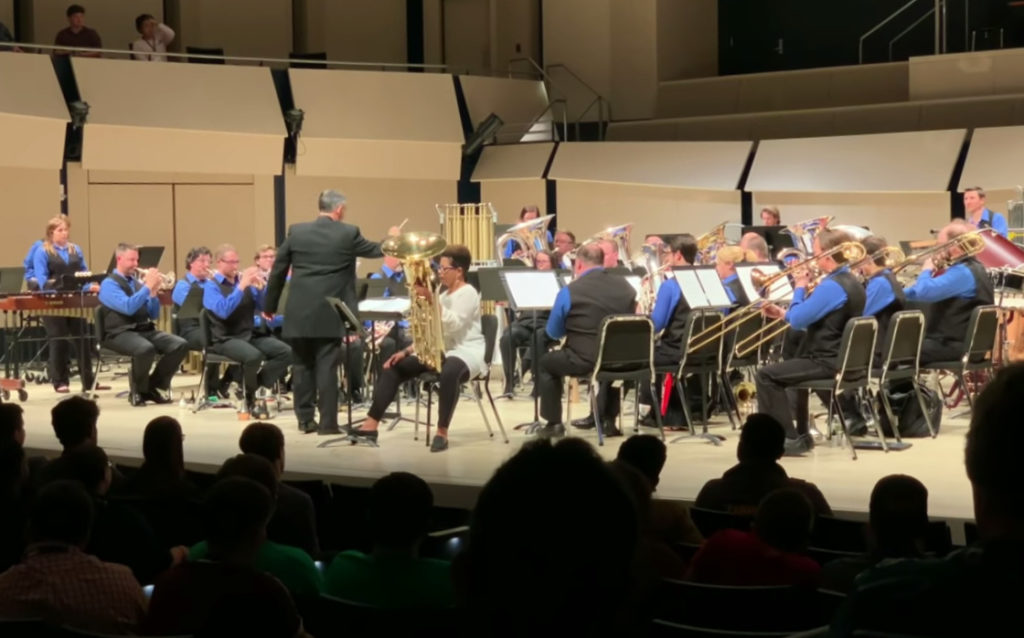 Terri Allen, executive director of the Coalition for African Americans in the Performing Arts, has also experienced the pressure Brown mentioned. For women of color especially, you have to be a complete package, she says – "doing two, and three, and four different things to get the top jobs. That's traditional: For us to go the extra yard to prove ourselves."
The homogeneity among the leaders and standard-bearers in classical music doesn't help. Kiena Williams, a Brooklyn-based professional singer and choral conductor with the Grammy-winning Brooklyn Youth Chorus, notes that whether it's the judges of competitions, the faculty overseeing school admissions, or the higher-ups in opera houses and symphony spaces, "it's the same people brought into conversations."
A Centuries-Old Problem
"We have all been conditioned … to believe that, with the art form of classical music, there's a different face than ours."
This observation is heard early on in "Marian Anderson: The Whole World in Her Hands," a 2022 PBS documentary about the African-American contralto who became the first Black person to perform at the Metropolitan Opera back in 1955. It's offered by Black opera singer Denyce Graves, one of today's acclaimed stars – and her words lay bare the massive hurdle faced by classical musicians who aren't white men.
In short, "classical music is gatekept," says Erin Murphy Snedecor, co-founder of nonprofit music ensemble Balance Campaign, which commissions and performs works by marginalized composers. "A lot of our genre is Eurocentric, in a way that [causes us to] lose a lot of our global community" as participants and spectators alike.
Indeed the art form itself is, to this day, taught and performed through a lens that vastly favors western traditions and white creators – from the composers whose works are most frequently studied in musical academia, to the tuning system used by musicians to calibrate their instruments and listening. Even the conservatory setting itself is a European construct.
Meanwhile, some experts note, there are gifted composers, valid teaching methodologies and, yes, even alternative tuning systems that exist outside of those confines. But the European ways remain the most revered and frequently utilized among classical musicians and educators.
Snedecor seeks to buck that trend by finding composers from diverse backgrounds, with diverse creative approaches – but it isn't always easy. "In order to be considered 'valid' in this realm," she says, one must adhere to those specific practices – with disproportionate expectations of compliance placed on women of color that ultimately cut off creativity, and careers.
Such inequities plague the industry to this day, even though some glass ceilings have been shattered in the past by artists like Anderson. There's Florence Price, the first Black woman composer to have her work performed by a major symphony orchestra, all the way back in 1933; Vanessa-Mae, a Singaporean-British violinist whose album sales generated record-making profits in the mid-2000s; and Alondra de la Parra, a Mexican conductor who became the first woman conductor of Australia's Queensland Symphony Orchestra in 2015.
Despite their achievements, women of color are still fighting their way through a veritable flood of more "traditional" creatives whose methods, and appearance, still dominate the genre.
But this doesn't just harm musicians, Snedecor notes – the music itself suffers. "It's blocked a lot of meaningful art from being made, and keeps audiences from being able to connect."
Seeking Resolution
There have been some glimmers of hope in recent months. For the first time in the history of the New York Philharmonic, women musicians presently outnumber the men, as an example. But progress has been slow, and hard-won.
One way of addressing barriers of access, experts say, is to bridge the sizable gap between students in low-income neighborhoods and a quality music education – lessons that would see all interested children learning to read music and developing their crafts.
At present, a lack of available educational opportunities creates a pipeline problem that impacts kids from kindergarten on up. In so-called "music deserts," children – the majority of them, non-white – don't have access to music lessons, working instruments or performance opportunities. "We need to give all students a head start, and not have a barrier of cost" to musical creativity, says Brown at Penn State.
Allen of CAAPA agrees. Her organization's raison d'etre is to open "doors [that] have been shut for decades, centuries" due to bigotry, through a mix of educational outreach programs and strategic partnerships. Part of that work, she says, involves thinking "about the way that we're bringing up our young people. We want them to be able to get as excited about Beethoven as they are about Beyonce."
But in tandem with that, institutions in the classical music world also must perform some honest self-evaluations, Williams says – beyond the 2020 deluge of public letters and new hires.
"You can bring in people of color all you want. But has your institution done the real deep-dive work to build something sustainable and safe for these folks?" Williams asks, while pointing out that inviting fresh talent into toxic environments merely perpetuates — even worsens — the problem.
As a tubist and an educator, Brown is among those aiming to break barriers through her work. The current Penn State Laureate serves as the associate director of equity, diversity and inclusion at the university's music school. She also helped launch the International Women's Brass Conference, among other efforts.
Because she, too, wants to see more artistic diversity in creative spaces the world over. "There are extremely talented people that can interpret classical music – and we're not just talking about pieces from hundreds of years ago," she says. "Pieces being written today – and they're being written by a diverse group of people."
Brown adds, "Everyone has something to offer. All voices should be heard." ◼️
(Note: Candice Helfand-Rogers is an accomplished singer with decades musical experience. She sometimes performs alongside Kiena Williams, the professional singer and conductor quoted in this piece.)