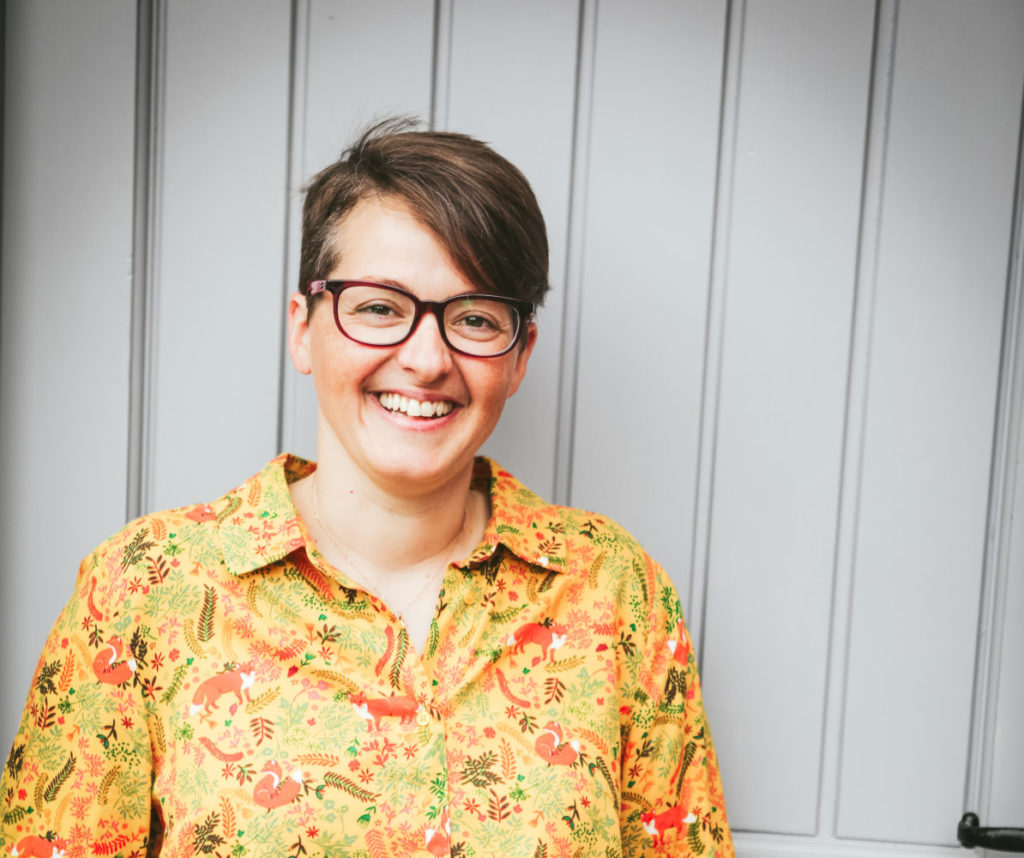 Gina Battye started her career as a teacher working with individuals who had been charged with violent crimes in West Yorkshire, England. A stalking incident at work led her to switch jobs – but she experienced harassment and intimidation for being gay in her new office. By then, Battye had had enough – and says she knew then that there was a deep need for psychological safety training for employees in all workplaces. In 2010, she developed a course called "The 5 Pillars of Psychological Safety," which she now offers as a training program for employees of multinational corporations. She's on a mission to create environments where people can thrive – ones where all employees feel safe to bring their whole selves to work.
Here's our lightly edited Q&A, from The Story Exchange 1,000+ Stories Project.
Tell us more about why you started your business.
At the age of 22, I began teaching people who had faced offenses related to drugs, alcohol, violence, theft, criminal damage and sexually based crimes. From the first day, my protection, safety and wellbeing were taken very seriously by my employer. It had to be – it could have been a matter of life or death. I vividly remember this being tested to the limit at 6 p.m. on a winter's night back in 2004. On the walk back to my car after a busy day, I was followed by a very dangerous man. This was the start of me being stalked for 3 weeks. I wasn't able to leave the office without a Probation Officer escorting me. My employers worked to create an environment where I was physically, mentally and psychologically safe.
Two years later, however, I began a different teaching role – and there, I didn't feel safe bringing my 'whole self' to work. From the very first day I felt uncomfortable, and experienced an intense period of bullying, daily harassment and intimidation for being gay.
Initially, I didn't report this, as I didn't want to "out" myself to the leadership team, or my colleagues. This experience is why I started my company, – and why I am so dedicated to creating physically, mentally and psychologically safe workplaces.
How is your business different from others in your industry?
I believe we all have the right to feel safe at work. There is no legislation in place to promote and enhance psychological safety in the workplace in the UK, and I knew that this needed to change. As a change-leader and action-taker, I knew I was the one to do it. I aim to lobby the government to introduce psychological safety legislation, in hopes of bringing about worldwide change and protection for employees.
I created the blueprint for psychological safety with "The 5 Pillars of Psychological Safety," which is being implemented worldwide to create fully inclusive workplaces. The diagnostic tool built into the program directly complements my full suite of safety services – including the psychological safety change management program, the bespoke e-learning modules focused on the titular five pillars, and live training sessions for senior leaders and employees.
Tell us about your biggest success so far.
As a kid, I was terrified of speaking out. I often chose to stay quiet throughout my teens and early adulthood. Now, I am an award-winning speaker, sharing my story, knowledge and expertise on global stages to thousands of people!
What is your top challenge and how have you addressed it?
My biggest challenge came as a result of the homophobic bullying I experienced in the workplace. The whole experience had a dramatic impact on my physical, mental and psychological health, which in turn affected my performance at work. My health and confidence were at all-time lows. Once I decided to set up my own business, I knew I had work to do – on myself!
Have you experienced any significant personal situations that have affected your business decisions?
After being stalked and then bullied on the job, I began putting on (metaphorical) masks to hide who I really was. This was across all aspects of my life – at work, at home and with my loved ones. I was self-censoring my behavior, and triple-thinking everything I said before saying it, which was incredibly draining. I was tired, stressed and at breaking point. It was at this juncture that I decided I was going to leave teaching and start my own business.
What is your biggest tip for other startup entrepreneurs?
Follow your heart. If there is something that you love to do, do more of it. For example, let's say you love to write, and be in front of the camera. Spend as much time as you can doing those things, and delegate or outsource the things you don't enjoy.
How do you find inspiration on your darkest days?
I go for a walk. Walking really helps to calm my mind and ground my body, and gives me the space to listen to the creative solutions that pop into my head.
What is your go to song to get motivated on tough days?
"Jolene," as performed by Dolly Parton and Pentatonix.
Who is your most important role model?
My partner. She inspires me everyday to be the best version of myself that I can be, and to do what I can to make the world a kinder, safer place.◼
Instagram: @GinaBattye
Facebook: @GinaBattye
LinkedIn: @GinaBattye
Youtube: @GinaPMLive
Check out our Advice + Tips for entrepreneurs starting-up
Watch our latest videos
Subscribe to our podcast