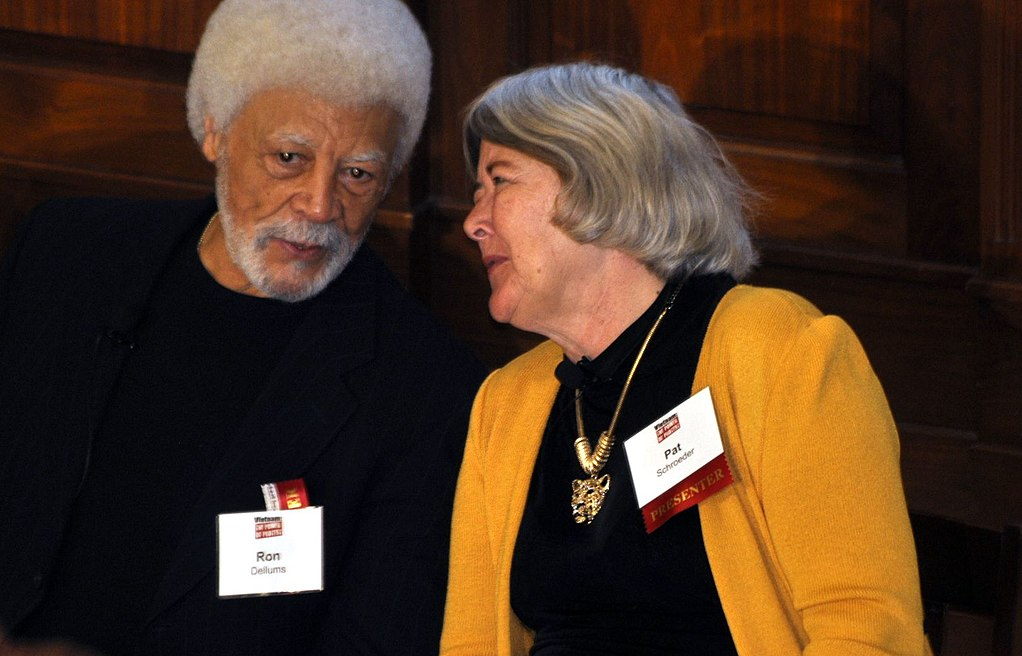 The world lost a feminist icon with the passing of Pat Schroeder.
The former Colorado congresswoman – the first woman elected to the post from her state – died recently of a stroke at age 82, following a life of service. She spent 24 years in the U.S. House loudly fighting a patriarchal establishment – scoring historical committee appointments and going to war with then House Speaker Newt Gingrich for sexist comments. She was also a consistent champion for families' and women's rights, pushing legislation such as the Family and Medical Leave Act of 1993 and the Pregnancy Discrimination Act of 1978.
When news of her passing broke, women politicians and political correspondents had much to say about Schroeder's impact on their own lives and careers. "Every woman currently serving in Congress owes a tremendous debt to Pat Schroeder," New York Sen. Kirsten Gillibrand tweeted. Added ABC News senior correspondent Deborah Roberts in a tweet of her own, "We've lost a giant of a leader."
Yes, Schroeder was a trailblazer for those who would come after her in the political arena. And also, she was damn funny.
In addition to her myriad accomplishments, Schroeder was known for her razor-sharp wit. She's the person who gave President Ronald Reagen the "Teflon president" moniker for his avoidance of blame for policy failures, once referred to Capitol Hill as a "guy gulag" and quipped that former Vice President Dan Quayle understood Roe v. Wade to be "two ways to cross the Potomac [River]."
Below, we've rounded up a few of our favorite one-liners, and added some brief thoughts on why we know these sharp, wise words will live on as part of Schroeder's legacy.
1. "I have a brain. I have a uterus. And they both work."
This oft-cited quote was offered by Schroeder in response to the ever-present question of how she could be both a mother and a Congresswoman. Those of us balancing both roles know how difficult the juggling act can be – but also recognize the condescending, sexist nature of being repeatedly asked "how we do it" when the answer is quite simple: because we can.
2. "I was and am – like many women – both pro-life and pro-choice."
With these words from her memoir, "24 Years of House Work … and the Place Is Still a Mess" – you have to love that title – Schroeder makes the study-proven point that access to reproductive care is critical in saving lives and livelihoods. In addition to speaking out in favor of abortion, she also pushed for laws that would criminalize blocking access to clinics.
3. "You can't wring your hands and roll up your sleeves at the same time."
Here, Schroeder is encouraging action over despair. She knew it wasn't an easy ask. In fact, one of her most notable moments came when she tearfully announced plans to abandon her pursuit of the Democratic nomination for president in 1987 – for which she was widely, and unfairly, criticized. But she pressed on after that, continuing to serve for another decade.
4. "Many women have more power than they recognize, and they're very hesitant to use it, for they fear they won't be loved."
Too often, women in particular hold themselves back from realizing their full potential, for fear of what others might say. (It's a topic we've certainly discussed with experts in the past.) But Schroeder, who spent 12 terms in office advocating for others, encourages fellow women to dismiss those concerns in favor of achieving what they believe in – and want.
5. "When people ask me why I am running [for office] as a woman, I always answer: 'What choice do I have?'"
At the end of the day, we cannot wish for things to be different. Rather, we have to create the world we want to live in – for ourselves, for our children, for others. Here, Schroeder reminds us that we can, and must, take those steps for ourselves, instead of waiting for others to do so. Yes, even if they're steps no one else has taken before us.