Shaan Kandawalla spent years working at Nickelodeon and Hasbro before deciding to launch her own venture, PlayDate Digital, with the aim to reinvent kids' entertainment. Since 2012, the New York company has developed apps that feature well-known characters – think My Little Pony, Power Rangers or Mr. Potato Head – which help kids learn ABCs and other basics, based on research from preschool experts.
A few years back, when we interviewed Kandawalla for our Women In Tech series, she described the discrimination she faced when trying to raise money for her startup while pregnant with her first child. (Read our full profile here). But as she told us then, having a child actually gave her unique insight into her products. That insight is now doubled: daughter Riah, now 9, has a brother, Zane, 7.
Today, PlayDate Digital has 33 apps available in the Apple, Amazon and Google app stores as well as in partner libraries and schools – and Kandawalla says demand grew considerably during the pandemic as parents looked for ways to keep their children engaged.
We asked Kandawalla how she works now.
Are you currently remote or in-person or hybrid?
PlayDate Digital turned 10 years old this year. We were remote then and are still remote.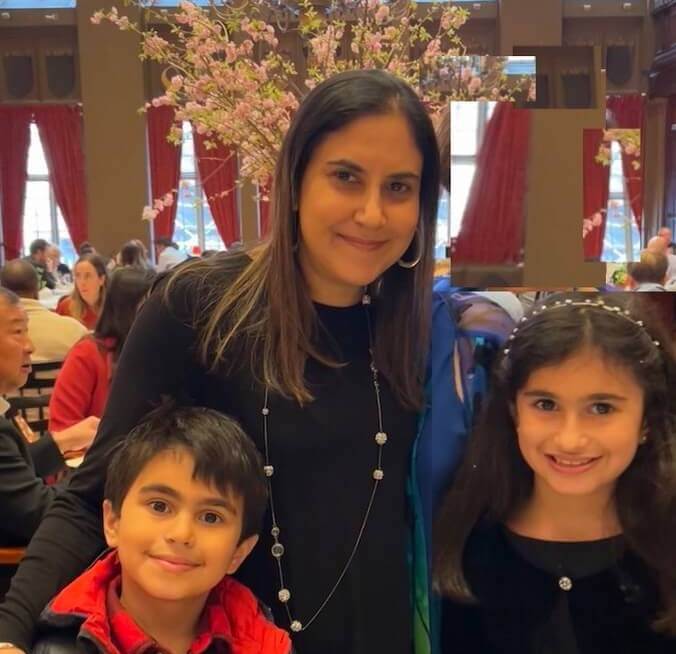 What has changed the most about how you work, since the pandemic?
In many ways, my day to day has not really changed. Skype, Zoom, Meet, and Webex video calls were [always] central to how we managed remote teams and multiple time zones. The only thing different is that pre-pandemic, working remotely was an anomaly. Now, it's becoming an accepted new way of life. Of course, I miss the in-person catch-ups and travel.
You prefer working remotely. Why?
It has always enabled me to be more productive and juggle work and life. It's also allowed me the luxury of being location-agnostic. During the pandemic, our family spent 7 months in Pakistan. Our kids were on New York City Zoom school (kindergarten and 3rd grade) which started at 5 p.m. and ended at midnight. So it was a full day to say the least! But being remote allowed for that experience.
How did the pandemic impact your bottom line?
We saw a big spike in downloads of our apps. The pandemic helped the ed tech business a great deal in that respect. Perhaps parents who wouldn't normally have advocated screen time tried new apps and content to give their kids something to do, and then realized that there were benefits of screen time, too.
What time do you get up?
Either with my 6.30 a.m. alarm or more likely to the sound of my son playing the piano, which usually happens some time just before the sun rises!
What's the first thing you do in the morning?
Check my emails and WhatsApp messages to see what the day has in store. But then I consciously put my phone away until the kids have left for school so I am not distracted.
What apps do you check the most?
For work, Appfigures to check in on the previous day's sale, customer reviews and where our apps are featured. For news, Apple News that aggregates my favorite news platforms. For fun, lots of games – too many to mention, but a favorite is SpellTower.
What's your Zoom background – and (bonus points!) what's the one thing we don't see hidden right outside of your Zoom frame?
It varies. I have my PlayDate background with all the fun characters we work with, a more subdued white background for more serious calls, and lots of scenes of the beautiful Wellesley campus [where I went undergrad before Harvard Business School]. I often have to take a call in my kids' room, so if I forget to turn on the Zoom background you may see a stuffed monkey peeking his head out or a giant pink Troll.
During the work day I can't live without…
Coffee and a cuddle.
The best thing that the pandemic has done for the workplace is…
Utilize technology in an efficient way. The pandemic has made everyone, from the youngest to oldest, very tech savvy. It's great to able to connect with clients and team members all over the world in new and innovative ways. There are constantly new tools for collaborating, sharing and video chats that make it feel like you're in the same room.
What's the latest skill you've acquired (doesn't have to be related to work)?
My kids are teaching me how to play the piano.
What do you miss the most from the "before" times?
I miss not worrying every time I meet friends for a meal, jump on a subway, an airplane or send my kids to a play date.
Does your work day have a hard stop?
Unfortunately not. I'm still working on that. That said, I do make it a point to stop calls and screen time during certain blocks in the day, whether it's to pick the kids up from school, have dinner with them or play family game night. But I'm often back on my laptop later in the night.
How do you de-stress?
Netflix binging! I love catching up on my favorite shows with my husband at the end of the day.
Where did you go on your most recent vacation?
We recently went to Dubai. The highlight for the kids was Atlantis, one of the world's largest water parks, and for me it was swimming in the warm Persian Gulf.
These have been trying times. What are you the most hopeful about?
From a business perspective, I hope that economies, markets, supply chains and labor shortages begin to normalize. On a personal side, I'm hopeful that the pandemic has shown us what a crazy world we live in and in turn inspired us all to live each day as fully as we can, both personally and professionally. I'm grateful for the medical community, scientists and companies making advancements in vaccines and public health and hopeful that 2023 turns the corner for a brighter future. ◼