The headlines are everywhere: from China to California, the world is experiencing serious supply chain issues that don't appear to be going away anytime soon. The effects of Covid — forcing factories to shut down and sickening scores of workers in manufacturing and transportation — has snarled the global economy.
But what does that mean for the smallest of small businesses? We talked to three women who started their own ventures, either during the pandemic or before the world as we knew it changed. These interviews have been edited and condensed for clarity.
Amanda Klingenberger, founder of Linden Square, a curated gift shop based in Fort Wayne, Indiana
On the issues she faces right now
We try to source our products from the U.S. whenever possible, but sometimes it's not possible. It's an ongoing saga. Things you don't even anticipate — we can't get crinkle [gift box] paper because a good portion comes from China, and there's a huge paper shortage right now. Even when we can get it, the prices are going up or there's a huge delay.
How she's trying to find solutions
We're planning way ahead. My boxmaker is local to me in Indiana, and she sent out an email last week saying we are now looking at February and March before we can get boxes. We ordered our boxes in May, so I have 2,000 boxes sitting in my garage.
On the upcoming holiday season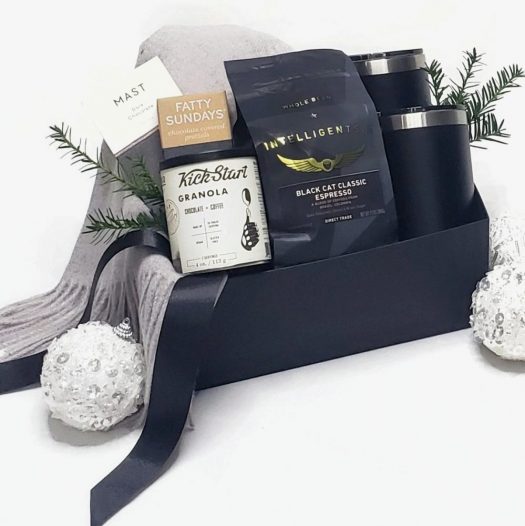 We designed all our holiday gifts in August and used what was available. [We used] a red mug popular with Pottery Barn and they told us they were no longer selling them, so we spent months recrafting that gift. P.F. Candle Co. stopped carrying smaller jars that we were buying. Whenever possible, we try to work with small businesses. I noticed particularly this year that they were putting out requests for holiday orders much earlier.
Using collective bargaining tactics
We charge a premium for our gifts already; I don't know that our clients would bear an increase. We started working with a GPO [group purchasing organization] to try and use that to bring our prices down. We found a GPO called Una that works with small businesses to try to get a FedEx contract to try to bring our shipping down. I'm hopeful that comes through any day now. Anything we can do to lower our costs.
Keta Burke-Williams, co-founder of Aspen Apothecary, a non-toxic fragrance e-commerce business based in New York and Ohio
On staying ahead of the curve
We buy in small quantities [of glass bottles and recycled paper for packaging] just to keep the overhead low. That means we can't buy a billion units 10 months out and just sit on them. For us, it means this delicate dance of trying to plan but also trying not to over-purchase so that we can make sure we can keep bringing perfumes to people.
On communicating with customers
We're communicating with our customers a lot to make sure that they understand that there might be longer wait times. The worst feeling as a consumer is if you order something and you never get an update, but if the company is updating you at least you know what to expect.
On finding the right partners
Since we're a small business, we don't have a lot of control over our manufacturing partners. We're fortunate in that we found good partners, but as a small business it feels like you have less control. That's why it's especially important to be mindful and understand how the [supply chain] process can impact us.
​​Katrina Bell, founder of The Copper Bell, an online soy candle business based in Guelph, Ontario, Canada
On trying to get her candles on time
Most of my distributors and suppliers are based in Canada. So they're the ones doing the huge importing from China or from the U.S. for the wax and jars. I talked to my sales rep at this distribution company, and it's like a game of broken telephone. You're at the mercy of when things finally get off the boat and can make their way across from all the ports.
How it's affecting her business
The jars were a couple months delayed, so that meant I had to scramble and find someone here [in Canada]. I paid probably double the price to get a few jars just to get ready for my next season of candles. And so then my profit margins shrink because I'm paying out more than I'm expecting, and I'm still waiting on these couple thousands of dollars of jars that I paid for.
On managing expectations
There's this idea that if you just support local businesses, they're not affected by the supply chain but it very much is. We have such a global supply chain — everybody is buying things from all over the place, even if it says made in the U.S. or made in Canada. It's going to be touched by all of these delays. But you gotta keep going, right?