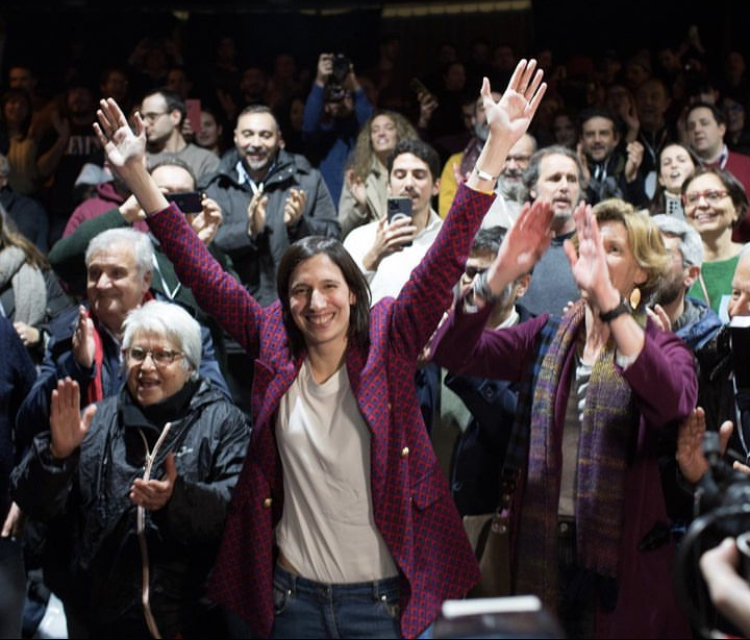 For the first time ever, Italy elected a woman to lead its Democratic Party.
In a recent primary vote, Elly Schlein, a former member of the European Parliament, defeated Stefano Bonaccini, governor of Emilia-Romagna, with 54% of the vote. At 37 years old, she is also the youngest person to ever lead the party. 
Her win came as a surprise to many, as Bonaccini had been leading the polls by a wide margin. Due to her far-left political stance, and a résumé far shorter than her opponent's, members of the center-left Democratic party largely cast Schlein aside in the weeks leading up to the election. According to CBS News, her victory comes thanks to young Italians and women of all ages who support the liberal agenda she's pushed for throughout her career.
Schlein, who holds dual U.S.-Italian citizenship, worked on former U.S. President Barack Obama's campaigns for office in 2008 and in 2012. She is frequently compared by political commentators to U.S. Representative Alexandria Ocasio-Cortez for her advocacy of measures that bolster public health and public schools, according to AP News.
For the nation's progressives, Schlein is a breath of fresh air – she will serve as the main opposition leader to Giorgia Meloni, the country's far-right prime minister. 
It's the first time both roles have been simultaneously held by women, but there's little unity to be found between the two. An openly bisexual woman who advocates for same-sex marriage, Schlein has often been vocal in her opposition to Meloni, who approaches issues like gender and abortion from a more traditional Catholic standpoint.
After Meloni's victory last year, Schlein said at a campaign rally, "Not all female leadership helps women … It helps nothing to have a female premier if all the rights for other women are overturned, including control over their own bodies." And in her more recent acceptance speech, Schlein promised to be "a big problem" for Meloni, before taking a swipe at the prime minister's anti-migration policies.
She then referenced Sunday's deadly migrant boat wreck off the coast of southern Italy, saying the tragedy should weigh heavily "on the conscience of those who, only weeks ago, approved a decree whose only goal is to hinder rescues at sea." Indeed, Meloni espoused the belief that mass migration dilutes ethnic identity in her 2021 autobiography. She also claimed Italy should prioritize welcoming Christians and people "as compatible as possible with our own national community."
In her speech, Schlein made it clear that she will continue to push back against such rhetoric while in office. "I received a mandate to change people, methods and vision," she said. "We will put the battle against every type of inequality and precariousness center-stage."