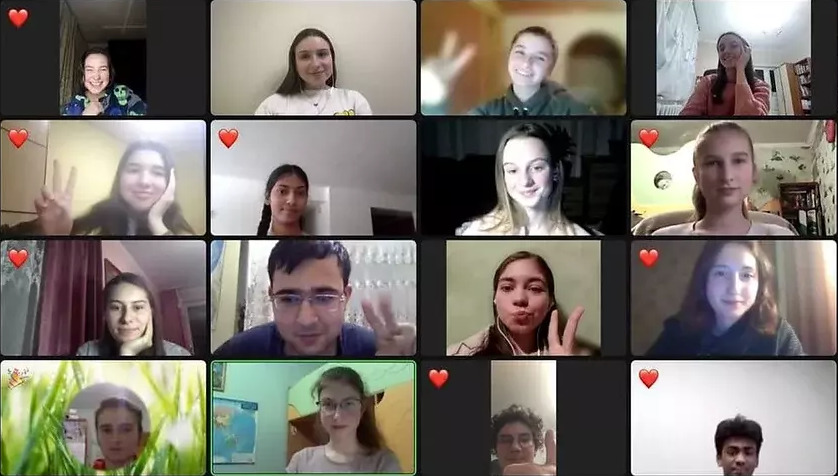 Katerina Manoff was helping her fellow Ukrainians before war broke out in Europe, but the nonprofit founder is now at a loss for how to provide assistance during such a dire conflict.
"This has been a huge blow for us," Manoff said by phone from her Stamford, Connecticut, home on Tuesday. She runs a cultural exchange program called ENGin, which pairs Ukrainian youth with English speakers to help them improve their language skills, but she has had to pause her program indefinitely as chaos and fighting rage in her native country.
"I'm not sure what is next," she said as her infant daughter cried in the background. "It's all just about waiting and seeing and providing what support we can."
Manoff, who detailed how she launched her organization in March 2020 for The Story Exchange's 1,000+ Stories campaign, moved from her hometown of Kyiv, Ukraine, when she was 8 years old. She still has family there, as well as employees, who are safe so far.
"My team is all over Ukraine," she said. "Fortunately, they're all alive so far and keeping the faith."
The irony is not lost on the mother of two that the purpose of starting her organization was to build connections between Ukraine and the West — exactly what Russian President Vladimir Putin is trying to stop from happening in the most brutal and callous of ways as he sends troops into the neighboring country, causing hundreds of thousands of refugees, many of them women and children, to flee.
"This whole war is to break connections and isolate Ukraine," Manoff said. "This is a very grim reality."
It also comes at a time when she was just ramping up ENGin — she had recently hired five new staff members and was preparing to launch a new program for adults after serving more than 5,000 students since she started.
"We were growing so quickly and had ambitious plans, and then literally overnight, everything changed."
Despite having to put her program on hold, Manoff is still doing what she can. She has helped connect some of the Ukrainian youth she once served with the press to help get their stories out to the world. "[That's] one little thing we did that has been positive," she said. "We've been connecting students with U.S. news media to help them share their perspectives firsthand about what's going on."
Manoff is hoping to once again get her program off the ground, but in the meantime, she is trying to figure out next steps with her husband while they care for their two children, ages 6 and 1. She said they have discussed possibly moving back to help rebuild their country when the war is over.
"We are limited to what we can do as a small nonprofit, but it would be great to see bigger companies making more of a statement or reaching out to government representatives," she said. Tech billionaire Elon Musk sent internet terminals to provide online access in the country earlier in the week, according to the New York Times.
But the news remains bleak as Russian forces moved closer to Kyiv on Wednesday.
"We're hopeful, and if we can win, there's going to be so much work to do to rebuild, because they've destroyed so much," Manoff added. "They're trying to obliterate my entire country."