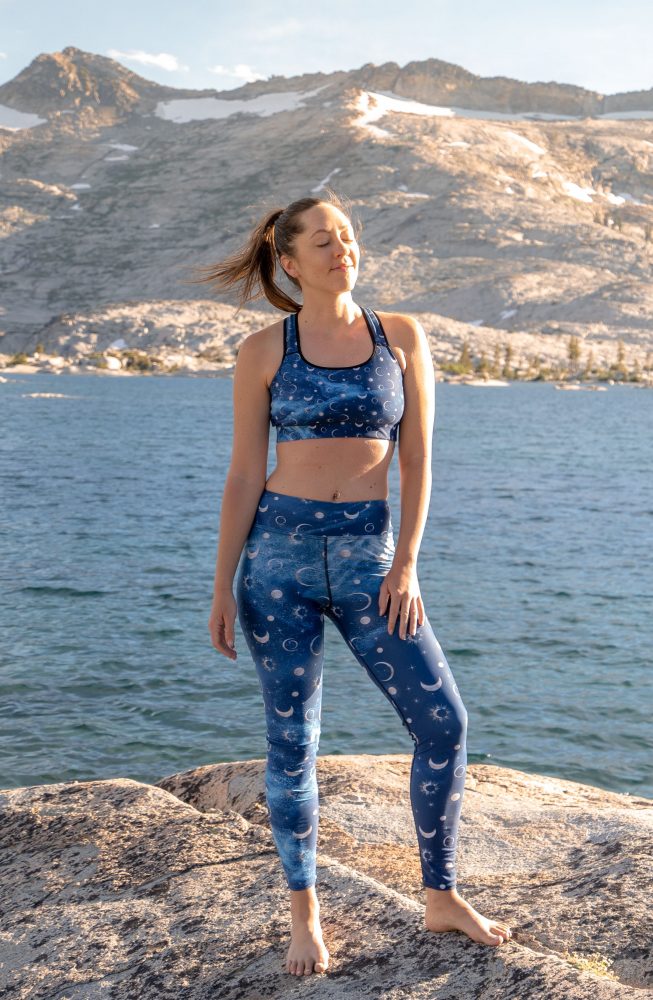 Kristin Addis has spent the last eight years traveling the globe. As a travel blogger, she spent much of her time traveling solo as a woman and wanted to share advice, tips and stories with other women looking to travel safely on their own. Her blog, Be My Travel Muse, quickly grew and even started offering its own tours. Her newest venture, Wanderbabe Clothing, is as she puts it, "A different beast entirely." Her ethically made althleisure-ware, including leggings, sports bras and shorts feature real photos of Nebula, the mountains and the sky. Today the Texas-based entrepreneur is focusing on growing her brand through social media partnerships while also working to donate 10% of her profits to charities and non-profits that support women.
Addis' story, as told to The Story Exchange 1,000+ Stories Project:
I've been a travel blogger for almost eight years now, and created Wanderbabe Clothing as an outlet for my love of drawing, painting, and a desire to make clothing that was different and ethical. The fashion industry is often focused on 'fast fashion,' churning out new designs constantly, often at the expense of the environment and their workers. I wanted not only to make sure the people creating our garments were treated right, but to treat our environment in the right way too. All of our clothing is made in WRAP (Worldwide Responsible Accredited Production) certified factories and we make our clothing with water-based ink and try to create as much as possible with renewable energy. To take it a step further, we also donate 10% of our profits to organizations that support women, most recently to victims a of domestic violence. 
For us, it's about people feeling good in our clothes. I want to empower women more than anyone else in the fashion industry. I want them to feel included and we prioritize that in the way that we show what we've created. I want women to feel empowered when they wear our clothes, and to feel unique and stylish! Everything we make is a conversation piece.
[Related: She's Making Sure Women in Their Prime Aren't Held Back by Hot Flashes]
It's pretty cool to be able to say that the travel brand now includes clothing that women can wear and that goes back to organizations that support them. Wouldn't it be wonderful if that was an industry standard? We have just broken even and manage to donate 10% of our profits to an NGO that supports domestic violence survivors.
Creating a physical product has been entirely different from anything I have attempted before. Be My Travel Muse is primarily a service, providing travel advice for solo female travelers around the world. We help empower women to get out there and have adventures. We've created women's adventure tours and have brought hundreds of women on adventures around the world, backpacking for the first time, swimming with humpback whales, and more. 
[Related: She Started an Initiative to Help Women in Domestic Violence Shelters — It Grew Into A Sustainable Apparel Business]
But a physical product, particularly a clothing line, is a different beast entirely. Almost nothing about the way one runs a travel blog is similar to the way one runs a clothing brand, so everything that we have learned along the way has been self-taught and a tough lesson! I have to say it has been interesting being an influencer, and then being on the other side of it and working with influencers to promote our brand. It definitely gives me some interesting insight into both sides! The main one being, just because someone has a big following doesn't mean that they have a great relationship and trust with their audience. Numbers can be deceiving. 
I think it's amazing the way that Rihanna has built such an inclusive brand. Although she's focused on beauty, On a much larger scale she's made a similar transition that we are trying to make, serving our audience with something that they can wear and feel beautiful in.I'm also forever inspired and impressed by Patagonia. I love their products, and love the way that they give back to causes that are important to them, always thinking about the environment and donating so much to preserve it.
Check out our Advice + Tips for entrepreneurs starting-up
Watch our latest videos
Subscribe to our podcast