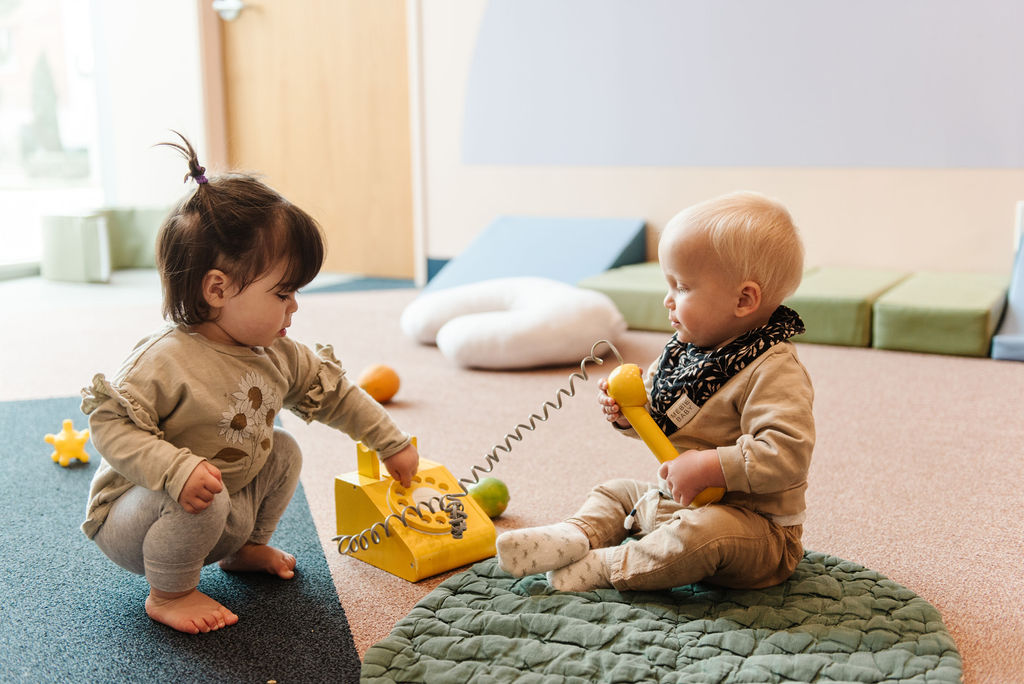 In Los Angeles, two moms who co-founded a flexible child care startup also happen to be its customers — Darien Williams' 4-year-old son and Melanie Wolff's 3-year-old daughter attend Brella on a daily basis.
"It's a really cool experience for us," said Williams. "We have our parent-teacher conferences, and we do drop off, which is actually really important."
The startup, which opened its brick-and-mortar center in L.A. four months before the pandemic hit, is getting attention for offering a different model for families who now must navigate working from home, online schooling and ever-shifting public health guidance. 
Parents of infants, toddlers and preschool-age kids (up to 6 years old) can download the Brella app and choose from three plans with different levels of commitment. At its most basic, rates start at $25 an hour for preschoolers and $30 an hour for infants and toddlers. The company serves about 150 families each week.
"You can go on a regular schedule, or you can do it ad hoc and go in last minute," said Williams, adding that the customized schedules are not unlike "slotting in Tetris pieces."
The startup has raised $8 million to date from angel and seed investment rounds, with $5 million of that coming in earlier this month. The amount is notable, especially as investment in female-founded firms has shrunk, percentage-wise, since the beginning of the pandemic.
Brella has about 70 investors, but the founders had to talk to "three or four times as many people" to get backing, said Wolff.
"It was a lot of hard work," said Wolff. Despite the fact that so many parents rely on it, "the child care industry is not a well-known industry, and there's a high level of education that we have to do before people can really understand the mechanics of it."
Williams said with traditional daycares and nanny services, parents are often locked into a full-time rate or have to endure long waitlists.
"The general approach has been a singular mold that families are supposed to fit their whole lives into," said Williams. "Often, families overpay [for daycare] because they're paying full tuition, even if they actually need three days a week. All around, it's missing the mark."
And Covid hasn't made anything easier, with many daycares shutting down or only offering limited hours during the height of the pandemic. Brella, which remained open through that time — and thus has been profitable since August 2020, according to Wolff — requires all 20 teachers and four staff members to wear masks and the center is sanitized each night.
"We always felt, especially in Covid [that] if we don't feel comfortable sending our kids here, then we're going to close," said Williams. "We use ourselves a little bit as a barometer."
Williams, who originally had the idea for the startup when she was looking for flexible, dependable child care as a busy architect in New York City, met Wolff through a college friend and immediately saw a business partner in the former marketing specialist.
"I, like all parents, lived the cliché of really struggling to align my childcare with the demands of my career, a dynamic schedule and a dual-working household," said Williams. "I never felt like there was a solution robust and flexible enough to accommodate my career goals without my having to step back or sacrifice some of my ambitions."
Added Wolff: "I was really excited to rethink this industry like a marketer thinks about different products — how could we make [child care] something that could be a support system instead of an obstacle?"
Duties are naturally divided between the two women: Wolff builds the technology and does marketing while Williams focuses on real estate.
Along with the first location in L.A.'s Playa Vista neighborhood, there are plans for three more centers to go up in the greater Los Angeles area this year.
"Instead of opening [a location] in New York and one in San Francisco, we're really dedicated to localized density with the intention of building out this network," said Williams. "So if a family enrolls in Brella, they're enrolling in the whole network."