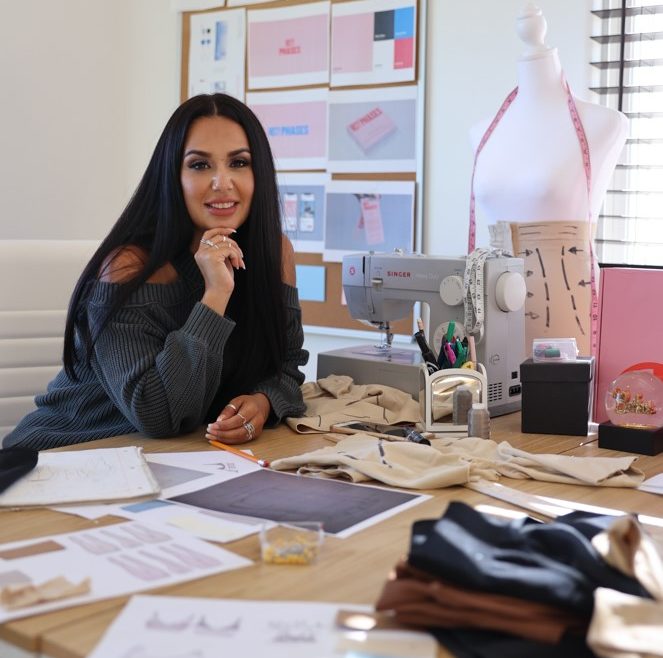 When Lizeth Cuara gave birth to her daughter five years ago, no one told her about postpartum recovery. She learned the hard way that the body needs lots of rest and care when a relentless work schedule and new-mom duties took an extreme physical toll on her. Today, Cuara is the founder and CEO of Misty Phases, which sells postpartum recovery underwear and compression wraps for bodies of all shapes and sizes. The Los Angeles-based entrepreneur is also dedicated to helping pregnant women and new mothers living in homeless shelters: for every Misty Phases product purchased, a pair is donated to a woman in need.
Here's our lightly edited Q&A, from The Story Exchange 1,000+ Stories Project.
Tell us more about why you started your business.
After giving birth to my daughter, I did not receive any postpartum care. I was just handed my baby and the next day after giving birth I returned to work as if I hadn't just created a life.
When I started to have major health complications. I ignored all the symptoms. Work and my baby were my priority and caring for myself was last on my list. My health issues got to the point where I couldn't walk, and I was admitted to the hospital for three days. From that experience, I learned firsthand the importance of proper postpartum care.
Because of my personal experience with giving birth, as well as the experiences of many women of color, I set out to create a line of products that would not only help women through their postpartum recovery but also advocate for equal and fair maternal care for women of color.
How is your business different from others in your industry?
From day one we set out to create a recovery brand that fits women of all colors, body shapes and sizes. After three years of research and development, we launched our all-inclusive postpartum recovery line.
Tell us about your biggest success so far.
The day that I started to believe in myself. I didn't grow up in an entrepreneurial environment, I had no one telling me that I could be a business owner. I came from a world where you get a job, collect a paycheck and then live paycheck to paycheck. Once I launched my business, I would go to sleep worrying that tomorrow it might be over and that I would have to go back to my previous 9-5 life. Finally one day I just pinched myself and said, "This is YOU. You did this. You are doing this. And you will do this!"
What is your top challenge and how have you addressed it?
Lack of knowledge and experience. Prior to starting Misty Phases, I had no business background, no experience in marketing, and I barely graduated from high school. I am the first person in my family to start a business, so I had no one to turn to. I also had limited funds; I started my online business with $10,000 (which came from my personal savings). Through what I like to call the "University of YouTube and Google" I taught myself how to start a business, run a business, grow a brand and leverage the little money that I had.
What is your biggest tip for other startup entrepreneurs?
Social media tends to portray the lifestyle of an entrepreneur as glitz and glamor, with fancy trips, mansions and luxury cars. If you are starting a business to fund fancy trips and work less – please know it will be exactly the opposite. Most likely, you will be leaving a 9 a.m.- 5 p.m. to go into a 6 a.m. – 12 a.m. position. It's sort of like having a baby; you will fall in love with it and it will consume all of you, including your free time.
How do you find inspiration on your darkest days?
My team! I am blessed to have a team who not only supports my vision but works hard at growing it. I have a hard time keeping up with them. On days when the stress and pressure are high, when I wish I could just crawl under the sheets and sleep in, I clock the texts and emails I start getting from my team as early as 5 a.m. and it's like a switch turns on! If they are up at 5 a.m. working hard on my dream, why the heck am I in bed?
What is your go-to song to get motivated on tough days?
Nipsy Hussle's "Grinding All My Life."
Who is your most important role model?
Growing up I didn't have role models or mentors. As I got older, and especially when I started my business, I took the time to learn and study self-made entrepreneurs like Oprah, Kobe Bryant, Serena Williams and Jeff Bezos. I've learned a lot from their challenges, habits and success stories. However, my greatest role model, as well as inspiration, is my five year-old daughter. She is fearless and confident. She gets up every day ready to conquer the world.◼
Instagram: @MistyPhases
Facebook: @MistyPhases
TikTok: @MistyPhases
Check out our Advice + Tips for entrepreneurs starting-up
Watch our latest videos
Subscribe to our podcast