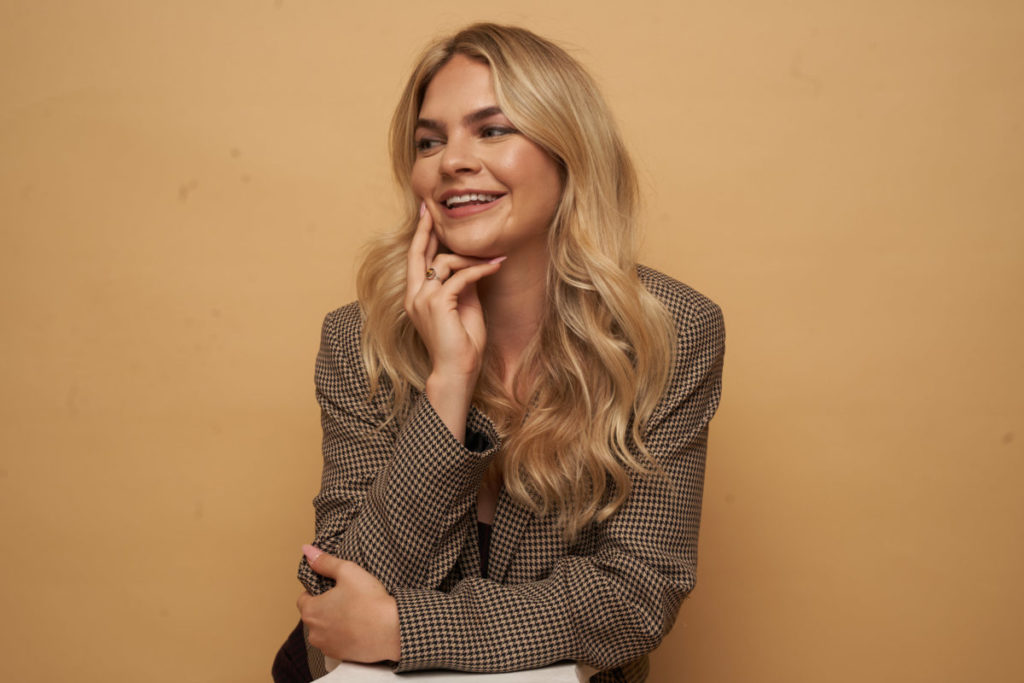 Macy Schuchart developed a keen interest in alternative medicine and natural herbal remedies while living in Hawaii. For a number of years, Schuchart had been studying the healing properties of plants and herbs, and when she experienced the health benefits herself, she decided she wanted to share the results with others. Thus, Ancient Bliss, an organic herbal supplement company, was born. Ancient Bliss offers supplements like Sea Moss for digestive support, Quercetin for inflammation, and Berberine to help support healthy cholesterol and blood sugar levels. Since leaving her day job eight months ago, the Gunter, Texas-based entrepreneur says she is on track to make half a million in sales in 2022, while continuing to manifest her goals with a positive mindset.
Here's our lightly edited Q&A, from The Story Exchange 1,000+ Stories Project.
Tell us more about starting your business.
I have always been highly fascinated by the natural healing processes of the body. I am a big fan of alternative medicine and herbs inspired by our ancestors, who have been using them for thousands of years. With a rise in health issues amongst so many people, there is a lot of confusion about how to take care of yourself. People are quick to follow what their doctor says, and go with the first things they see online. Although western medicine is valuable, a lot of our modern society has lost touch with the herbs and healing remedies our ancestors used.
Since we live such busy lives, many people don't make time for the whole process of growing, drying and steeping herbs, which is why I have taken them from a trustworthy source and formulated them into a 100% organic veggie capsule without any fillers or additives. I started Ancient Bliss because I wanted to bring a healthy and trustworthy supplement brand to the masses. I wanted people to have access and knowledge to herbal supplements that improve their well-being.
How do you define success?
Success is passionate discipline. Success to me is getting up every day to do something I am proud of or care about. It's not always being "excited" to jump out of bed in the morning; there are definitely days where I don't want to do that. But it's pushing myself to do the things that I know I can do consistently — taking on new problems, working out my body, finding solutions.
What is your biggest success so far?
Seeing the company through. I quit my job last November to go full time, but I have been building the company for about a year now (since June 2021) though we didn't officially launch until three months ago. To me this is my biggest success: sticking with it and carrying out my vision. It is an exciting journey to watch something turn from an idea to an emerging wellness brand.
What is your top challenge and how have you addressed it?
Most were associated with self-doubt. I overcame these by doing inner work and constantly fueling myself with people who would inspire me and lift me up. Patience is a big part of building a business from the ground up, and mindset is key. By keeping a positive mindset it is easier to stay consistent. By going all in and believing in yourself, you leave no option but to succeed.
Have you experienced any significant personal situations that have affected your business decisions?
I worked in a male-dominated sales company before this. I was really good at sales, but I felt under-appreciated and over-worked. I realized I didn't want to sell something I didn't believe in and I didn't like the way I was being treated. A lot of people doubted me. But I realized one day, "If all these people I'm selling a product to have their own businesses, why can't I have my own business?" Eventually I quit and launched Ancient Bliss products on Amazon.
What is your biggest tip for other startup entrepreneurs?
It sounds cliche, but just believe in yourself. Your beliefs create your reality. If you don't know how to get started just keep holding the vision in your head whenever you get the chance, and don't let go of it. Replace your doubts and fears with thoughts of success. If you create it in your head first, it will manifest as success in reality. It's the law of the universe.
How do you find inspiration on your darkest days?
Discipline. Remembering the people I have helped and why I started in the first place.
Who is your most important role model?
The late herbalist Alfredo Darrington Bowman, a.k.a. Dr. Sebi, is one of my biggest role models because he inspired me to look within and to live a natural life. Motivational speaker Esther Hicks is also a huge influence in my life. She helped me understand the power of manifestation and allowed me to develop a relationship with the universe and within myself. Both of these people not only shaped who I am, but also shaped Ancient Bliss and what I want to share with others. ◼
Check out our Advice + Tips for entrepreneurs starting-up
Watch our latest videos
Subscribe to our podcast