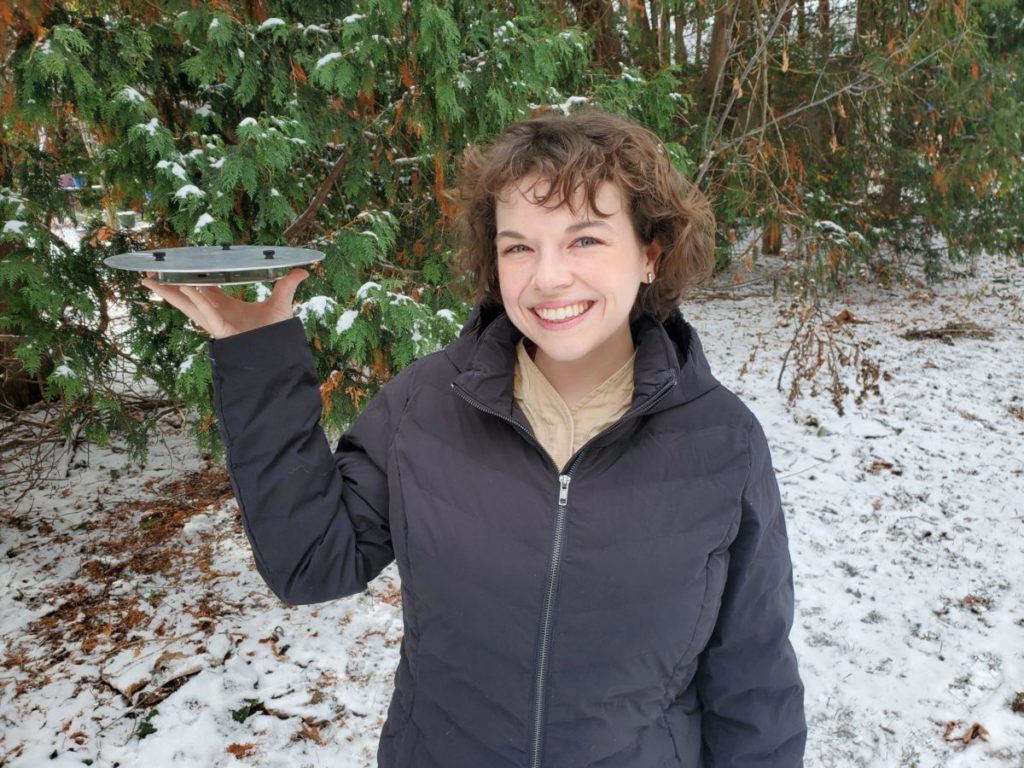 Editor's Note: Madeline Clough is a winner of The Story Exchange's 2022 Women In Science Incentive Prize.
When Madeline Clough collected her undergraduate degree last year from Central Michigan University, May temperatures were unusually high. For the past several years, she'd been studying synthetic chemistry with the intention of pursuing a career in drug development, but that all changed during that graduation day of blistering heat. "I've always been drawn to the puzzle, the intrigue, of chemistry," Clough says. "Growing up, I knew that I wanted to use this interest in some capacity to better human health."
While she's maintained that desire to improve public health, those spiking temperatures, combined with what she'd already studied about environmental health, shifted her focus dramatically – to microplastics. "Knowing that climate change will bring about more instances of air and water pollution and mass pollutant events," Clough says, "was a catalyst to bring this idea together with the skills that I have."
Since the early 1900s, humans have been generating plastics and, to date, nearly 10 billion metric tons of it have been made worldwide. Roughly 12 to 18 percent of that ends up in the environment due to waste mismanagement. Synthetic polymers are made to be durable and don't decompose well – instead, they degrade into smaller and smaller pieces over decades. Microplastics are now a significant source of pollution all over the world, ending up in some of the most remote places on earth, and are hazardous to most life forms, including humans.
While most of us have heard about microplastics (tiny pieces smaller than 5 millimeters, or less than one quarter of an inch) ending up in oceans and soil, we know less about the atmosphere as a keeper and transmitter of airborne plastic bits. That's where Clough's recent graduate work comes in.
"Many people don't realize their intake of microplastics," she says. "Now it's predicted that humans ingest about five grams, or a credit card's weight of plastic each week." That shocking statistic led Clough to want to get the word out about the hazard, and to find answers to some of the major questions about the sources and transport of atmospheric microplastics.
Now doing graduate work at the University of Michigan, Clough is a kind of detective hunting for microplastic emissions all over the state. For her current five-year project, now in the pilot phase, she will ultimately collect air particulates – or tiny particles – in custom-built samplers, in partnership with high schools in each of the state's 83 counties. This will include her own former high school which, she says, is a "very rural public school with limited resources" where she is excited to include students in some high-caliber, experimental research.
"I had very limited exposure to women in science or higher education in my early life, and it was challenging to hear doubts about my abilities that were related to my gender identity," she says. "So having the opportunity to now go back to my district and work hands-on with students and teachers as a female PhD student in the sciences is one of the most personally gratifying aspects of the work."
Microplastics are clearly an environmental issue but they are also a social one, and that's an inequity Clough also hopes to address. "The most disadvantaged communities might be those with the highest exposure and emissions of microplastics," says Clough, because they are often located near industrial or commercial areas – hotspots for microplastic emissions from roadways. (Many roads accumulate plastics from a variety of sources – such as tires and brakes – which are then broken down and driven into the atmosphere by vehicles.)
Clough plans to release the results via a "continuous projection map," which will make information on regional exposure, transportation, and sources of microplastics available to the public via a smartphone app. Right now in Michigan, "we have no understanding of microplastic exposure in our air. So I think it will be so interesting and intriguing to see how this plays out," she says. "Being able to quantify that, and then give that information to the regions that we've worked with and also to policymakers, will be really impactful." ◼️