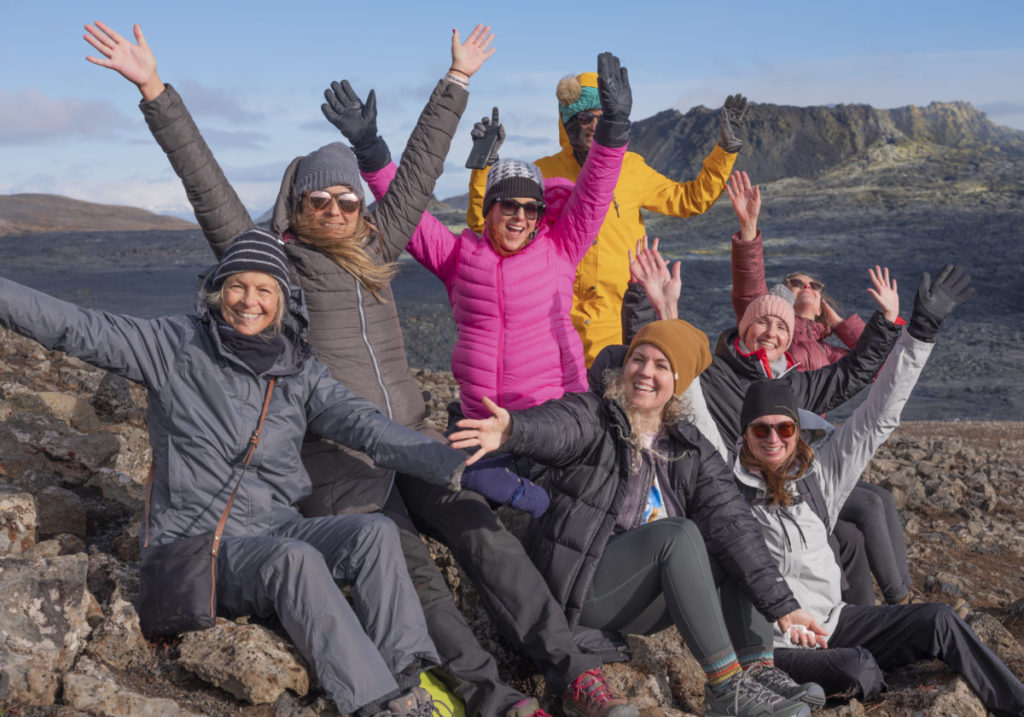 Mar Pages and Megan Jerrard are two women who are passionate about traveling. Seven years ago they decided to start an online community for women like themselves, who often travel on their own: Solo Female Travelers. There were resources, travel tips and FAQs answered. As the community grew and solo female travel has become more common they decided to expand their community into a business that offers tour packages around the world. Today Solo Female Travelers has over 100,000 members and despite the Pandemic has tours scheduled through February of 2023. While Pages lives in Singapore and Jerrard is Australia based, the two co-founders find strength in their ability to compliment each other's skill sets and are excited to see how the business will continue to grow in the years to come.
Pages' story, as told to The Story Exchange 1,000+ Stories Project:
What was your reason for starting your business?
Solo Female Travelers started in 2015 as a niche online community. As traveling solo as a woman started to become more mainstream and grow in popularity, so did the community and we realized that, despite its astronomical growth, women traveling solo were still seen as a minority that was the target of stigma, stereotypes and scared friends and loved ones, so we decided to expand the online community to include a portal filled with resources that answer the mostly commonly asked questions of our members, an online course on safety, wellness and sexual wellbeing that addresses the number one concern of solo female travelers and a range of curated small group trips designed by women for women traveling solo.
How do you define success?
Contributing to creating a better world and, in the context of our organization, the ability to inspire and empower other women to travel on their own with the right tools to stay safe.
Tell us about your biggest success to date
The immense growth in our community which went from 25,000 members at the beginning of the pandemic to 100,000 today while the majority of the word's borders remain closed. Maintaining a cohesive, supportive and safe environment in such a diverse community with more than 100 nationalities, and members of all faiths and socio-economic backgrounds is a feat that required daily dedication, passion and commitment, and a mission we uphold every day.
What is your top challenge and how have you addressed it?
After over a year of border closures and financial strains we are looking forward to the recovery of the travel industry and are focused on scaling our business with more resources, content, courses and small group tours to over 10 countries scheduled until February 2023. With all that in mind, we need to find ways to balance workload, a fully distributed membership base and an entirely remote team that has worked completely online and in 3 different countries since launch.
Have you experienced any significant personal situations that have affected your business decisions?
Managing the difficulties of being in a country with fully closed borders for over 15 months, away from family, from my team and my business partner is a challenge not to be underestimated. We are also currently organizing ourselves for Megan's pregnancy and the implications that this will have on time commitments and part-time support.
What is your biggest tip for other startup entrepreneurs?
Find a business partner who complements you, supports you, encourages you and makes you a better co-founder and business woman. I own a business I manage on my own and Solo Female Travelers which I co-founded and it is much more fun, exciting and rewarding to have someone to make decisions with, to lean on, to discuss issues with and generally celebrate achievements with. The right partner can propel your start up, by the same token, the wrong partner will almost guarantee failure. Ensure that you both want the same, have the same vision and the same commitment to the project.
How do you find inspiration on your darkest days?
Friends and family and those who I love and who love me are the best reminder that this is just a bad day and that there is a lot out there to be proud of and look forward to. A day in nature, great food, a bottle of wine and laughter with those you care about can cure almost anything.
Who is your most important role model?
I don't have a specific role model but I have become the person I am from the interactions and mentors I've had through my career in two other completely separate fields before embarking on a community-based travel business. ◼
Check out our Advice + Tips for entrepreneurs starting-up
Watch our latest videos
Subscribe to our podcast