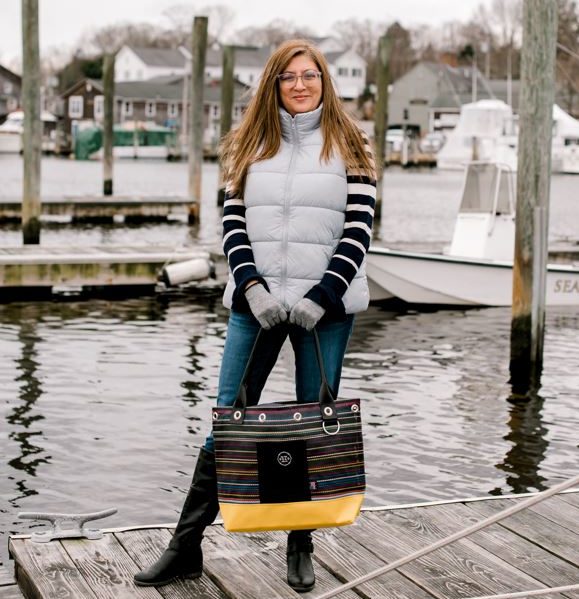 Mary Dimouro is a life-long resident of New England – in fact, she still resides in her Hudson, Massachusetts childhood home. While growing up there, she regularly watched her South Korean mother while she worked as a seamstress, often assisting as a hobby. In 2018, Dimouro decided to go pro in her mom's honor by launching her own fashion startup, On the Road Again. Through it, she offers a line of light-and-bright bags, totes, pouches and place mats made from other companies' surplus fabrics and recyclable materials – or in some cases, discarded mesh from boats and trucks. To go even greener, the fashion founder also makes a donation to reforestation nonprofit One Tree Planted for every sale she closes. 
Here's our lightly edited Q&A, from The Story Exchange 1,000+ Stories Project.
How is your business different from others in your industry?
In Massachusetts alone, approximately 230,000 tons of textile waste is generated annually. About 85% of the textiles currently being thrown away could be donated, reused, or recycled – but they aren't. So, I take those durable materials and upcycle them into handmade goods, giving them new life.
Tell us about your biggest success so far.
There are two great successes to talk about. The first was my feature on local ABC affiliate WCVB in March 2020. It was exciting and challenging at the same time – I was so happy to be featured, but then the country shut down due to Covid. I received over 100 orders as a result of the feature, but only had 30 pieces on-hand in inventory. I couldn't order any more materials or find a cut-and-sew facility to help me make all of the bags. As the world opened back up I was able to fulfill all the orders we received, but it took months.
My second biggest success was pitching my Dura Placemats to Marcus Lemonis, founder and CEO of outdoor recreation resource Camping World. I was chosen to make a pitch to him for their Summer Solstice Event, and was even able to get my products sold through the site's online store.
What is your top challenge and how have you addressed it?
Getting enough products made in the United States for a decent price. Manufacturing in America is expensive. But I want to keep supporting the U.S. economy, and have my products made here. I don't have the volume to merit partnering with a large cut-and-sew facility, and smaller options take time and cost more. I am currently working on finding another manufacturer that can work with durable materials like mine, so I can expand my product line.
Have you experienced any significant personal situations that have affected your business decisions?
I currently work full-time in a sales job – this business is my side hustle. It's challenging to manage everything and still find downtime. I've learned that outsourcing helps – in addition to manufacturing, I also hand off tasks like website design and SEO strategy.
What is your biggest tip for other startup entrepreneurs?
Find your tribe – people you can bounce ideas around with, and talk to about both the good and bad experiences. Also, outsource what you can afford to, so you can stay focused on the bigger picture.
How do you find inspiration on your darkest days?
I find inspiration when I go on an unplanned adventure. It helps me get away from the day-to-day tasks. Plus, being outside on a mindful walk or hike grounds me, and reminds me of the little things in life that are important.
What is your go to song to get motivated on tough days?
"Lose Yourself" by Eminem.
Who is your most important role model?
My mom. She instilled work ethic, determination and drive in me at a young age. She passed away when I was 20 years old, and she's my guiding light. ◼
Facebook: @Ontheroadagain
Instagram: @ontheroadagain_official
Check out our Advice + Tips for entrepreneurs starting-up
Watch our latest videos
Subscribe to our podcast