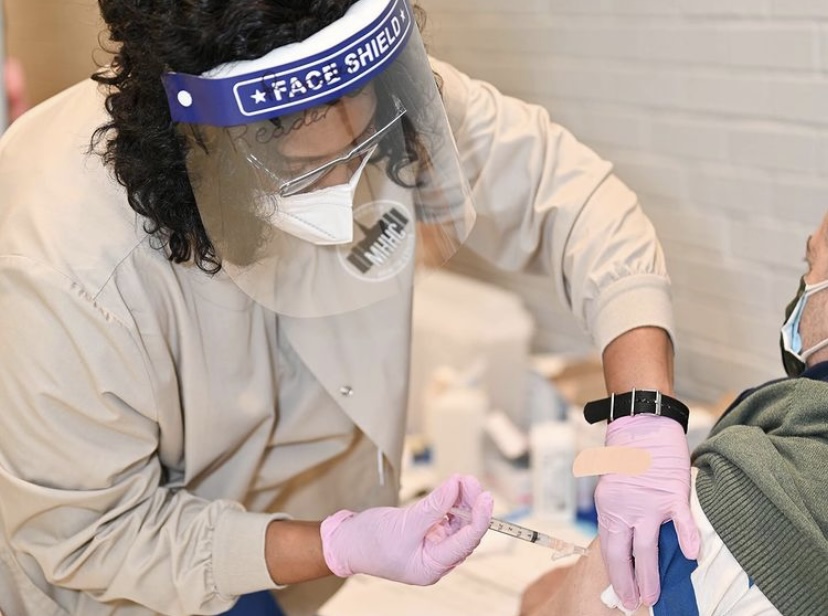 Entrepreneurial, everyday women around the country are stepping in where the government has failed to make the vaccine rollout process a little more efficient as eligibility expands and supply still lags.
Among the women are a Massachusetts mom who created a vaccine scheduling website the state was lacking; a Philly family who used Facebook to help strangers get vaccinated; and a Covid survivor who is knocking on elderly neighbors' doors in New York City.
They all may come from different parts of the country, but they all have one thing in common: they're taking matters into their own hands.
Hitting Refresh
Melinda McCann, her sister Mary Brady and their cousin Alicia Karr, along with McCann's primary-care doctor Christine Meyer, are helping friends, neighbors and strangers book vaccination appointments, according to The Philadelphia Inquirer.
[Related: This Health-Tech Founder Wants to Bring Data — and Dignity — to the Vaccine Rollout]
Prioritizing the elderly, the women have been able to reach over 20,000 (and counting) vaccine-desperate Philadelphians through a Facebook group that Meyer created.
It all started with McCann's inner circle — first she scored appointments for her parents, then widened the pool to help out family and friends. Now McCann, Brady, Karr and other volunteers spend their time refreshing vaccination scheduling sites and booking appointments for others between work and other responsibilities.
"It kind of reminds me of back in the day before you could buy concert tickets on the internet," McCann told the Inquirer. "It's such a rush to be able to secure the appointment."
One-Stop Shop
When software developer Olivia Adams grew frustrated watching her mother-in-law try to book a vaccine appointment, she created a website to make the process easier for Massachusetts residents.
Adams' website does much of the bulk work for you: it refreshes automatically every five minutes, shows you locations with open slots (along with a quick link to the sign-up page) and even has updated guidelines on vaccine eligibility.
"My idea was to create a one-stop shop for booking your vaccine appointment in Massachusetts," Adams, who is currently on maternity leave, told CBSBoston.
[Related: The Femtech Market Is Booming. Here Are Some of the Risks and Rewards]
The website turned out to be exactly what the state needed — Massachusetts state representatives Mike Connolly and Jay Livingstone reached out to Adams and asked her to embed the design into the state's official vaccine scheduling site, NBCBoston reported.
Sharing the Facts
As vaccine guidelines keep changing, accurate information may be hard to come by.
So Laurie DesAutels decided to start Vaccinate Houston – COVID19 Vaccine Updates, a Facebook group with factual tips and tricks to make the appointment securing process slightly easier, according to KHOU.
The group has attracted over 5,000 Houston residents, and many followers have shared being able to score appointments because of the up-to-date information posted on the group's page.
"I'm going to continue to post relevant information, daily, as I see it," she said.
Going Door-to-Door
Facebook groups and websites are quick, easy ways to attract attention, but what about seniors and others who don't have access to a computer, let alone the internet?
That's where Good Samaritans like Brenda Ewell come in.
Ewell, a senior herself at 77, is knocking on doors in the Bronx, New York, and helping other elderly neighbors sign up for the vaccine, according to the New York Times.
After being hospitalized with Covid, she started volunteering with Bronx Rising Initiative. The organization, started in March, has a goal of ensuring every resident in the Bronx — a borough with historical barriers to equity that has been disproportionately impacted by the virus — is vaccinated.
[Related: For This CEO, Volunteerism Is as Important as Her Work]