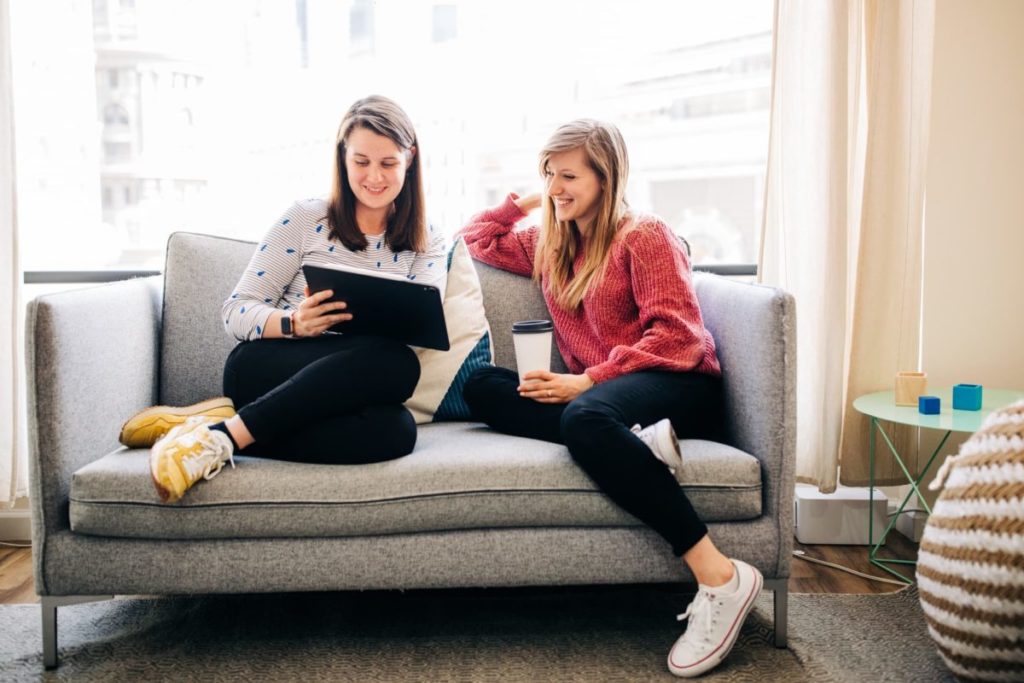 It's not every day you give birth to your first child. It's also not every day you close a multimillion-dollar fundraising round for your ed tech startup.
Melissa Cash did both – basically at the same time.
The Toronto entrepreneur's venture, Pok Pok, recently raised $3 million in seed via the VC firms Konvoy and Initial Capital, as well as several angel investors. Cash recalls she was "in the thick of financial diligence with investors while 9 months pregnant," and formally closed the round mid-May, when she was just 4 days postpartum.
But such is her belief in Pok Pok's award-winning educational company, which has been available to iOS users since May 2021. As a new mom, "I understand the value of 30 minutes to take a shower or cook."
Or, in her case, to continue to run a business while tending to and breastfeeding a newborn. "I'm not 100% like I used to be – sometimes I'm only at 50%, or less," she says, adding that her son is a frequent guest star on virtual calls, and that she regularly contends with brain fog.
She leans on her team for help, but admits she still doesn't have it all figured out. It's given her a new appreciation for the work she does – for a parent's ability to hand a child something educational to occupy their attention while grown-ups tend to other matters.
Still, giving a child screen time is a fraught thing for parents, who are so often cautioned against it. So Pok Pok endeavors to be "the broccoli of the app store" – because, in her estimation, the problem with screen time is "less about the device, and more about the content."
Pok Pok's open-ended, play-focused teaching model, developed over years of trials with families and consultations with a range of experts, provides content parents can feel good about, Cash says. Others agree – the company's app has won an Apple Design Award, as well as recognition from several parenting and education organizations.
A Personal Cause
Growing up, Cash was a good student – until it came time for math class, that is.
The numbers regularly confounded her, until one teacher explained the concept of multiplication using clumps of rocks. It was a revelation. "I needed a lot of that – breaking things down, and seeing things in a more visual way."
Soon after finishing her education by earning a bachelor's from York University in communications, Cash landed a job as an infant-and-toddler product designer for Disney, and spent years in Germany with the company, drawing on her own school experiences to inform what she crafted.
In 2017, her older brother, Ryan – the co-founder of Toronto video game maker Snowman – called her in to assist with a product launch for his startup. That's how she met Esther Huybreghts and Mathijs Demaeght, a husband-and-wife duo at Snowman who ultimately became her Pok Pok co-founders.
At the time, the couple had a newborn and a toddler, and understood the need for a few quiet minutes. But the vast majority of on-screen options for their kids, Cash says, were either overstimulating or too advanced, having been designed for older children.
So they came up with their own solution – a new app containing a suite of play-based learning modules that aim to foster cognitive and social development for kids ages 2 to 6, brought to life with hand-drawn animations and accompanied by soft sounds intended to soothe young users.
That's when Cash came into the picture. From her product-development perspective, she says she saw something unique in their fledgling app, that had the potential for laying a solid foundation for a responsible future relationship with tech. And it's something her younger, math-confused self would have loved.
The trio went all in on Pok Pok together, committing to its development full-time in 2019.
Screen Time as an Ally
Concerns over screen time are not unwarranted. Research indicates that too much of it can negatively impact language and thought development, and inhibit social skills and empathy.
All the same, it's basically unavoidable – especially in a world still navigating a pandemic. During lockdowns, screen time skyrocketed independent of educational use for kids of all ages, research has shown. And it hasn't gone back down since the world reopened.
This reality has made Pok Pok's mission that much more pressing for Cash and her co-founders. They figure that "tech will play a role in their children's lives" in increasing amounts as they get older, and want to offer an empowering way for parents to guide that narrative. Pok Pok turns to a battery of neuroscientists, pediatricians, occupational therapists and other experts to fine-tune the app, while regularly play-testing with families.
Looking ahead, Cash says they plan to use a significant portion of the funds from their latest investment on marketing. She declined to disclose revenue and subscription figures, beyond stating that they have thousands of subscribers located throughout the world.
More than anything, they want to be there for every member of the families they serve — and they hope to serve as many as possible. "Sometimes we let [our kids] stare at something – we're not above that in any way," she says. "But parenting is hard, and you feel like you're failing all the time."
Cash wants to be the solution – for herself, for her co-founders, for all young families. "We're empowering kids while giving parents peace of mind that what they're doing is awesome and educational."