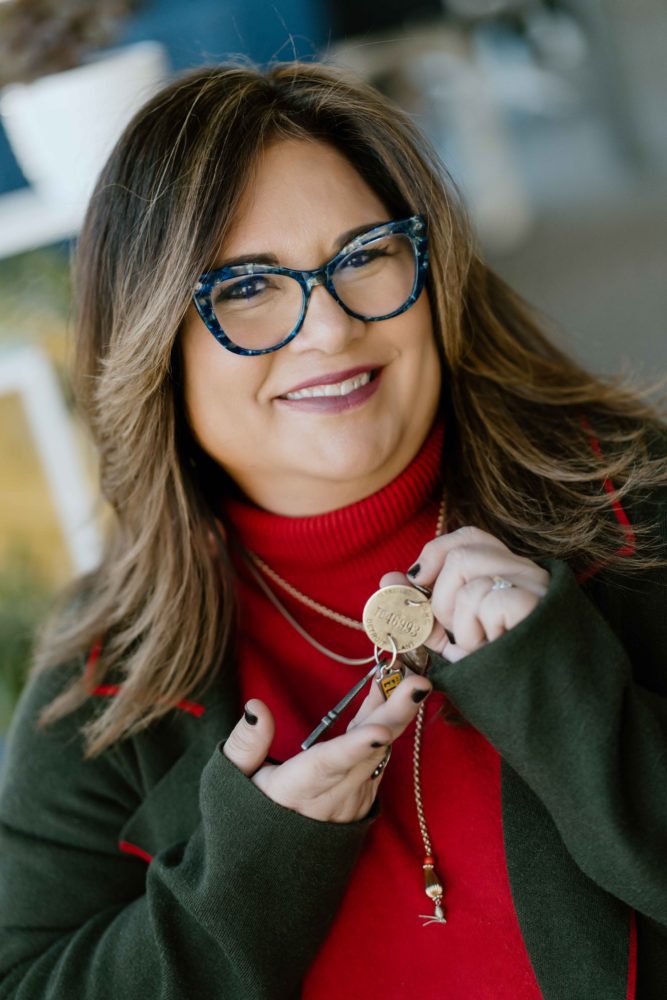 Melissa Panszi Riebe is a licensed clinical social worker with a creative streak. She found her career working with cancer patients in New York City fulfilling but also loved making jewelry in her spare time. In her mid-40s, Panszi Riebe decided to take a bold leap and quit her day job to launch jewelry business A D'Zine. Her pieces are usually made out of upcycled and vintage materials, often given to her as part of a commission from a client. A D'Zine also donates a portion of its profits to a featured charity that changes every two months (currently, the non-profit is Sandy Hook Promise.) Today, the Dobbs Ferry, New York-based designer is proud to be "putting more beauty out into the world."
Here's our lightly edited Q&A, from The Story Exchange 1,000+ Stories Project.
Tell us more about why you started your business.
Initially I felt guilt about leaving my career as a social worker behind, especially after getting two Master's degrees in the field. But I began to find that I am still using my skills from my previous profession. I still interact with people every day, just in a different way.
Also, when I was growing up I didn't see many female Latina business owners. It was important to me to show Latina women that they can run a business and be an entrepreneur, too.
How is your business different from others in your industry?
All my creations are one-of-a-kind. I use secondhand materials with new ones and create jewelry out of materials that weren't necessarily designed for that express purpose. I use old locks or industrial tags. I make sure nothing goes to waste.
And with part of every sale going back to a non-profit, the goal is not only to raise money but also to raise awareness.
What is your biggest success so far?
The connections I make within my own community. When a piece I make speaks to a customer, they put it on and their whole body language changes and they smile — that is success to me.
One person that comes to mind is Carol, an 87-year-old woman who is a true firecracker. I first met her at a show in Cold Spring, New York, where she told me, "You were the reason I came up here. I looked at who was going to be at the market, and I wanted to see your creations." She came on the train another time, with her walker, to support me. Everytime we talk I learn more about her and her travels, her family and her life. The connection I have built with a customer like Carol is why I do what I do.
What is your top challenge and how have you addressed it?
Starting a business was extremely scary. I did not want to fail. I also didn't have the business background to really know what I was doing at first. I was older than most jewelers I met and I was starting from the beginning.
I addressed this challenge by finding my community and surrounding myself with experts who were willing to help me. I had always heard that the creative world (and indeed the business world) was cutthroat. However, I have found the jewelry industry to be extremely supportive and helpful. I also found that there are business experts out there to help support you. There is always a community of people in the same boat.
Have you experienced any significant personal situations that have affected your business decisions?
Because I started this business in my forties, I had doubts if I was good enough to do it. Jewelry is a category that is very saturated and competitive. However, as time goes on and I do more shows, I am gaining more confidence. I have never not sold at least one piece at a market and the conversations that come up around them are always so rich. That being said, imposter syndrome is something I still deal with. I just need to take a deep breath, reflect and make sure that fear does not stop me.
What is your biggest tip for other startup entrepreneurs?
Find your community and the people who will support you. Connect with experts, attend their webinars. Don't personalize rejection or failure. Many times there is something better waiting for you around the corner, as long as you don't let fear stop you from moving.
How do you find inspiration on your darkest days?
My family and friends are my guiding light during the dark times. My best friend is always there for a good laugh. It is amazing how laughing can really change your mood.
I also love music. So I surround myself with music I can't help but to dance to and lose myself in the sound and the movement.
Who is your most important role model?
Madame CJ Walker and my dad.
Madame CJ Walker for the amazing accomplishment of being the first self-made female millionaire and the first Black self-made millionaire. Her determination, grit and strength to believe in herself when no one else would is amazing. She fought through racism and sexism and became successful and a true trailblazer.
My dad, because he grew up in poverty in Mexico with a learning disability (dyslexia) and even though he faced many obstacles and setbacks, he was persistent and followed his dreams and became a doctor. He is still practicing and is the oldest practicing neurologist in Indiana. ◼
Check out our Advice + Tips for entrepreneurs starting-up
Watch our latest videos
Subscribe to our podcast