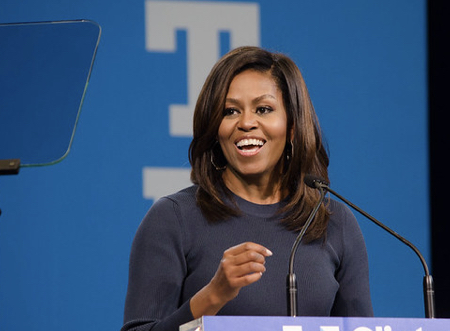 Michelle Obama, a longtime advocate for children's health and fitness, is launching a company that aims to replace sugary kids' drinks with tasty-but-nutritious options.
The former First Lady announced her new role as co-founder of PLEZi Nutrition after speaking Wednesday at the Wall Street Journal's Future of Everything Festival about the nutrition-related health crisis affecting U.S. kids. According to the American Heart Association, kids consume far too much added sugar – approximately 53 pounds of it per year. The leading culprit is beverages, with 36% of added sugars coming from soft drinks and fruit juices.
"I've learned that on this issue, if you want to change the game, you can't just work from the outside," Obama said at the festival. "You've got to get inside."
PLEZi's first product is a drink for kids ages 6-12 that comes in four different flavors and contains 75% less sugar than leading fruit juices.
"When my girls were younger, no choice felt more important than the quality of the food and drinks I gave them," Obama wrote in an Instagram post. "I constantly found myself wishing there were more healthy options available for moms like me. That's a big part of the reason why I worked so hard as First Lady to help kids and families eat better and lead healthier lives."
During Obama's time as First Lady, she worked to improve federal nutrition standards for school lunches and helped schools meet those standards by launching a program to pair chefs with schools. She also launched the Let's Move! campaign in which she helped 11 million kids get an hour of physical activity every day.
At PLEZi Nutrition, Obama said she will have an all-women "Kitchen Cabinet" advisory group of experts in nutrition, public health and parenting, who will guide the brand's marketing, product development and educational efforts. According to a press release, a portion of the marketing budget will be funneled into educational content for parents and kids.
"Make no mistake, water and milk are the best options for your kids," Obama wrote on Instagram. But once kids become school-aged, she said, drinking only water and milk isn't realistic, as "nearly two-thirds of young people are consuming sugary drinks on any given day."
Aside from combating unhealthy sugar consumption, PLEZi also pledges to direct 10 percent of profits into youth health initiatives. Obama wrote, "We want to be a partner that parents can count on, lead with our values and drive the kind of change I've always hoped to see."
PLEZi drinks are currently available nationwide at Target and Sprouts, as well as online at Walmart.