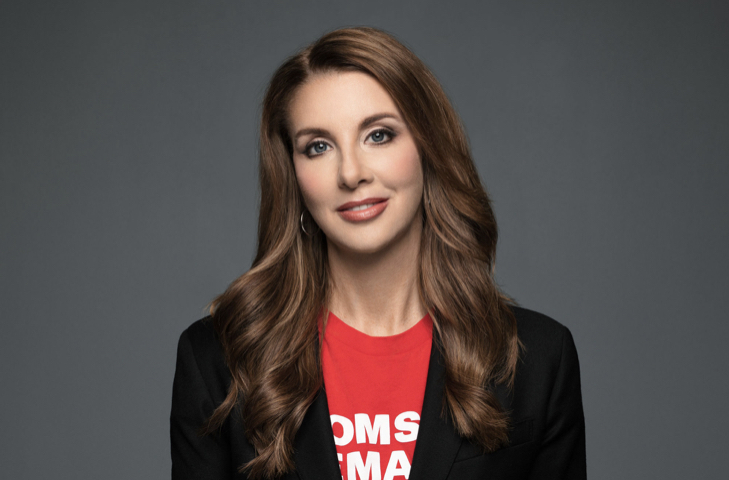 Like most Americans, Shannon Watts woke up angry the day after the Sandy Hook shooting in 2012. Unlike most Americans, she turned her anger into action and helped organize the country's largest grassroots movement against gun violence.
A stay-at-home mom of five and former communications executive, Watts created a Facebook page called "Moms Demand Action" inviting women to stand up to the gun lobby. Soon, women from all over the country were reaching out to Watts about getting involved and forming chapters in their own communities.
Today, the movement includes chapters in every state and is part of Everytown for Gun Safety, the largest gun violence prevention organization with more than 10 million supporters. By organizing and pushing for safer gun policies, volunteers have successfully shut down gun lobbyists' plans at the ballot box, in state legislatures and in corporate America.
After 10 years of standing up to the gun lobby, Watts has recently announced she will be stepping down from the helm of Moms Demand Action at the end of this year. In a conversation with The Story Exchange, Watts reflects on her time leading the movement, when she knew it was time to go and why she is certain she's leaving the organization in good hands.
Responses have been lightly edited for length and clarity.
When you first started this organization, you were inspired by Mothers Against Drunk Driving and the women-centric aspect of it. What is the role of mothers — and women in general — in the gun reform movement?
Women are the secret sauce to organizing. If you look at activism historically, it is women who always show up — even if it's anachronistic, given women's historical role in our society — to protect our families and communities. The feminist author Soraya Chemaly, who wrote the book Rage Becomes Her, told me most lawmakers in this country are men, and by nature, they are afraid of their moms. You see that dynamic playing out all the time — men are scared that we're going to oppose them, and they're happy when we're there to support them. Hopefully, this isn't the way we always have to advocate, in our role as moms and caretakers, but we have to pull the levers of power that are available to us right now.
At the time of starting Moms Demand Action, you didn't know much about activism or gun violence — you just knew you were scared. What gave you confidence?
I see this so often with women. We have a great idea, but we think, "I don't know enough," or "I haven't fully formed this idea," or "What if someone else could do it better?" But you don't have to know everything before you jump in — you can learn as you go. In our organization, we have a saying: "Fly the plane as you build it." If you wait for the perfect moment, you'll never get started. If I had waited to know everything there was to know about organizing, gun violence and activism, I still wouldn't have started Moms Demand Action — I would still be reading.
When did you first realize Moms Demand Action was gaining recognition?
A week in, I had all these sophisticated, smart women from across the country who were thinking about starting something similar, but saw that I had put my flag in the ground. They started calling and reaching out to join me, and we established a presence all across the country within weeks. Just a couple of weeks after starting the organization, I was in USA Today, so that brought more people into the tent. Then we got a call from the White House and they said they wanted our support in passing the Manchin-Toomey legislation [which supported criminal and mental background checks for gun purchases]. When that bill failed by a handful of votes in the Senate in April of 2013, I thought it was the end of what we had started. But in fact, it was just the beginning because we were getting calls from governors across the country asking for support.
You are the daughter of a gun owner. Growing up, did being pro-gun mean the same thing it does today?
The NRA became radicalized in the late 1970s, but it wasn't until the early 2000s that they began to change their own internal policies when they realized there was a shifting demographic. At the time, the average gun owner was a white man over the age of 50. But with the country rapidly diversifying, the NRA wasn't able to retain the kind of profits that they had been making for decades. They had to expand gun access to anyone, anywhere, anytime, with no questions asked. We had that, and we had a very vocal minority of gun extremists with a seat at the table, writing our nation's gun laws, and it's gotten us to the place that we're in right now. We never call our movement "gun control" — instead we say "gun safety" because that's what's really been exploited by the gun lobby. There are about 400 million guns in this country, and many of our volunteers are gun owners. We just want to restore the responsibilities that should go along with gun rights and we're working to pass policies that are widely supported by Americans — including Republicans and gun owners and law enforcement.
What are some of your proudest accomplishments with Moms Demand Action?
One is the corporate work that we're doing. We're not just working on this legislatively, but culturally as well by creating a coalition of business leaders to educate people about secure storage. Through our Be SMART program, over eight million families will soon have received our materials telling them they need to keep their guns locked, unloaded and separate from the ammunition.
We're also electing our own volunteers to office. Just this last election cycle, 140 of our volunteers were elected up and down the ballot at all levels of government. Lucy McBath was a Moms Demand Action volunteer and is a survivor of gun violence, and now she's a congresswoman in Georgia who just won her third term. She won a seat held by Republicans for 30 years.
When I started doing this work a decade ago, about a quarter of all Democrats in Congress had an "A" rating from the NRA. Today, none do — a seismic shift in American politics. I've always said this is a marathon, not a sprint. But I think it's also a relay race, and now is the right time for me to pass the baton and let other volunteers step up.
Why now?
When I started doing this work, I thought it was going to last a few months. But being a full-time volunteer for over a decade has been life-changing for me in so many positive ways, [especially] working with strangers and survivors to build this movement. But I've asked myself the same question every year: Is it time to step back? Sometimes the answer has been no, sometimes it's been maybe. But last year, it was yes. It's important that a founder's role is finite. Stepping back enables other people to be celebrated and to step forward, bringing new energy and ideas to the organization. Plus, this year we finally passed federal legislation for the first time in 26 years with the Bipartisan Safer Communities Act. It felt like a bookend to me.
Is it discouraging to continue seeing school shootings 10 years later, after you started this organization to prevent them?
In a nation with more guns than people, there's no single policy or thing that will end all gun violence — but we certainly are making life-saving progress. Data shows that states with stronger gun laws have much lower rates of gun death than states with weaker gun laws. But it's still the leading killer of our children and there is so much work ahead.
After doing this work for so long, how do you deal with trauma?
In many ways, I have been the tip of the spear with gun extremists, and there is certainly an underbelly to America that I didn't know existed. Vicarious trauma is real and it can impact anyone who works on a tough issue over time. Also, being online and reading the news can get dark and distort your perception of humanity. But for me, that darkness has been balanced by the community that we've built. Working shoulder-to-shoulder with survivors, I think: "If they can do this work, certainly I can." I have made it 10 years in this movement because of the support system that I have, whether it's my family or other volunteers. And at the end of the day, I think of the times when Americans have gotten off the sidelines and been brave more than I think about the heartbreaking moments.
To whom will you pass the baton?
The value of having so many volunteers is that they're always stepping up into leadership positions. I know that many of them will be more vocal and get to be in the spotlight. But also, I'll be traveling with Angela Ferrell-Zabala, whom we hired from Planned Parenthood about five years ago, and I think she'll be out in front for sure.
What advice do you have for future volunteers and leaders at Moms Demand Action?
Consider running for office. Right now, the majority of lawmakers in this country are men, so women don't have a seat at the table too often. And as the saying goes, when you don't have a seat at the table, you are probably on the menu. We're seeing this over and over again, particularly around issues like domestic violence. So I would like to see more women run for office at all levels. It's really important that we're not just running for seats in Congress, but also for seats on school boards and city councils and State Houses. I've spent a lot of time in State Houses, and I can tell you that if you are caring, committed and compassionate, you would already make an above-average lawmaker. Dip your toes in the water of activism, then use those skills to represent your community.