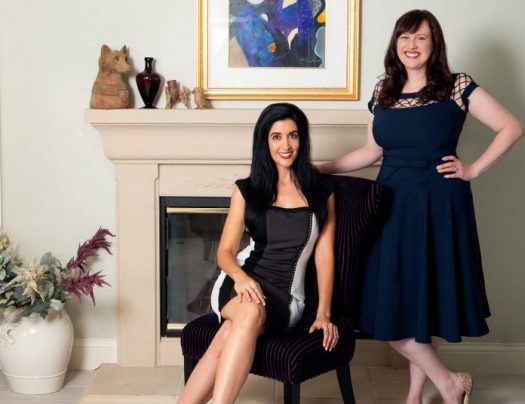 Melanie Dellas and Karen Lacy were both working in museums helping to preserve and care for various collections. The two met while they were both working at the San Diego Museum of Man and bonded instantly over their passion for history, art and their roles as working mothers. They realized that there was a real need for collection care; whether for private collectors or museums that usually hire temporary conservation staff. Dellas and Lacy also knew that starting up their own business would give them more flexibility with their schedules and therefore more times with their families. And thus, Muse Curatorial Consulting Group was born. Now they're caring for cultural objects and fine art by providing conservation, preservation, collections management and exhibit design services for private collectors and museums.
Dellas and Lacy's story, as told to The Story Exchange 1,000+ Stories Project:

Muse Curatorial Consulting Group (MCCG) was born out of a love of history and historical preservation – and from a growing need we saw within the industry. We have been caring for museum collections for over 25 years, collectively. During that time, we have worked with various institutions and collections from around the world, and saw differing standards and knowledge of preservation and care. We saw a need for a centralized group of professionals offering a variety of skills, as well as to advocate for the need to put collections care as a priority.
We met seven years ago when Melanie was in grad school and was interning at the museum where Karen was Collections Manager. Melanie was a single mom of two sons and a full-time student who needed to reinvent her career after the recession closed the doors of her previous business. She wanted to show her sons that no matter what life throws at you, you can be strong, pick yourself up and take the risk to follow your dreams. It was while working at the museum that Melanie realized what she wanted to do next: Create a company that protects artifacts and keeps history alive through material collection care. We bonded instantly. Karen was also a new mom, and having her daughter made her rethink her career, and really helped propel her in the direction of becoming her own boss. Being a strong female role model for her daughter, and having the ability to set her own hours, plus pursuing her passion, made her decision an easy one.
We decided starting our own company would not only give us more time to spend with our families, but would allow us to care for cultural objects in more than one museum, as well as for private collectors. We have always been inspired by history, so when forming our own company, using history as our muse was easy, and Muse Curatorial Consulting Group was born.
When we began our business, we decided there would be different definitions of success, depending on what area we were talking about. As it concerned ourselves personally, success meant we were brave enough to take the risk and do what we love. If we were talking about our families, success meant we wanted to balance life and work, and be there for our kids. As it concerned our industry, success would be defined as helping people better understand how to care for their objects and fine art, preserve the cultural history for future generations, and help others develop a deeper appreciation for the history around us.
Every project we work on is a success because we know we are caring for the objects you love and preserving their histories for future generations. But the biggest success to date would definitely be that we saw a need: Private collectors are constantly looking for people to help them care and exhibit their objects, and many museums need temporary staff they can trust. We believed in ourselves and our talents enough to take the leap and start a company that would cater to that need. A company that is so specialized only a small handful of people in the entire country do it. This is what drives us every day.
Our business is very specialized. Our top challenge is getting in front of the right clients and making them understand the importance of our services for their collections. Our clients include museums and cultural institutions that typically have small budgets, but large problems, and are understaffed. But it is easy to make them aware of our services, and we work with small budgets because the safety of the object is most important. The other side of our client base is private collectors, who may have large budgets and the need to hire us, but they are not aware of our company. Finding the right marketing path has been a challenge, but fortunately we love a challenge! Currently we are investigating various marketing paths to reach that elusive demographic.
We would like to grow our business across the country in order to help as many people and collections as possible. We go to the client and are able to provide much-needed services for museums and collectors that have small budgets and may not be able to support a full-time staff person, yet really need the help. Our mission is to guide each client in the preservation, curation and respectful care of historic and cultural ethnographic, archaeological, fine art, and archival collections. We train our clients to take the lead after we have completed a project, while maintaining open communication for as long as is needed. Being able to do this across the country would be incredible.
Melanie says, "My parents have always been and will always be the most important role models in my life. My dad put himself all the way through graduate school by working sometimes three jobs, and with the help of my mother, and his amazing business sense, he created for himself a career that many would be jealous of. My dad always taught me to take risks and instilled in me a desire to run my own company. My mom always taught me to be strong, loyal and how to be a great mom!"
While Karen says, "There have been many people in my career who I have learned various things from, and whom I admire. But I feel the most important thing I can be is a role model for my daughter. She is growing up seeing that she can be anything she wants, and not be afraid to be her own boss no matter how many people may tell her not to. I want her to look at me and see the strong, independent, intelligent woman she can be."
Website   www.musecuratorial.com
Facebook   www.facebook.com/MuseCuratorial/
Instagram   @MuseStories