When Iman Zawahry was growing up in the Florida Panhandle, and even up to the present day, she saw Muslim women being depicted onscreen as "timid, shy and oppressed."
"I don't know anybody like that, and I know a lot of Muslims," she said, laughing.
The hijabi director — who was also the opposite of timid during a lively, hourlong Zoom chat — is fresh off a round of awards and festival screenings of her film Americanish, which could have come straight out of '90s rom-com land except for one crucial fact — all of its leads are complex, striving Muslim women.
The film, which takes place in the immigrant enclave of Jackson Heights in Queens, New York, follows sisters Sam and Maryan as they navigate work and romance under their mother's protective eye, and their cousin, Ameera, who arrives to the U.S. wide-eyed and bushy-tailed to find a "nice Pakistani-American doctor" to marry.
Zawahry, who grew up on a diet of 1980s Tom Hanks comedies such as The Money Pit, The 'Burbs and The Man with One Red Shoe, became inspired to make the film on her 30th birthday, when she saw actor Aizzah Fatima's one-woman play, "Dirty Paki Lingerie," in New York in 2013.
"She was the first woman doing theater about Muslim women … who have agency and control of their own lives," Zawahry said. "I'd never seen anything like it portrayed on screen or on stage. I went up to her afterwards and was like, 'Hey, do you want to make a movie?' She was like, 'Let's do it.'"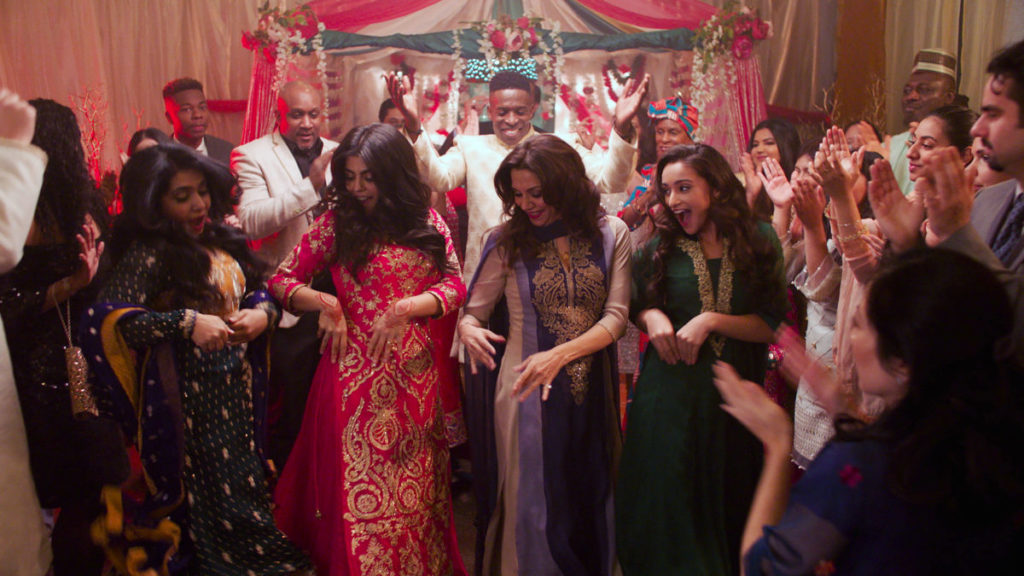 Fatima plays Sam, who is intent on outshining her white male counterparts at work, where she runs social media for a xenophobic, right-wing politician. She's also the only one of her relatives who isn't engaged to be married.
"It's a rom-com, but then we're layering it with very serious issues: racism, women in the workplace, racism within the culture, being Muslim in Trump's America," Zawahry said.
Zawahry's parents, who emigrated to the U.S. from Egypt in 1973 and divorced when she was young, did not support her artistic career. In fact, her mother didn't want her to get married and wanted her to be able to support herself. "She wanted me to be independent and not to rely on anybody," she said.
She defied her parents' expectations on both fronts: she became a filmmaker, and she also married young and has two children, ages 18 and 10.
While her family eventually came around to her profession, it was challenging in the beginning: "I started to get incredibly bitter because they wouldn't invest in my film," Zawahry said.
She spent 5 years trying to raise money, mostly from friends, and then her crew ran out of money and had to stop shooting. She enlisted some of her students at University of Florida, where she teaches film in the College of Journalism and Communications, to help on set and gain some real-world experience.
"A big thing I learned about raising money is that people who know you and follow your career are the ones that are going to support you, particularly your first time," she said.
Now, the film has played at more than 40 festivals, and Zawahry said every screening has been sold out. She's hoping that a studio picks it up for wide theatrical release. In the meantime, though, Zawahry continues to teach in her home state and she oversees a grant she created — the first American Muslim film grant with the Islamic Scholarship Fund.
And, of course, she's at work on her next feature. She said she feels heartened by the fact that there are not just more people of color represented on screen, but behind the scenes as well.
"When Trump got elected and he did the Muslim ban, the studio heads said, 'We're going to start creating more Muslim characters on screen,'" she said. "It was so exciting, but then they were being written by non-Muslims, and they were portrayed very incorrectly. We were like, 'Okay, thanks, but can we tell the story?'"
"I think we're slowly getting there," she added.