From business to science to sports, a staggering number of women have made headlines in 2021. If there's something they all have in common, it's that they've all made strides in their fields — from a scientist who cracked the code of mRNA to produce the vaccines against Covid, to an entrepreneur who joined the notoriously male "Billionaire Club," to sports superstars who knew when to put their mental health first. 
Here is our list of 10 women newsmakers who have inspired us. We can't wait to see what they do in 2022.
1
Katalin Kariko
The Hungarian-born scientist helped develop Pfizer-BioNTech's life-saving vaccines against Covid. But she had actually been working behind the scenes for years with her collaborator, Drew Weissman, to figure out how to wrangle mRNA as a therapeutic for vaccines. Throughout her career, Kariko faced plenty of rejection, and her work was either dismissed or not taken seriously. This year, she finally got the attention and respect she deserved, along with several other women who were credited with developing and refining the vaccine.
2
Sara Blakely
Blakely, the face of her shapewear company, Spanx, reached a whole new milestone in her career when she closed a deal with the investment firm Blackstone that resulted in a $1.2 billion valuation of her company. The deal cemented her status into the elusive "Billionaire Club" of entrepreneurs, mostly male, who have dominated the business world for so long. For an occasional stand-up comic who lasted three months working at Walt Disney World after college, it's a dream come true — she started with just $5,000 in 2000, and became the world's youngest self-made billionaire 12 years later.
3
Kamala Harris
Harris checked off a lot of firsts when President Joe Biden named her as his vice president — as a woman of South Asian and Black descent, she brought a new face to an office known for its white male occupants. While the symbolism of having a woman of color in one of the highest offices of the nation is far-reaching and incalculable, she also brings her chops as a former California prosecutor and senator, and is focused on initiatives around gender inequity, police reform and student loan debt.
4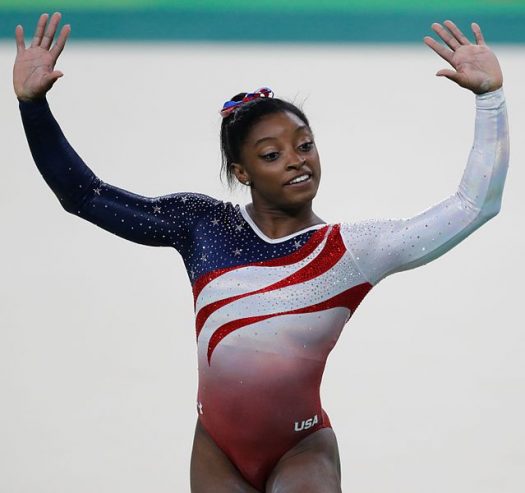 Simone Biles
When your body and mind aren't in sync, chaos and breakdown can ensue. Biles learned this the hard way at the 2021 Tokyo Olympics when she stumbled in front of millions of viewers and lost control of her body in midair — but she also had the courage to make the decision for her own physical and mental health not to continue competing. Instead, she cheered on her teammates from the sidelines and became a model for how to say "enough." The Greatest of All Time, who is also Time Magazine's Athlete of the Year, also testified before Congress against Larry Nassar, who abused her and many other young female athletes. She made herself vulnerable, but she also made the important choice of putting herself first.
5
Naomi Osaka
Similar to Biles, tennis pro Osaka decided to prioritize her mental health rather than succumb to the overwhelming pressures of being a superstar and coming home with a win every single game. First, she skipped the French Open after being fined for refusing to participate in the press conferences, citing concerns for her mental health. Then Osaka, the first Asian tennis player to be ranked No. 1 by the Women's Tennis Association and the first Japanese-born player to win a grand slam, said she would take a break from the sport after losing in the U.S. Open to upstart Leylah Fernandez. She wrote about her experiences for Time, saying "It's O.K. not to be O.K."
6
Whitney Wolfe Herd
It makes sense that women would make the first move on an app created by an entrepreneur who, along with Blakely, also joined the Billionaire Club this year when her dating app, Bumble, went public. The IPO pushed the Bumble founder's fortune to $1.5 billion, making her both the female CEO to take her company public and the world's youngest self-made billionaire. While shares have declined recently, according to Forbes, the popular app still saw revenue increase nearly 40% year over year. Wolfe Herd famously charted her own path after she sued Tinder, where she formerly worked, for sexual harassment and discrimination.
7
Chloe Zhao
The Beijing-born filmmaker took home this year's Oscar for Best Director, becoming the first woman of color to win the award and the second woman director to win after Kathryn Bigelow for The Hurt Locker. Nomadland, which nabbed four Academy Award nominations, was critically acclaimed for showing an authentic slice of American life as the protagonist, played by Frances McDormand, traverses the country and has encounters with older people (mostly non-actors) struggling to make ends meet. Zhao honed her directorial style at New York University, where one of her instructors was director Spike Lee.
8
Amanda Gorman
Gorman, who was named the first National Youth Poet Laureate in 2017, has only seen her star rise since then. She made a splash at Biden's inauguration when she read her poem, "The Hill We Climb," becoming the youngest poet to read at a presidential inauguration. She said she hoped her words would help unify the country after a difficult four years, and she amended some of the words in her poem after the Jan. 6 insurrection. She has used her platform to speak out as an activist about race, feminism and the African Diaspora, and we may be seeing a lot more of her in the years to come — she already announced her intention to run for president in 2036.
9
Karen Lynch
When Lynch took the top post at CVS in February, she promised a move toward a more consumer-centric, health-care-focused business. So far, she is doing her best to deliver: in an Op-Ed for Newsweek this summer, she noted the important role of the drugstore chain during the pandemic. More than half of CVS's 4,800 testing locations served marginalized communities, she wrote, and she also partnered with local organizations to set up community-based clinics and testing sites. As the pandemic rages on and new variants crop up, she will continue to be in the spotlight as she steers the company, which has also administered millions of vaccines.
10
Nikole Hannah-Jones
New York Times journalist Hannah-Jones helped shift an important paradigm this year with her groundbreaking 1619 Project, first issued in the Times Magazine and, now, as a full-fledged book that became an instant bestseller when it was published in November. The work recasts the narrative of slavery and highlights the contributions of Black Americans, and shows how the effects of slavery persist today. While there are many contributors involved, Hannah-Jones has become the face and voice of the project, facing extreme criticism and accolades alike for her work, which, as the journalism truism goes, "comforts the afflicted and afflicts the comfortable."