Ngozi Okaro has a lot to look forward to in 2022.
The stylish executive director of Custom Collaborative, an organization that teaches low-income and immigrant women about sustainable fashion, has big plans for the new year that involve a giant billboard in Times Square.
Okaro recently won a Fashion Impact Fund from the Conscious Fashion Campaign, which recognizes "women social entrepreneurs transforming the fashion industry" with a seven-story-high Nasdaq digital billboard in Times Square during New York's Fashion Week. She is among the 10 recipients who will be featured on the billboard.
The women who learn how to sew and design clothes at Custom Collaborative, which operates out of two small, windowless spaces in the Harlem neighborhood of New York City, will be able to see all their hard work come to life — and light — in the fashion capital of the world.
"We're really excited," Okaro said in an interview from one of the classrooms, where she was planning a staff retreat. "That will bring great visibility to our work."
And there's much more to look forward to for an organization that started as a kernel of an idea almost 7 years ago, when Ngozi was running philanthropic efforts at Yale University — Custom Collaborative has also received $300,000 from Chanel to hold an apprenticeship program. The partnership had been in the works since June.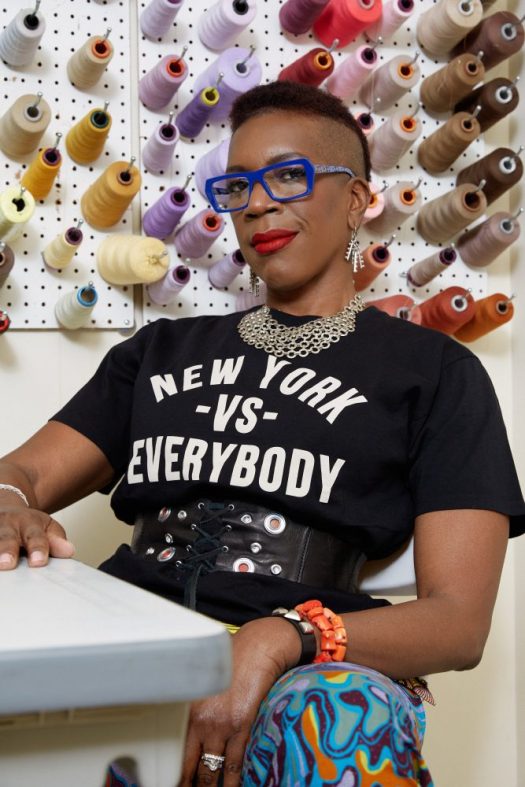 "We will do a formal launch of our apprenticeship program [with fashion brand Mara Hoffman]," said Okaro, who has a law degree from Georgetown University. "We've been able to grow and expand even during Covid."
At the heart of Custom Collaborative is its 14-week, 30-hour-a-week training program where about a dozen women from all over the world in each cohort learn business strategies in order to put their new skills to use after they graduate.
The women are tasked with making an original piece of clothing or an accessory using donated, upcycled materials for a classmate, which is where their creative talents shine.
Okaro spoke glowingly of a corset-style leather belt with carefully placed grommets that lend it an industrial-chic edge, a wedding dress with appliquéd lace, and a jumpsuit with bell sleeves and a funky pattern — all made by students.
Some women don't even know how to sew before they come to the program, Okaro said. "A lot of people come to us thinking that if you work in fashion, you're either a seamstress or a designer or a model," she said. "You can be a technical designer or a pattern maker. You can be different things that they weren't necessarily aware of."
Six cohorts of women who represent 23 countries have passed through since the organization launched in 2016. Okaro said the "Custom" part of the name signifies not just the customizable nature of the actual clothing, but also the fact that participants bring different aspects of their cultures to their designs.
And the most exciting part for Okaro? The training institute will go back to in-person classes starting January 2022. Aside from the technical skills, the women also receive business mentorship and they have to write formal proposals in order to graduate. They also learn about personal finance and environmental sustainability.
Okaro is even planning to address vaccine hesitancy among the women by inviting a public health specialist from New Jersey to speak with them about the importance of getting vaccines against Covid.
"We just want to meet people where they are and support them in the way they need," Okaro said. "There are so many places where, as a society, we've failed and left people behind, and it doesn't make sense to overlook talent. So whatever we can do to bring people into the community and make them feel valued, that's what we need to do."
In the meantime, Okaro and her 12-person staff are planning a year-end fundraising campaign called "Designing the FutHER." While her job can feel all consuming, Ngozi added that she has managed to get her weekly working hours down to 50 hours a week.
She recalled telling herself in 2019, "'Okay, I'm not going to work on Sundays,' which was a big thing." She laughed and added, "I recognized that if we're going to have a sustainable organization, it has to be one where we don't rely on one person who works all the time."