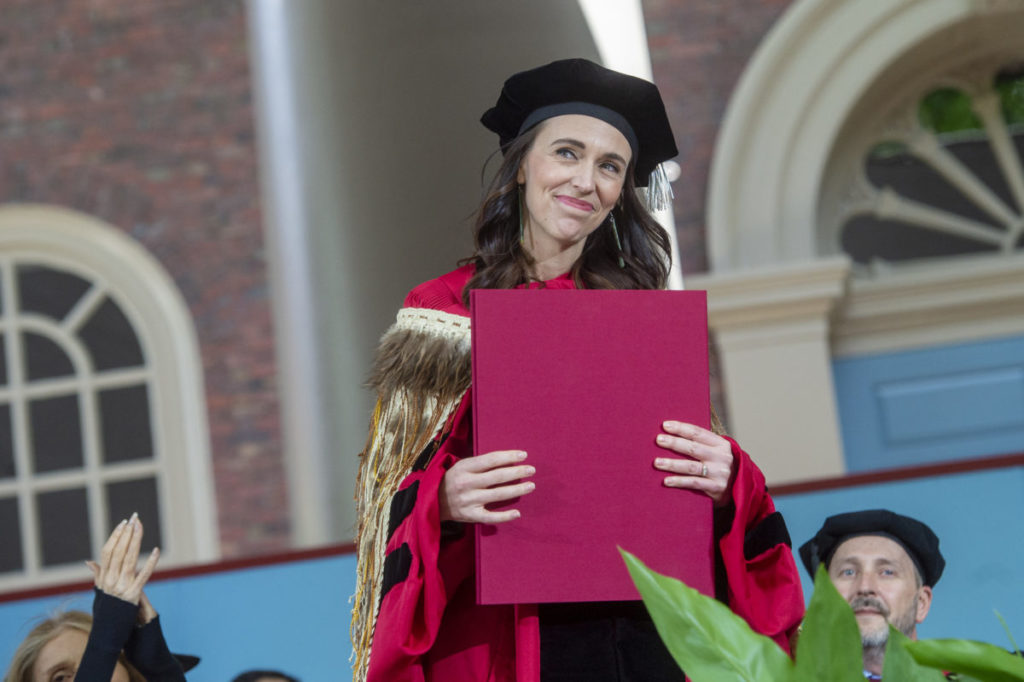 New Zealand Prime Minister Jacinda Ardern gave a rousing speech on issues dividing the United States — disinformation, gun control and abortion rights — at Harvard's commencement on Thursday to a standing ovation.
"We are at a precipice, and rather than ask what caused it, today I want to talk about how we address it," Ardern said, referring to the Christchurch mosque shootings in 2019 that left 51 people dead. "In the aftermath of New Zealand's experience, we felt a sense of responsibility. We knew we needed significant gun reform, and so that is what we did."
Her words to the graduating class of 2022 came as the nation reels from yet another mass shooting that saw 19 children and two teachers slain by a gunman at an elementary school in Uvalde, Texas. Republicans have not budged on reforming laws that would make it more difficult to purchase assault rifles, and several of them, including former President Donald Trump, are slated to speak at the National Rifle Association convention on Friday, according to the New York Times.
Ardern also called out tech companies for not doing more to stop the spread of disinformation and pointed out that they have a responsibility to society.
"The time has come for social media companies and other online providers to recognize their power and to act on it," she said.
Dressed in a Maori cloak, which had been woven by more than 250 Indigenous women across her country, she cited New Zealand laws that decriminalized abortion and outlawed most assault weapons to applause from the audience, according to The Guardian.
She closed her speech with a plea for kindness and empathy.
"In the overwhelming challenges that lay in front of us, in our constant efforts to reach into the systems, the structures, the power, don't overlook the impact of simple steps that are right in front of you," she said, according to The Boston Globe. "The impact that we each have as individuals. To make a choice to treat difference with empathy and kindness," she said.