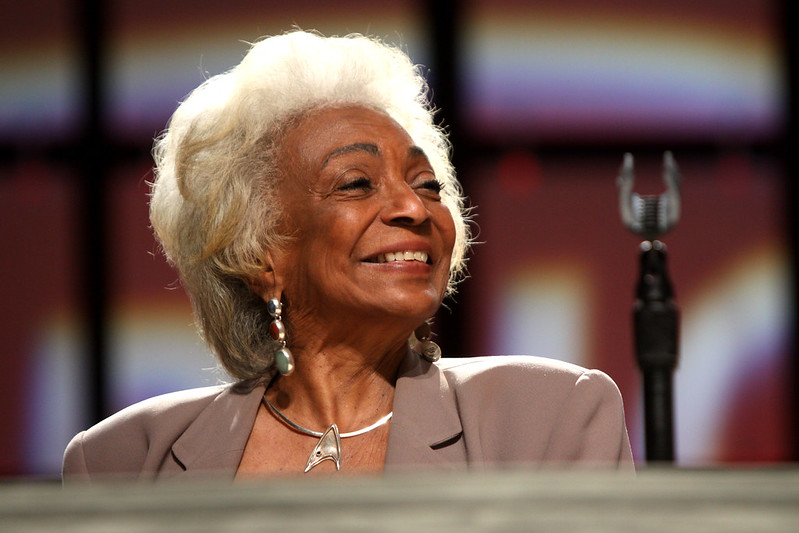 When actress Nichelle Nichols considered departing beloved sci-fi show "Star Trek" after her first season, she was convinced to stay on by a fan – named Martin Luther King, Jr.
In a 2011 interview, she recalled meeting the civil rights leader at a fundraiser, and informing him of her desire to pursue roles on Broadway. It was King who convinced her to stay on the show in her role as Lt. Nyota Uhura. "'For the first time, we are being seen the world over as we should be seen,'" he said at the time of the power of her representation.
Indeed, Nichols' legacy extends far beyond that famous kiss between her and "Star Trek" co-star William Shatner, one of the first interracial, on-screen lip locks in TV history.
Nichols, who passed away over the weekend at the age of 89, is remembered as a true trailblazer. For her work on "Star Trek: The Original Series" and several film sequels, to be sure – she was one of the first Black women ever featured on a major television show. And it was also one of the first times a Black person portrayed a character who was decidedly in charge. Her performance would go on to inspire the likes of Whoopi Goldberg in their own work.
But Nichols was also a powerful force for women in the worlds of science, tech, engineering and math. For example, former NASA astronaut Mae Jemison – the first Black woman to travel to space – also cites Nichols' work as a significant motivator in her career.
Her influence didn't end there. Nichols spent years recruiting women and people of color to work at the space exploration agency. She ultimately played a part in about 8,000 individuals applying to work there, according to "Woman in Motion," a documentary about her life – including Dr. Sally Ride and Colonel Guion Bluford, one of the first African-American astronauts in general to ever go to space.
"At a time when Black women were seldom seen on screen, Nichelle's portrayal as Nyota Uhura on 'Star Trek' held a mirror up to America that strengthened civil rights," NASA Administrator Bill Nelson said in a statement following her death. "Today, as we work to send the first woman and first person of color to the Moon under Artemis, NASA is guided by the legacy of Nichelle Nichols."
In addition to those groundbreaking achievements, Nichols took on numerous screen and stage roles throughout her decades-long career – from appearing in a New York-based production of "Porgy and Bess" earlier on in her work, to a voice acting performance on the popular cartoon series "Futurama." She also had a recurring role on NBC's drama hit "Heroes," among numerous other roles.
In an announcement about her death, Nichols' son, Kyle Johnson, summarized her influence when he wrote that her "light … will remain for us and future generations to enjoy, learn from, and draw inspiration. He added, "Hers was a life well lived and as such a model for us all."
Scores of astronauts and actors would agree.