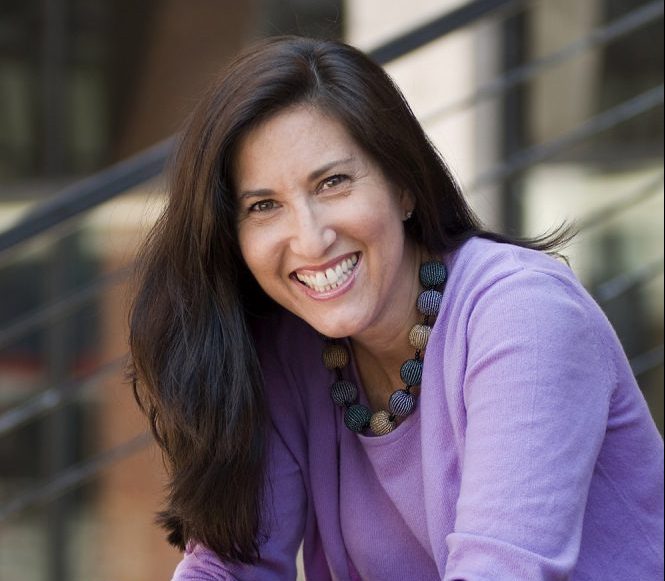 Paige Arnof-Fenn never planned on starting her own business. However, after many successful years as an executive in corporate America, she found herself taking the leap and starting her own marketing and PR firm, Mavens & Moguls – and she hasn't looked back since. The Cambridge, Massachusetts-entrepreneur has been in business for 19 impressive years and has learned many lessons along the way, like knowing when to let go of a weak employee, how to continue business growth as you take a step back. And most importantly how to make time for herself amidst her busy schedule, which as she rightly points out – isn't pampering, it's maintenance.
Arnof-Fenn's story, as told to The Story Exchange 1,000+ Stories Project:
Mavens & Moguls, Marketing & PR — We are a global network of seasoned marketing experts who can do anything a marketing department, market research shop, public relations firm or ad agency does on an as needed or outsourced basis. We have resources in major metro areas across the country and around the world.
I did not plan on starting a company. I always wanted to go work for a large multi-national business and be a Fortune 500 CEO. When I was a student I looked at leaders like Meg Whitman and Ursula Burns as my role models. I started my career on Wall Street in the 1980s and had a successful career in corporate America at companies like Procter & Gamble and Coca-Cola and worked at 3 different startups as the head of marketing. I became an entrepreneur and took the leap right after 9/11 when the company I worked for cut their marketing. I had nothing to lose.
I started my company with the goal of working with people I respect and admire for people I want to help succeed. For me, relationships matter. Quality encounters matter. Honesty, consistency, authenticity and integrity matter. The experience and the journey matter a lot too. Focus on what matters to you and get rid of things that don't. Taking the clutter out of your mind and your life frees up space for more of what you value.
[Related: This Is What Happens When a Woman Leader Successfully Manages Coronavirus]
Success is very personal so your definition will be, and should be, different than mine. To me, growth for growth's sake is meaningless, but profitable growth with interesting clients solving important problems is what keeps me engaged and excited. The ability to spend time with people I love and care about is critical. My reputation really matters, and the positive word-of-mouth means a lot to me since almost all of our business comes by referral. There are a lot of successful businesses out there that stay true to their core values and offer great products and services to their customers that they value. When you can create an environment where your employees and customers feel valued and appreciated you can feel proud and know you have a successful business.
We have been fortunate to have a lot of success over the past 19 years, but one of the first big breakouts in the first few years of my business. I had pitched a CEO about a month before I ran into her at a networking event where she was the keynote speaker and her topic was about being a woman leader in a traditionally male-dominated business. I had followed up after sending my proposal several times via e-mail and voice mail but the CEO never returned any of my messages or even acknowledged receipt of the proposal requested. You can imagine my shock when she announced at this event as part of her speech that she believes it is important to put your money where your mouth is and for women CEOs to support other respected and well-run women's businesses – and that is why she has hired my firm to handle all her company's marketing and PR! Everyone congratulated me after, it was a better endorsement than the New York Times because she was very well known and had the reputation of being very tough with high standards so I got a LOT of business from people in the room that night because they thought if I was able to impress her I must be very good.
My biggest mistake was not realizing sooner that the people you start with are not always the ones who grow with you. The hardest lesson I learned when I started my company was not getting rid of weak people earlier than I did in the first few years of my business. I spent more time managing them than finding new customers. I knew in my gut they were not up to snuff but out of loyalty to them I let them hang around much longer than I should have. It would have been better for everyone to let them go as soon as the signs were there. They became more insecure and threatened as we grew which was not productive for the team. As soon as I let them go the culture got stronger and the bar higher. "A" team people like to be surrounded by other stars. It is true that you should hire slowly and fire quickly. I did not make that mistake again later on so I learned it well the first time. I wish I had known it even earlier though but lesson learned for sure!
For the first five years I was scared to go on vacation for fear all my hard work would unravel. Then my in-laws, father, mom and stepdad all started to get sick and I wanted to be there for them. They all lived thousands of miles away so I started to work less. After years of decline they each died about 6 months apart (7 people in 6 years) and I became executrix which is like having another job at times. So I had to take very good care of myself or I would not have been helpful to anyone else. I started working out every day. I started planning me time on my calendar. I became more comfortable with white space in my day and stopped over scheduling myself. And guess what? My business did not suffer, in fact it has become stronger. We moved up the food chain and have better clients. I do not think I could ever go back.
[Related: The Climate is Right for New Inventions That Help the Environment — All Made By Women]
I am so much happier and more productive as an entrepreneur than I ever was working for others. It is all about controlling your calendar. I no longer try to squeeze in more meetings or hit multiple events at night. As an entrepreneur, I can be selective. Less really is more. I've chosen quality over quantity. It sounds trivial but it is true. I created a platform to do work I enjoy and feel energized by. I feel I have found my purpose because I used to work all the time and life was passing me by. I got raises and promotions but I was all work and no play and I did not feel fulfilled. Since starting my business I have joined boards and volunteered at several organizations. I am a mentor to the next generation of leaders and have helped build a very successful anti-bullying program that 100,000 middle school aged kids have gone through. As a marketing consultant I am able to write articles, contribute to books and speak at events to share my experience and lessons learned.
As a small business owner you are always on and with the news, protests, pandemic, social media and technology going 24/7 it can be tough at times to stay productive, energized and focused. Given the pandemic we have to reassess our goals now. Like most entrepreneurs there are never enough hours in the day to fit everything in so when something has to give it, is usually time I have allocated for myself to exercise or just relax. A mentor once told me and I have come to appreciate and realize is that to stay sane and be successful "me time" is not a luxury or pampering, it is maintenance! The mentor shared that respecting my time on the calendar and taking myself as seriously as I take my most important clients is the least I can do for self care because if I am not at my peak performance I am not going to be useful to anyone else either.
I recommend measuring productivity now by what we get done, basing it on accomplishments not activity. People need more downtime now as we are all under a lot of stress with so many moving parts. Our business goals should reflect that the job now is to get through this period together intact, that will make us all feel we have been productive during the crisis. Communication is key to community, customer and employee engagement. Maybe the silver lining is that this crisis reminds us that we have always needed each other and we have learned that everyone is struggling right now to find a new normal so the key is to show our humanity and compassion while we look out for one another. We see that technology does not have to be isolating it can be used to build our real world communities and relationships too! Our new business goals should reflect that.
I have been so fortunate to have great mentors, champions and role models throughout my career including former bosses, my father, and senior women in organizations where I worked. But the person who has always encouraged and supported me as an entrepreneur and has my back every day is my husband. He started a company too so understands the journey of an entrepreneur and has been my sanity check and thinking partner every step of the way. He is both a cheerleader and butt kicker depending on the situation and I trust his judgment and advice because I know he always has my best interests in mind. I am very fortunate to have him in my corner.
Check out our Advice + Tips for entrepreneurs starting-up
Watch our latest videos
Subscribe to our podcast