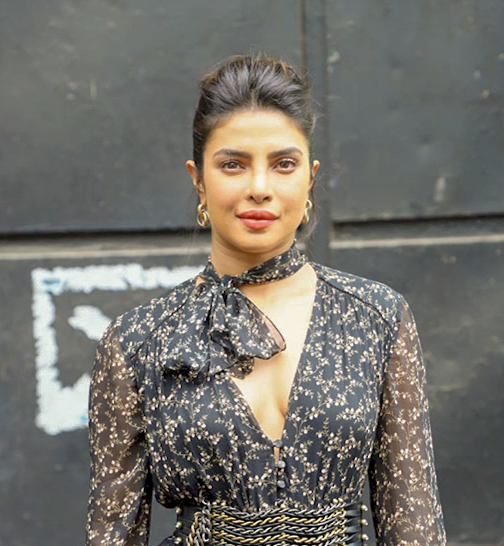 For the first time in her 22-year career, Priyanka Chopra Jonas has received equal pay to a male co-star.
The Indian actress, who stars alongside male actors Stanley Tucci and Richard Madden in the forthcoming U.S. spy series Citadel, revealed to BBC that she never had pay parity in Bollywood, and would get paid roughly 10% of the salary of male co-stars.
"It [the pay gap] is large, substantially large," she said in the interview for the BCC 100 Women list for 2022. "And so many women still deal with that."
The pay gap affects even the most successful actresses in the Indian film industry. In early 2021, Bollywood actress Kapoor Khan was criticized over false claims that she requested 12 crore Indian rupees ($1.45 million) for a film, while actor Hrithik Roshan, who started his career in 2000 like Khan, reportedly earns 65-75 crore Indian rupees ($7.9 million to $9 million) per film, to no one's concern.
Even Bollywood's highest-paid actress Deepika Padukone makes less than half what her male counterpart makes.
Having acted in over 60 Bollywood films, Chopra Jonas recalled frequently being treated less fairly than male actors in the industry.
"I thought it was absolutely ok to sit for hours and hours on set, while my male co-actor just took his own time, and decided whenever he wanted to show up on set is when we would shoot," she said.
She also experienced discrimination based on her darker complexion, being called "black cat" and "dusky." She told BBC this discrimination was "normalized," and she had to work harder than her fellow actors who were lighter-skinned.
Chopra Jonas made her Hollywood debut in the 2015 television series Quantico as the first South Asian to headline an American network drama series, then went on to act in films such as Baywatch, Isn't It Romantic and The Matrix Resurrections.
Despite her success, Citadel is still the first project in which she has a male co-star with whom she receives equal pay, she said.
While the pay gap in Hollywood is not nearly as wide as it is in Bollywood, the American film industry has long been criticized for having a gender pay gap and discriminatory practices. Chopra said people of her ethnicity still struggle to book mainstream roles in Hollywood.
"It's really hard to be South Asian and Indian in Hollywood," she said. "There's still a long way to go."